Housing Market Shows Signs of Rebound Amid Stricter Measures
by and
Outside British Columbia, gains in home sales are widespread

Vancouver market stabilizes after August meltdown on new tax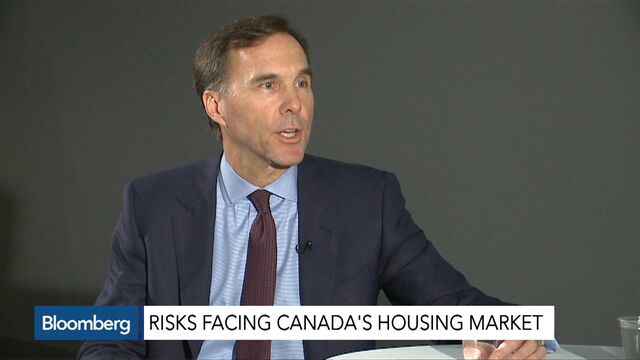 Canada's housing market showed signs of a rebound in the month before Finance Minister Bill Morneau unveiled broad new measures designed to mitigate the risk of a major correction.
National home sales rose 0.8 percent in September from the prior month, snapping a four-month losing streak and average prices were up 2.7 percent. Home values in Toronto climbed 21 percent from a year earlier and Vancouver recovered from a sharp drop in August.
Outside of British Columbia, markets across Canada "are not showing signs of any particular weakness at this point," Robert Hogue, an economist at RBC Capital Markets, said in a telephone interview.
Policy makers are monitoring recent new measures to gauge the effect on a market that had been going gangbusters -- drawing warnings about overheating. It remains to be seen whether the new measures will lead to a soft landing, or something sharper, which would further weaken an already stagnant economy.
Morneau's new rules introduced Oct. 3 include a more stringent stress test for home buyers and stricter eligibility criteria for insured loans. They follow British Columbia's imposition of a 15 percent tax on purchases by foreigners.
Buyer 'Rethink'
"The Finance Minister's recent changes to regulations affecting mortgage lending has added to housing market uncertainty among buyers and sellers," Cliff Iverson, CREA president, said in the statement. "For first-time home buyers, the stress test for those who need mortgage default insurance will cause them to rethink how much home they can afford to buy."
Vancouver home sales were down 1.7 percent in September, after dropping 19 percent in August. Sales were down elsewhere in the Pacific Coast province, with transactions falling 3.2 percent in Victoria and 11 percent in the Fraser Valley.
"When you look at British Columbia markets, all of them saw further declines in September but that was offset by pretty widespread gains across Canada," said Hogue.
Calgary and Edmonton, Alberta's largest cities, saw sales increase 3.8 percent and 7.1 percent. Sales in Toronto, Canada's largest city, gained 3.1 percent and in Montreal were 1.3 percent higher.
For Related News and Information:
Top Stories:TOP
Before it's here, it's on the Bloomberg Terminal.
LEARN MORE