Canada Banks Better With Fees on Risk Sharing, Barclays Says
by
May not tie up as much capital, Barclays' Aiken says

Deductible also being considered to reduce taxpayer risk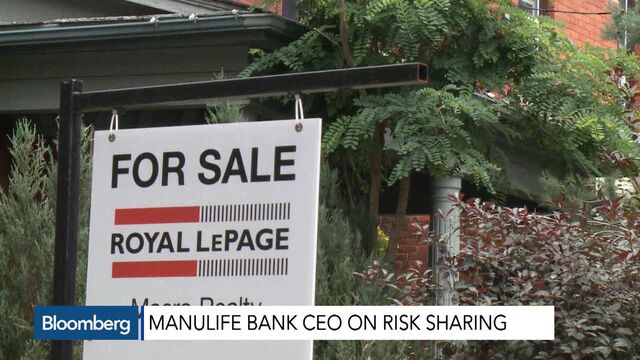 Canadian banks would likely be better off paying fees instead of a deductible to take on a greater burden of defaulted mortgages if the government presses ahead with a proposal for lender risk sharing, according to John Aiken, a bank analyst with Barclays Plc.
Finance Minister Bill Morneau raised the prospect of risk sharing as part of new housing measures on Oct. 3, as it tries to reduce taxpayer exposure to the housing market where insured mortgages are backstopped by the government.
While details that'll form the basis of consultations haven't been disclosed, the banks' industry group has formally opposed the idea. The finance department, regulators and federal housing agency Canada Mortgage & Housing Corp. have studied options for more than a year. Ideas considered include a deductible, in which lenders assume part of the cost of a default up front, and a fee-based approach, in which mortgage insurers cover the full claim and charge lenders a fee after.
"If it is a pure deductible then the impact is the insured mortgages are nowhere near as credit clean as they have been in the past and the banks are going to have to put up more capital against those mortgages," Aiken said Friday in a phone interview. "Ultimately what this means is more capital, it means lower return on equity."
'Good Thing'
The banks could offset impacts of a deductible by raising mortgage rates, though that could lead to other impacts that hurt profitability, Aiken said. Fees may not have the same impact on capital, according to Aiken.
"Fee-based might be better because it's probably not going to attract the same level of regulatory capital," Aiken said. "It would still probably hit the regulatory capital, but it may not hit it to the same degree -- so it may not be as punitive."
The Canadian Bankers Association, which represents 59 domestic lenders and foreign bank subsidiaries, is opposed to risk sharing, arguing that Canadian mortgage defaults are so low that making lenders share the risk is unnecessary.
"I'd be interested in seeing what ideas come out," Rick Lunny, who heads Manulife Financial Corp.'s consumer bank, said Friday in a Bloomberg TV Canada interview with Danielle Bochove. "One idea that is out there, potentially, is something similar to the small business loans program, where the banks share 10 percent of the risk on a loan."
A potential outcome of risk sharing could be an evolution to risk-based mortgages, Lunny said.
"We tend to have a one-size-fits-all price on a mortgage because effectively the risk is the same for the lender in every case," Lunny said. "Perhaps the people that have better credit or borrow less loan to value, they may actually get a lower price in the marketplace than they do today."
Canadian Imperial Bank of Commerce Chief Executive Officer Victor Dodig said Morneau's measures to distance taxpayers from shouldering the burden of any housing losses "is a good thing" and discussions around risk sharing are "a balancing act" between bank competitiveness and prudent lending.
"You're looking at making sure that we are lending prudently, you're looking to make sure that consumers are borrowing prudently and you're making sure that the banking business in Canada continues to remain competitive within our own market but also on a global stage," Dodig said in an interview this week with Bloomberg TV Canada's Amanda Lang. "And I think that's an important part of this consultative process, keeping that balance in check."
Before it's here, it's on the Bloomberg Terminal.
LEARN MORE