Brexit Ignored by Those Vying to Be President in French Debate
by and
Republican hopefuls in first debate give one-minute speeches

Juppe and Sarkozy on defensive over their personal integrity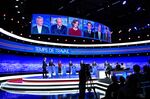 Two hours, one-minute speeches and zero mention of Brexit or Europe. That's the best way to recap the first direct confrontation among French presidential hopefuls.
The six men and one woman aspiring to represent the mainstream-right Republicans spent the first hour sparring in 60-second slices over the deficit and spending cuts, with the most notable clash over whether government employees should work 37 or 39 hours a week. Former President Nicolas Sarkozy is seeking to close the gap with Alain Juppe, who served as his prime minister for five years and is the current front-runner.
In an era when U.S. politics is veering towards reality television, there was no mention of sexual assault, little smiling and no threat to jail any candidate. The first direct confrontation of France's 2017 election was aired on prime time and was singularly focused on budget deficits, labor law and taking potshots at Francois Hollande, the most unpopular French leader of the modern era.
The fact that the U.K. is leaving the European Union was never mentioned, nor for that matter was Europe. That may well be a reflection of the broader political climate, where countries are becoming increasingly more inward looking with populism and anti-immigration sentiment on the rise.
Click here, for a guide to France's election and the drama that lies ahead.
French voters tuning in got to witness people who have mostly spent years running the country together turning on each other, with the most animated banter unfolding in the second half over who had the least personal integrity. Pollster Elabe judged that Juppe maintained his lead in the eyes of those who watched, while Sarkozy remained in second place. Former premier Francois Fillon was most improved, but still trailing in third position.
While the debate might not have changed the pecking order, there is room yet for an upset. Among 885 voters who watched the debate, 35 percent pronounced Juppe the winner, compared with 21 percent for Sarkozy and 13 percent for Fillon, according to Elabe. Among voters who back the right, those figures were considerably more narrow: 32 percent, 27 percent and 17 percent respectively.
"Those who are saying this primary is over are jumping the gun."said Bernard Sananes, a pollster at Elabe in Paris.
Not Over
There will be three more debates and the primaries will be held in a two-round vote on Nov. 20 and Nov. 27, followed by a presidential election in two rounds on April 23 and May 7.
Honesty and correctness were a recurrent theme of the evening. Juppe, who was once convicted of political corruption and banned from public office for a year, said he refused to be duped for transgressions he did not profit from. 
The judge stated that "there was no personal enrichment" in my case and "I have stood for election four times since then and won three times," Juppe said. Everyone knows I was a "scapegoat," he added.
His adversary, Sarkozy, insisted that he hasn't been convicted for anything despite multiple investigations: "After 37 years in politics my judicial record remains untouched. I've never been condemned. But for the past five years, I've been the most investigated Frenchman."
The candidates touched on Russia, Syria, immigration and even whether the body-covering swim-wear known as the Burkini should be outlawed. If there was one thing they could agree on it was how much they reviled Hollande, who has an approval rating in the low teens and is still mulling whether to run for re-election.
"The president of the republic is not only ineffective and incompetent but he is a manipulator," Fillon said.
Before it's here, it's on the Bloomberg Terminal.
LEARN MORE