Brexit Bulletin: Is Theresa May's Honeymoon Over?
After the adulation, a reality check.
by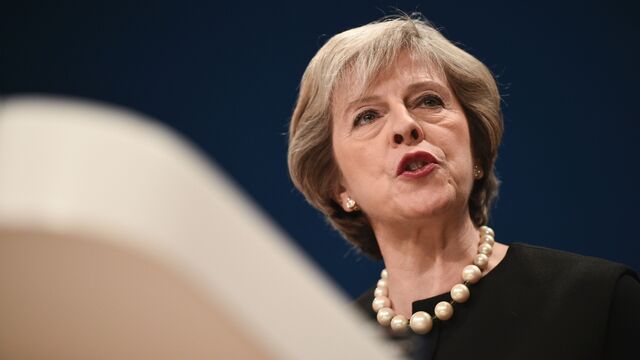 Sign up to receive the Brexit Bulletin in your inbox, and follow @Brexit on Twitter.
This was the week Theresa May came down to earth with a bit of a bump.
Almost three months since her virtual coronation as prime minister, and one week after being cheered to the rafters at her Conservative Party's annual conference, May has run into a series of obstacles on her way to pulling Britain out of the European Union.

First she bowed to pressure from lawmakers, including some fellow Tories, to let them eventually debate and almost certainly vote on her Brexit strategy. The opposition Labour party also found a new lease of life. Its Brexit spokesman, Sir Keir Starmer, is leading the way in demanding the government be held to account.
Her decision to retain for herself the right to trigger Article 50 is now being fought over in the courts, where lawyer David Pannick, representing an investment manager pushing for parliamentary oversight of Brexit, yesterday described May as making a reckless political move that trampled upon centuries of legal precedent.
In Scotland, First Minister Nicola Sturgeon said she'll publish a draft independence referendum bill next week, though she won't be "rushing" to hold a ballot. Meanwhile, U.K. consumers had a glimpse into an inflationary future that could see them turn on May: a flare-up between Unilever and Tesco over pricing has now been settled, but it let the country peek into a (hitherto unimaginable) life without Marmite.
Meet the Brexit Bunch
Against this backdrop we now discover that the U.K.'s negotiations will be controlled by a select group of 12 ministers that includes all of the most Euroskeptic members of May's cabinet. It's a further sign that the premier may be planning a clean break with the EU.
The committee will "oversee the negotiations on the withdrawal from the European Union and formation of a new relationship between the United Kingdom and the European Union; and policy on international trade," according to an unpublished U.K. government document obtained by Bloomberg.
The group includes all six members of May's cabinet who campaigned to leave the EU at the June referendum: Foreign Secretary Boris Johnson, International Trade Secretary Liam Fox, Brexit Secretary David Davis, International Development Secretary Priti Patel, Transport Secretary Chris Grayling, and Environment Secretary Andrea Leadsom.
Europe Awaits
All this domestic pressure on May has built up before she heads next week to her first EU summit in Brussels. There she'll meet 27 counterparts, who are united in warning that she can't crack down on the free movement of Europeans and still enjoy membership of the single market.   
European Union President Donald Tusk last night delivered a withering warning, declaring the choice on offer was now between "hard Brexit" or "no Brexit" and that the process will end with "no cakes on the table, for anyone."
In France, Emmanuel Macron, who quit President Francois Hollande's cabinet to campaign for change, told Bloomberg TV today that the U.K. cannot expect to negotiate special privileges on leaving the EU and that the remaining members of the bloc need to forge closer political ties in coming years.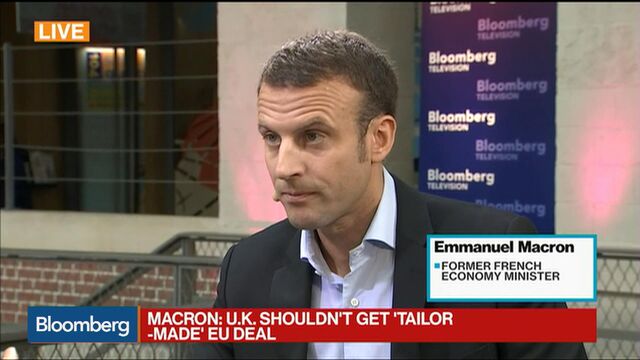 The Pound as Pundit
Staying positive, at least May still has the polls on her side, with the Tories enjoying a 17-point lead over Labour in an ICM survey released this week. The premier saw her personal support rise to 43 percent. Another barometer is not so supportive, with the pound now tending to rise only when investors see May apparently struggling to deliver Brexit. 
The currency is headed for a fifth weekly decline in six, following a brief respite earlier this week. Rapid moves in sterling are also becoming the norm, Bloomberg's Anooja Debnath reports today.

Aid For Trade
The U.K. is seeking to win friends and influence trade deals by using its £12 billion aid budget, with financial help to be directed to poor countries Britain will need on side as it tries to re-establish post-Brexit rights at the World Trade Organisation.
U.K. negotiations at the WTO are currently conducted by the EU, but after Brexit Britain will take up its own place and will aim to seek to re-sign deals with more than 50 countries that currently have accords with the EU. WTO decisions tend to be taken by consensus of the 164-strong membership. That means the U.K. will need allies.
May's team are now preparing to woo less-developed countries with money for development projects, according to the officials who spoke on condition of anonymity.
Meanwhile, Andre Tartar and Alex Morales examine what things would look like if the U.K. imported the U.S. immigration system.
Brexit Bullets
Brexit already prompting investment cuts, CBI's Fairburn says
Stagflation-lite poses a challenge for Carney's Bank of England
Oil producer EnQuest expects "very positive" impact from falling pound
Spain says it will defend territorial integrity of U.K.
Brexit wasn't discussed in a French presidential debate
Citigroup's Corbat to meet Ireland's PM Kenny, with Brexit among topics
Kashkari says Brexit fallout could affect Fed policy
And Finally...
French Finance Minister Michel Sapin declared yesterday that executives of major U.S. banks have told him they are already preparing to move some operations from London.
"Until now their question was whether Brexit will happen or might it take longer than expected," Sapin said.
"That's over. They are telling us clearly that there will be a transfer of activity. It's no longer a question of if but when. I don't know to what extent or which ones."
So where will the bankers head? Start your weekend with a tour of possible locations, via David Rocks and Julia Hirsch for Bloomberg Markets magazine.

For more on Brexit follow Bloomberg on Twitter, Facebook and Instagram, and see our full coverage at Bloomberg.com
(
Corrects spelling of Citigroup CEO in the Brexit Bullets section.
)
Before it's here, it's on the Bloomberg Terminal.
LEARN MORE