A Child Born Today Comes Into the World With More Debt Than You
And under a Clinton or Trump administration, the number will only grow
By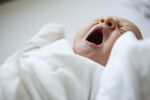 Each newborn's share of the national debt today is more than double what it was in the 1990s.
In the past 35 years, the national debt on a per capita basis has increased with each U.S. president. Under President Bill Clinton, the debt grew at the slowest pace — with a net increase of 1.4 percent over his two terms. After reducing the slope of public debt in his first term, he shrunk it in his second.
Under current law, U.S. inflation-adjusted debt per person is expected to reach the $66,000 milestone by April 2026, based on Bloomberg calculations of Congressional Budget Office and Census Bureau data.

So what would the debt path look like under either a Hillary Clinton or Donald Trump presidency? It would be pretty bleak in either case, according to a report released by the Committee for a Responsible Federal Budget. And while the committee is non-partisan, they do have a policy bent on fixing the national debt and improving the way the budget is developed.
The committee projects debt held by the public to grow by $9 trillion over the next decade under current law. Economic proposals put forth by both presidential candidates would add to the national debt, and Trump's would add even more than Clinton's. The report estimates that Clinton's policies would increase the national debt by $200 billion over the next decade, while Trump's proposals would add $5.3 trillion.

"These large debt increases highlight the importance of candidates taking our current debt problem very seriously rather than just present ways to cover the costs of their new initiatives," the committee said in the report. To restore the national debt to a sustainable level, it would "take a combination of revenue increases, spending cuts, and entitlement reforms."
—With assistance from Giovanni Salzano.