'I'm Not Rushing' to Scottish Independence Vote, Sturgeon Says
By
U.K. route is 'highly uncertain' for Scotland post-Brexit

Sturgeon says it's 'vital' Scotland stays in EU single market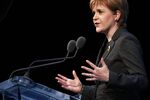 Scottish First Minister Nicola Sturgeon said she's not in a hurry to hold a second independence referendum and will explore options to make Brexit work for Scotland before taking a decision on whether to hold a new vote.
Sturgeon is trying to chart a path forward for Scotland after the U.K. as a whole voted to leave the European Union in June, even as 62 percent of Scots opted to remain in the bloc. That's changed the independence debate since 2014, when Sturgeon's Scottish National Party was defeated in its aim of securing independence from the U.K. after more than 300 years of union.
"This is no longer about the certainty of the U.K. versus the uncertainty of independence," Sturgeon said on Friday in a BBC Radio interview. "The U.K. route is highly uncertain. This is about how we give ourselves maximum control over our economic future."
Sturgeon was speaking the day after floating options for a new referendum. She told the SNP's annual conference in Glasgow on Thursday she'll publish a draft Scottish Independence Referendum Bill next week, threatening again to break up the U.K. if she feels her nation's interests aren't being protected in Brexit negotiations.
Single Market
"I'm not rushing straight to an independence referendum," Sturgeon told the BBC. "I've set out very clearly the steps we'll take within the U.K. to protect Scotland, but if that doesn't work, then I don't think I've got the right to deny Scotland the chance to look at a different path."
The first minister also said that the U.K. will be breaking new ground by triggering Article 50 of the EU's Lisbon Treaty to start the formal Brexit process, and because there are no precedents, "the U.K. and EU as a whole is sitting with a blank sheet of paper." She said it's "vital" for Scotland to remain within the EU's single market, because leaving it "is going to seriously damage our economy."
"There is an ability to be creative and to look at different options that respect how different parts of the U.K. voted," Sturgeon said, adding that she'll be putting forward proposals to British Prime Minister Theresa May. She said it's possible that Scotland could have a similar sort of relationship to the EU to those enjoyed by Norway or Iceland, without going into detail.
"I have never since the referendum pretended that it will be straightforward and without challenges, and maybe we will find that none of these ways are possible and that independence is the only option for Scotland to pursue, but we will try very hard to put other options on the table," Sturgeon said.
— With assistance by Robert Hutton, and Thomas Penny
Before it's here, it's on the Bloomberg Terminal.
LEARN MORE