Emerging Markets Fall on Fed, China Data; Thai Baht Strengthens
by and
Turkish lira rises after touching record low against dollar

Shares in Hong Kong retreat fourth day as exports shrink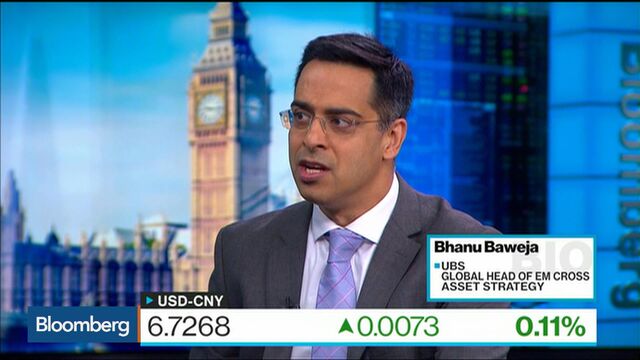 Emerging-market stocks fell to the lowest level in a month and currencies weakened after data showed Chinese exports declined and speculation grew over an imminent increase in U.S. interest rates.
Equity gauges in Hong Kong, Indonesia and the Philippines retreated as China's currency traded at the lowest against the dollar since 2010. The Turkish lira ended the session higher for the first time in five days after dropping to its lowest level on record. Thailand's baht trimmed this week's losses and a U.S. exchange-traded fund invested in the the nation's stocks rose after the royal palace in Bangkok said King Bhumibol Adulyadej has died and his only son, Crown Prince Maha Vajiralongkorn, was named to the throne.
A rally in developing-nation assets driven by the search for higher yields has faltered this month as traders boosted bets for an increase in U.S. interest rates by the end of the year to 65 percent from 59 percent at the end of September. Fed minutes released Wednesday confirmed officials are moving toward tightening. Chinese exports fell last month the most since February and imports unexpectedly declined, rekindling concern about the outlook for the world's second-largest economy.
"There is a swing back toward expecting a rate hike sooner rather than later in the U.S., which is causing people to lock in some profits after a decent rally in emerging markets this year," said Tony Hann, head of equities at Blackfriars Asset Management in London, whose Oriental Focus Fund has outperformed 94 percent of peers this year. "China's trade data was weaker than expected and so will have contributed to some negativity."

The MSCI Emerging Markets Index declined 1.3 percent to 890.65, the lowest closing level since Sept. 16. All 11 industry groups in the equity gauge fell, trimming this year's gain to 12 percent. The index has fallen 1.4 percent in October after four months of gains.
The Hang Seng China Enterprises Index of mainland shares trading in Hong Kong fell for a fourth day, losing 1.8 percent, after trade data showed export exports fell 10 percent from a year earlier in September and imports declined 1.9 percent. PetroChina Co. dropped 2.9 percent and Cnooc Ltd. lost 2.7 percent. The Shanghai Composite Index was little changed.
Shares in Egypt rose 3.9 percent, gaining for the first time in four days. The country received a $2 billion deposit from Saudi Arabia, an Egyptian central bank official said, bringing it closer to securing a $12 billion loan from the International Monetary Fund.
Currencies
The MSCI Emerging Markets Currency Index slipped 0.4 percent. The South Korean won dropped 1 percent, leading declines among 24 developing-nation exchange rates tracked by Bloomberg.
The lira rose 0.2 percent after falling to as low as 3.1131 per dollar. Data released Wednesday showed the nation's current-account deficit in August was wider than expected, adding to risks that are weighing on investor sentiment. Growth in the nation's gross domestic product has slowed, the government's budget deficit is set to widen and the country remains in a state of emergency it imposed after a failed putsch in July. The currency has weakened 3.2 percent in the past month, the worst performance in emerging markets.
Thailand
The baht rose 35.413 per dollar and the iShares MSCI Thailand Capped ETF rallied 2.7 percent, ending a four-day decline in U.S. trading. Thai assets had been under pressure since Sunday's announcement about the health of the king, who has been a symbol of unity in Thailand. The king, who was 88, was the world's longest reigning monarch.
The South African rand weakened 0.2 percent. This week's "political noise" is an opportunity to build long rand positions, Geoffrey Kendrick, emerging-market currency and macro strategist at Standard Chartered Bank wrote in a research note. South African prosecutors roiled markets Tuesday by serving a summons on Finance Minister Pravin Gordhan to appear in court on fraud charges.
The premium investors demand to own emerging-market sovereign bonds over U.S Treasuries widened three basis points to 336, according to JPMorgan Chase & Co. indexes.
Before it's here, it's on the Bloomberg Terminal.
LEARN MORE