Wells Fargo CEO Exit Wins Over Analysts as Lawmakers Unsated
By and
U.S. Representatives vow to continue probes into cross selling

Questions remain about whether Sloan can appease critics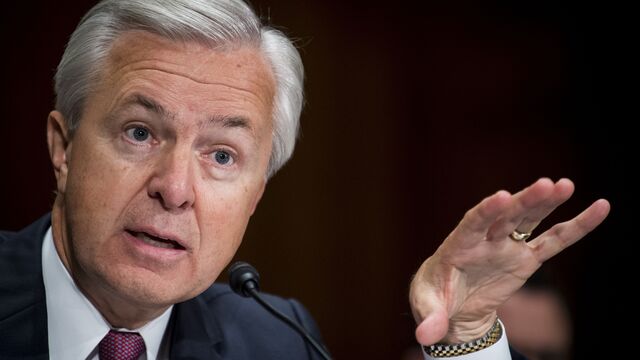 John Stumpf's decision to step down as chairman and chief executive officer of Wells Fargo & Co. won praise from analysts as way for the bank to put its cross-selling scandal behind it, even as lawmakers demanded more.
"The decision is good news in the short term because it removes a dark cloud of uncertainty that was hanging over the bank," Ian Katz, an analyst at Capital Alpha Partners, said in a note Wednesday after the company announced Stumpf's retirement.
Jeb Hensarling, the Republican chairman of the House Financial Services Committee, and Republican Richard Shelby, chairman of the Senate Banking Committee, vowed to continue their investigations into the company. Senator Elizabeth Warren, the Massachusetts Democrat who called on Stumpf to step down last month, said he still needs to give back "every nickel he made while this scam was going on."
Wells Fargo shares, which had lost 9 percent since word of the scandal became public last month, dropped 1.4 percent to $44.67 at 3:23 p.m. in New York. That's still a better performance than the 1.7 percent decline in the 24-company KBW Bank Index on Thursday.
Tim Sloan, 56, the chief operating officer long viewed as Stumpf's most likely successor, was named CEO Wednesday, and the San Francisco-based company named a new non-executive chairman and vice chair. Wells Fargo had already refunded $2.6 million to affected customers and said it's ending sales incentives that have been blamed for the abuses. Stumpf previously agreed to forgo $41 million in unvested stock that had been granted for performance, as well as some of his salary.
The bank is at risk of losing market share to local or regional firms such as U.S. Bancorp, Charles Peabody, an analyst at Compass Point Research & Trading, said in an interview on Bloomberg Television Thursday. The full extent of damage probably won't be know until "well into 2017," Peabody said.
The stock fell as much as 12 percent after settlements tied to the scandal were announced, and its subsequent rebound hasn't been enough for Wells Fargo to retake the top spot in market value among U.S. banks, which it relinquished to JPMorgan Chase & Co.
'Still Solid'
But the announcement Wednesday "signals the board's acknowledgment of the severity of the sales practice issue and its commitment to addressing the required changes," analysts led by John Pancari at Evercore ISI wrote in a note to clients late Wednesday. They also will preserve the bank's "still-solid culture and formidable banking presence throughout other areas of the company," according to Evercore.
Stumpf's nine-year tenure as CEO saw Wells Fargo grow to become the biggest U.S. home lender with returns that were the envy of other bank executives. The profits were driven in part by cross-selling -- offering credit cards to customers who opened checking accounts, for example -- the strategy that's at the center of the scandal that brought Stumpf down.
His unraveling began Sept. 8, when the U.S. Consumer Financial Protection Bureau announced that Wells Fargo had agreed to pay $185 million to settle allegations it secretly opened the unauthorized accounts. Multimillion-dollar settlements have become almost routine in the banking industry, but the brazenness and breadth of the misconduct struck a nerve.
The U.S. Senate called a hearing, and two weeks later Stumpf traveled to Washington for a three-hour grilling, where lawmakers took turns berating him. Warren accused him of "gutless leadership" for blaming junior employees.
"You should resign," she told Stumpf. "You should be criminally investigated by both the Department of Justice and the Securities and Exchange Commission."
At a second hearing on Sept. 29, called by the House Financial Services Committee, Stumpf denied there was any organized effort to open sham accounts. Lawmakers suggested the bank should be broken up and called for his arrest.
Questioning Sloan
Sloan's ascent may not appease the bank's critics. He's close to Stumpf, serving on the operating committee and holding several of the company's most senior posts. And Sloan was chief financial officer for three years until 2014, when he took over the bank's Wall Street operations. He became president and chief operating officer last November, overseeing key divisions that include the retail arm, where abuses occurred.
"We should still expect heightened regulatory scrutiny of incentive structures and persistent legislative calls for breaking up the nation's biggest banks," Isaac Boltansky, an analyst at Compass Point, said in a note Thursday. "Mr. Sloan's long and prominent career at Wells Fargo is likely to leave many lawmakers with the sense that the bank has not sufficiently distanced itself from the cultural collapses that facilitated the account scandal."
U.S. Representative Maxine Waters, a California Democrat, said in a statement that she's concerned about Sloan's role in the scandal, because he had "a central role in the chain of command that ought to have stopped this misconduct."
Yet Sloan is highly regarded internally and, importantly, didn't work within the tainted branch network during the misconduct, said Marty Mosby, an analyst at Vining Sparks.
"His background has been the wholesale bank and not the consumer bank," Mosby said. So the appointment "is kind of a fresh slate."