Wall Street's Latest Bond Collateral: Subsidized Rent Checks
By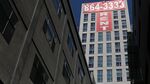 Wall Street's booming business of selling bonds tied to rental-homes is taking a new twist: they're adding government-subsidized rent checks to the mix.
A unit of Tricon Capital Group Inc. is planning its second bond offering that's partially backed by rental payments from tenants who receive assistance under the federal Section 8 program, according to Kroll Bond Rating Agency. The $363 million note offering for Tricon American Homes is being arranged by Deutsche Bank AG and is tied to 3,444 single-family rental properties, a person familiar with the deal said.
A Section 8 home comes with a federal subsidy provided by the U.S. government's housing-assistance program, but with the added risk that the tenant could leave at almost a moment's notice.
"Investors should prefer stronger, unassisted tenants," said Christopher Sullivan, who oversees $2.3 billion as chief investment officer at United Nations Federal Credit Union in New York. "Section 8 exposure lowers cash flows and introduces cash-flow variability, increased vacancy and collateral risk, and likely lowers collateral values as maintenance may be deferred."
Of the rental properties backing the bonds, 241 are occupied by tenants who receive government housing vouchers and 307 by tenants with month-to-month leases, according to Kroll. Tenants who fall behind have about two weeks to make a minimum payment of $500 before eviction procedures commence. The average monthly rent is $1,271.
Sale Timing
The bond sale is expected to be completed next week, said the person, who asked not to be named citing lack of authorization to speak publicly on the matter.
Deutsche Bank spokeswoman Amanda Williams and Wissam Francis, Tricon's chief financial officer, declined to comment.
Investors including private-equity firms, hedge funds and real estate investment trusts have become dominant landlords of single-family homes in markets hardest-hit by the housing crash. Securitizations have been a lifeblood for firms such as Tricon, which now manage scores of houses across the country. Tricon sold its first bonds last year tied to the vouchers.
By the time this transaction closes, Tricon will have used securitization to fund 88 percent of its 7,900-strong rental home portfolio, according to Kroll, which graded the bonds with ratings as high as AAA.
Before it's here, it's on the Bloomberg Terminal.
LEARN MORE