U.S. ELECTION WRAP: Trump Talks 'Reckoning' as Clinton Gains
Donald Trump, contending with a barrage of claims that he mistreated women, plans more attacks on Bill Clinton in attempt to hurt Democratic voter turnout.
By and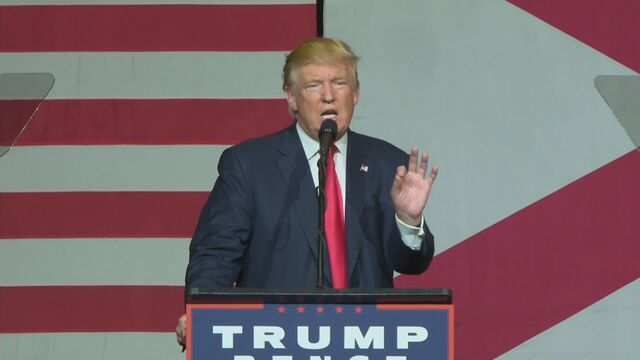 Donald Trump, facing a fusillade of claims that he mistreated women, told Florida voters he's fighting a "corrupt" U.S. political establishment that's pushing "radical globalization" and the "disenfranchisement of working people."
"Our great civilization, here in America and across the civilized world, has come upon a moment of reckoning," Trump said at a campaign rally in West Palm Beach. "We've seen it in the United Kingdom, where they voted to liberate themselves from global government and global trade deals and global immigration deals that have destroyed their sovereignty"
Trump, who forcefully rejected fresh allegations from women who say he touched them inappropriately, told the cheering crowd that he's gladly taking the "slings and arrows" from opponents so the movement he's sparked can "take our country back."

"Our campaign represents a true existential threat" that the media, political and financial "establishment" haven't seen before
When crowd yelled "Lock her up," a frequent chant at Trump rallies about Hillary Clinton, the GOP nominee paused, then responded, "Honestly, she should be locked up"

The remarks come as Trump plans to double down on his attacks of former President Bill Clinton over allegations that he assaulted women, a tactic Trump believes has already rattled Hillary Clinton and helped unify Republican voters behind his embattled campaign, Bloomberg's Joshua Green wrote

Trump advisers believe the strategy will make his opponent toxic and depress turnout among a key demographic group—young women—that Clinton is counting on to win; a senior Trump adviser said the campaign will soon bring forward new Clinton accusers
See full story HERE

As Trump decried Clinton and President Obama in Florida, first lady Michelle Obama delivered an unusually emotional rebuke to Trump
At a campaign rally for Clinton in New Hampshire, Obama said she couldn't go on with a normal speech because she can't stop thinking about the crude comments Trump made in the 2005 video that surfaced last week, Bloomberg's Sahil Kapur wrote
Meanwhile, Trump appears to have taken steps early in his campaign that left his own aides unprepared for the past week's barrage of claims he mistreated women, rebuffing their requests to research his past in a form of protective self-opposition research, Bloomberg reported. Click HERE for story

CLINTON RISES IN NORTH CAROLINA

UTAH, PENNSYLVANIA, OHIO & VIRGINIA
In Utah, another traditional "red" state, Clinton and independent candidate Evan McMullin may upset Trump, according to Monmouth University poll

Among Utah voters likely to cast ballots, 34% support Trump, 28% back Clinton, 20% would vote for McMullin
Historically, the Republican presidential nominee has a winning margin in 30-50 ppts range in state, according to Monmouth
"While this race is close, it is unclear whether Clinton or McMullin has the better opportunity to upset Trump," said Patrick Murray, director of Monmouth University Polling Institute

Clinton holds a commanding 9-point lead on Trump in the critical state of Pennsylvania and is trouncing him in the Philadelphia suburbs, where more than 80% of voters say they're bothered by the 2005 video of the Republican nominee bragging about groping women, according to a new Bloomberg Politics poll conducted after the video's release
Emerson College polls showed Clinton leading Trump in Virginia 46%-43%, and in Ohio 45%-43%
An NBC/WSJ/Marist poll has the two major presidential candidates in virtual tie in Ohio, with Trump at 42% and Clinton at 41%; Libertarian Gary Johnson has 9% and Green Party's Jill Stein at 4%; in two-way match-up, Clinton and Trump are tied at 45%
Meanwhile, Trump in Florida on Wednesday pointed to a new national survey by Republican-centered Rasmussen Reports that shows him at 43% vs. Clinton's 41%

We are in a "dead heat," Trump said

TRUMP FATIGUE

ETC

CONGRESSIONAL ELECTIONS
SENATE RACES (Republicans hold 54-46 majority)
FUNDRAISING DEADLINE: Senate campaigns have until Oct. 15 to postmark Q3 campaign-finance reports mailed to the Senate public records office in Washington; Senate candidates are exempt from electronic-filing requirements
MO: Roy Blunt and some other Republican senators in close re-election races have highlighted their cmte leadership positions, according to Bloomberg Government weekly analysis of Senate races

Blunt has touted his work to secure more federal funding for health research as chairman of an appropriations subcmte; he also leads Rules Cmte
Blunt's bid for second term opposed by Democratic Sec. of State Jason Kander
NC: Democratic Senatorial Campaign Cmte, the political arm of Senate Democrats, in TV ad said Republican Sen. Richard Burr has spent 20 years in Washington "serving himself," noting increase in personal wealth

Ad also noted Burr was among just three senators in 2012 who voted against so-called STOCK Act, which bars members of Congress and other government officials from trading stocks on nonpublic information gathered during course of their service
Burr said at the time the measure "would codify what existing law already says" and Washington lawmakers "should take up real legislation" focused on jobs and economy
Burr opposed by Democrat Deborah Ross, a former state legislator
WI: Club for Growth Action, a super-PAC advocating for spending and tax cuts, released TV ad describing Democratic ex-Sen. Russ Feingold as a "big taxer" during public service career, including 18 years in Senate

Republican Sen. Ron Johnson in TV ad said "thousands of Wisconsin families have been harmed by Obamacare," which Feingold backed in Senate
Johnson and Feingold, competing in rematch of 2010 race won by Johnson, will participate in candidate debate tomorrow that C-Span will air live
HOUSE RACES (Republicans hold 246-186 majority)
FUNDRAISING DEADLINE: House candidates have until Oct. 15 to electronically send Q3 campaign-finance reports to Federal Election Commission
RACE RATINGS: Democrats still "remain significantly out of range" of making net gain of 30 seats for majority "as we await more information on whether Trump is truly dragging down House Republicans or not," according to Sabato's Crystal Ball analysis from University of Virginia's Center for Politics.

Sabato's Crystal Ball shifted ratings of six races, all favoring Democrats and including four where GOP incumbents are in closer races: Darrell Issa in CA-49, John Mica in FL-07, Kevin Yoder in KS-03, Scott Garrett in NJ-05
Analysis says VA-05 Republican nominee Tom Garrett now only a mild favorite to succeed retiring Republican Robert Hurt; Garrett faces "spirited challenge" from Democrat Jane Dittmar, according to Crystal Ball
Democrats have stronger advantage in NY-03, where former Nassau County Executive Tom Suozzi favored to succeed retiring Democratic Rep. Steve Israel
CA-07: Democratic Rep. Ami Bera's campaign and Democratic Congressional Campaign Cmte released TV ad praising "Dr. Ami Bera" and his work to help military veterans at VA hospital before and during his congressional service

Bera, Sacramento County's former chief medical officer, opposed by Republican Scott Jones, the Sacramento County Sheriff, in competitive district
CA-17: Democratic Rep. Mike Honda's campaign released TV ad saying Democrat Ro Khanna's financial backers include "Wall Street billionaires and CEOs" and even "extreme Republicans"

Honda and Khanna seeking Silicon Valley district in rematch of 2014 contest that Honda won 52%-48%
IA-01: Democrat Monica Vernon's campaign released TV ad criticizing Republican Rep. Rod Blum's opposition to federal funding for Planned Parenthood, as Vernon says to camera an early diagnosis of her breast cancer "made a difference"

Blum seeking second term in district that includes Cedar Rapids, where Vernon was a city councilwoman
MI-01: Democrat Lon Johnson's promises to stand up to the national party and protect gun owners' rights are "calibrated for one of the country's most rural congressional districts, the type of seat" his party has struggled to hold, Associated Press reported

Johnson, a former state Democratic Party chairman, faces Republican Jack Bergman, a retired Marine Corps Lt. Gen., in vast district that includes the state's Upper Peninsula; Republican Rep. Dan Benishek isn't seeking re-election
Johnson and Bergman debated last week
NJ-05: Republican Rep. Scott Garrett's campaign released TV ad that accuses Democrat Josh Gottheimer of "assaulting and intimidating a neighbor," referring to woman who lived in D.C. building where Gottheimer was condo association president and who filed 2007 lawsuit with "civil claims she later withdrew," Bergen Record reported

Gottheimer's campaign said in statement that the "suit was frivolous" and Garrett's ad "categorically false" and an "act of desperation by a career politician"
Gottheimer raised $1.1m in Q3, according to campaign release
NV-03: Republican Danny Tarkanian and National Republican Congressional Cmte released TV ad in which Tarkanian blames Affordable Care Act for "skyrocketing insurance premiums," while referring to pro-ACA Democrat Jacky Rosen as "Harry Reid's candidate"

Tarkanian and Rosen seeking to succeed Republican Senate nominee Joe Heck in competitive Clark County district in metropolitan Las Vegas
PA-08: Democratic state Rep. Steve Santarsiero and Republican Brian Fitzpatrick, a former FBI agent, debated earlier today at Bucks County Community College

Fitzpatrick denounced Iran nuclear agreement; Santarsiero said he didn't support accord when it was negotiated, but U.S. unilateral action against Iran now won't work
Winner will succeed retiring Republican Rep. Mike Fitzpatrick, brother of the GOP nominee, in competitive district in Philadelphia suburbs
UT-04: Republican Rep. Mia Love raised $1.4m in Q3 and began Oct. with $1.2m for rematch vs. Democratic lawyer Doug Owens, according to FEC filing

Love beat Owens 51%-46% in GOP-friendly district in 2014 to become first black Republican woman elected to Congress
Before it's here, it's on the Bloomberg Terminal.
LEARN MORE