U.S. Oil Output Slide Seen Slowing as Shale Drillers Return
by and
2017 production estimate boosted 80,000 barrels a day by EIA

Global oil surplus seen at 340,000 barrels a day next year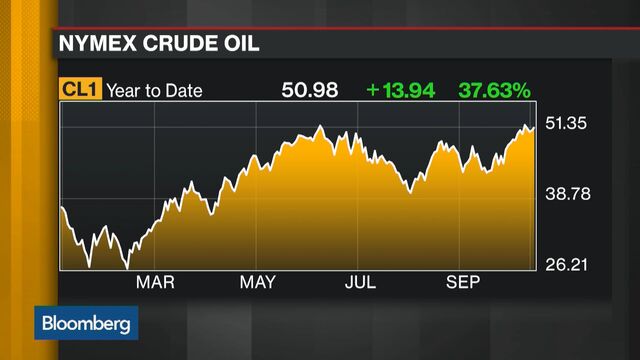 Increased drilling by shale producers buoyed by higher prices will slow the decline in U.S. crude production, a government forecast showed.
The Energy Information Administration raised its outlook for U.S. crude production next year, which now is estimated to fall 1.6 percent from 2016, compared to the 3 percent decline it predicted last month in its monthly Short-Term Energy Outlook. The forecast released Thursday takes into account a surge in drilling activity as crude prices rose 90 percent from lows in February.
"There's growing optimism about shale, especially in the Permian basin," said Michael Lynch, president of Strategic Energy & Economic Research in Winchester, Massachusetts. "It's the dog that didn't bark." 
The agency boosted its domestic output forecast for next year to 8.59 million barrels a day from 8.51 million projected in September, according to the data. It cut its 2016 forecast to 8.73 million barrels a day from 8.77 million.

The collapse in oil prices from above $100 a barrel in 2014 prompted producers to curtail drilling in unprofitable areas. U.S. shale production could fall to about 4.4 million barrels a day in October, the EIA forecast last month. Lower output and last month's OPEC decision to limit supply has helped oil rally above $50 a barrel this month from a 12-year low of about $26 in February.
North Dakota oil production dropped below one million barrels a day in August for the first time in more than two years, the state's Pipeline Authority said Thursday. The state's output should "bottom out" at 900,000 barrels a day by the middle of next year, Lynn Helms, director of state's Department of Mineral Resources, said in a call with reporters.
The 2017 revisions to production are based on rising drilling activity with improved rig efficiency and well-level productivity, the EIA said. Explorers have increased the number of oil rigs for 14 out of the past 15 weeks, raising the level of oilfield work to the highest since February, according to Baker Hughes Inc. data. The Permian Basin in Texas and New Mexico has become a focal point of the drilling recovery because of its lower operating costs and prolific resource base.
Global Surplus
The EIA increased its estimate for the global oil surplus next year to 340,000 barrels a day. Demand for petroleum and other liquid fuels is expected to grow to 96.67 million barrels a day worldwide next year, down from its September forecast of 96.78 million. Demand will be driven by growth in countries outside of the Organization of Economic Cooperation and Development, with India and China the largest contributors.
Global supply is expected to be 97.01 million barrels per day next year, up from last month's forecast of 96.79 million. Increased production from Libya and Russia are contributing to the upward revision, the EIA said. Libya output averaged 310,000 barrels a day in September, reaching almost 500,000 barrels at the end of the month. The agency also said the start up of new oil fields in Russia last month and the country's recent high record of oil production are boosting the supply outlook as well.
West Texas Intermediate crude will average $49.99 a barrel in 2017 versus the September projection of $50.58, according to the report. This year prices will average $42.78, up from the last forecast of $41.92.
Brent crude, the benchmark for more than half the world's oil, is projected to average $50.99 next year, a reduction from the prior estimate of $51.58. Prices will average $43.43 in 2016, an increase from the September report.
The average retail price for regular-grade gasoline for next year is forecast at $2.26 per gallon, up from $2.12 this year.
"Refinery outages and a disruption to the Colonial Pipeline system contributed to the U.S. average retail regular gasoline prices in September, increasing by 4 cents per gallon from August, to an average of $2.22 a gallon," the agency said.
Before it's here, it's on the Bloomberg Terminal.
LEARN MORE