U.K.'s Johnson Says Brexit Doom Misplaced as Opportunities Knock
by
Foreign secretary won't say if he wants U.K. in single market

'Doesn't make sense' for EU to punish financial services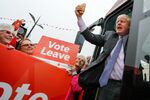 Foreign Secretary Boris Johnson said predictions of "doom" for the British economy following the decision to leave the European Union are misplaced and "will continue to be proved wrong" as the U.K. negotiates its departure from the bloc.
Follow @Brexit for the latest news, and sign up to our Brexit Bulletin for a daily roundup.
Britain will get a good deal from the remaining 27 member states because it is in their interests to continue open trade with the U.K., Johnson told members of the House of Commons Foreign Affairs Committee in London on Thursday.
"Those that prophesied doom before the referendum have been proved wrong and will continue to be proved wrong," Johnson said. "Our good friends across the channel have a symmetrical interest" in any agreement and will want "the best possible deal on goods and services for the sake of their companies," he told lawmakers.
Johnson twice declined to say if he wants Britain to remain in the European single market, just as Brexit Secretary David Davis refused to answer direct questions on the issue in Parliament on Wednesday. The foreign secretary said Britain could even get a better deal than it has had to date as a member of the EU.
'Huge Value'
"We're going to get a deal that will be of huge value, possibly greater value, in goods and services for our friends on the continent and for businesses investing in the EU," Johnson said. "Any attempt to punish U.K. financial services doesn't make any sense for Europe."
He expressed confidence that an agreement could be completed within the two-year timescale outlined in Article 50 of Lisbon Treaty, the formal mechanism for beginning the pullout process. Prime Minister Theresa May has pledged to invoke the clause by the end of March.
"If it can't be done in two years there are mechanisms for extending the period of discussion," Johnson said. "I don't think that will be necessary; I think we can do it."
He urged lawmakers to stop viewing Brexit as an "acrimonious divorce," saying that leaving the EU will sort out what he called the decades-old "U.K. problem."
"This is going to be the beginning of a new relationship between Britain and the EU," he said. "There will be a deal; it will be a great deal."
'Soft Power Superpower'
Johnson recalled the power and influence of the British Empire around the world as he pledged to build Britain as a "soft-power superpower" and restore relations with countries that had been neglected by his predecessors.
Brexit "is not any kind of mandate for this country to turn in on itself, haul up the drawbridge and detach itself from the rest of the world," he said. New trade deals present an "extremely exciting prospect" and "we will be going out again to places where perhaps people haven't seen so much of us as in the past, places where people thought we'd forgotten about them," he said.
Johnson also offered reassurance to companies wanting to hire foreign workers and nationals from around the world who want to work in the U.K.
"There's no inconsistency whatever between the desire to take back control of our borders and be open to to skills from around the world," he said.
Before it's here, it's on the Bloomberg Terminal.
LEARN MORE