Trump Supporters Monitoring Polls Alarms Voting-Rights Groups
The Republican presidential nominee has been exhorting his supporters to be vigilant about the supposed threat of voter fraud, which has been shown to be almost nonexistent in the U.S.
By and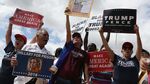 For the first time in a half-century, Americans will go to the polls in November without the full protection of the Voting Rights Act. Following a 2013 U.S. Supreme Court ruling invalidating a key section of the 1965 law, the U.S. Department of Justice has had to curtail its federal observer program, under which trained monitors oversee access to ballot boxes in areas historically prone to discrimination.
The shift comes just as Republican nominee Donald Trump has been exhorting his supporters to be vigilant about the supposed threat of voter fraud, which has been shown to be almost nonexistent in the U.S. "They're letting people pour into the country so they can go and vote," he said in an Oct. 7 meeting with the union representing U.S. Border Patrol agents. At a Pennsylvania rally on Oct. 10, he told the crowd, "So important that you watch other communities, because we don't want this election stolen from us." An online movement called Operation Red is encouraging Trump supporters to wear red to the polls so people "will have no choice but to acknowledge the visible truth in a sea of red," according to the group's website.
Trump's campaign lawyer, Donald McGahn, met in August with members of the Republican National Lawyers Association to discuss strategies for monitoring the voting process on Election Day. The group's chairman, Randy Evans, says the group plans to have on-call lawyers trained in state rules and ready to coordinate with poll watchers and local election authorities to handle any complaints, including those collected on dedicated voter hotlines. These could include precincts opening late or closing early, having too few voting machines or ballots, or allowing voters to cast more than one ballot, Evans says, adding, "The one that worries us most is if there's any kind of effort at intimidation or of dissuading voters from showing up."
Democratic groups are girding for what they see as rising voter suppression. Following a model established by President Obama's reelection campaign in 2012, Hillary Clinton's campaign is recruiting attorneys for Victory Counsel, a group of volunteers who will staff hotlines or serve as observers on Election Day. The campaign didn't return calls for comment.
Nonprofit groups such as the League of Women Voters and the League of United Latin American Citizens are training poll watchers across the country. They're concerned about new state laws that make it more difficult for citizens to vote, including Wisconsin's strict voter ID law, as well as a flood of inexperienced election monitors. "Poll watchers left unchecked may unfairly target minority voters," says Kristen Clarke, president and executive director of the nonprofit Lawyers' Committee for Civil Rights Under Law, which is expecting as many as 5,000 volunteers, twice as many as it had in 2014, to field phone calls from voters and election officials regarding irregularities. "It creates the potential for a lot of mischief, chaos, and disruption on Election Day."
Most states allow at least one observer from each party to monitor voting activity, though rules vary about whether they can go into the polling places or must stay outside. Some states, including Georgia and South Carolina, require poll watchers to wear a badge indicating their name and organization. In Texas, people aren't allowed to carry firearms into polling sites, but in Pennsylvania they are. In Tennessee and other states, to prevent intimidation, law enforcement officers aren't allowed in polling centers.
Pennsylvania state Representative Rick Saccone, a Republican, is trying to pass a bill before Election Day that would loosen rules restricting poll watchers to their own counties. Critics say letting observers travel anywhere in the state raises the possibility of white election monitors intimidating voters in minority areas, but Saccone dismisses that: "The notion that there will be roving bands of poll watchers disrupting elections is just nonsense."
An Ohio federal court found in 2004 that "the presence of vast numbers of challengers inexperienced in the electoral process" imposes a "severe burden" on the right to vote. The suit was filed by a couple in a mostly black Cincinnati neighborhood who challenged a state GOP plan to put representatives in "as many precincts as possible."
Federal law prohibits conduct that would intimidate voters or otherwise discriminate on the basis of race or ethnicity. That includes direct confrontation with voters, using threatening language or raised voices, and disseminating misleading information on elections, according to New York University's Brennan Center for Justice. Lawrence Norden, deputy director of the Brennan Center's democracy program, says there's a "real role" for citizens to be involved in supervising elections to ensure they're transparent. But, he says, "the difficulty is that a lot of regular citizens are not going to know what the law is."
Before it's here, it's on the Bloomberg Terminal.
LEARN MORE