Trump Puzzled Why More Women Don't Support Him
In Florida, the Republican presidential nominee questions why he is having trouble attracting female voters.
By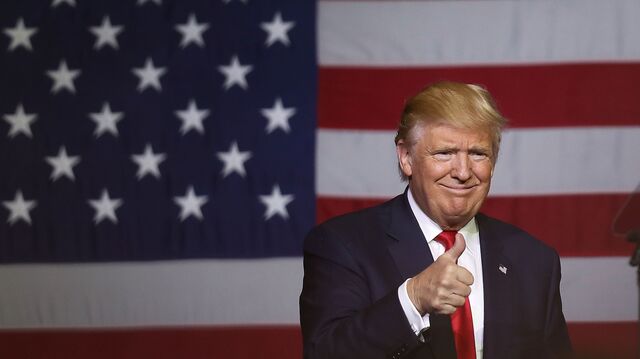 Donald Trump planted a kiss on a rally sign that he took from a woman at one of his Florida events on Wednesday, and expressed bewilderment that some women aren't backing him.
"I see all these 'Women for Trump' signs. I love this," Trump said. "I see hundreds of women for Trump, then I see a poll. 'He is not doing well with women.' I don't know."
Caught in a tornado of political trouble, with daunting poll numbers, rebukes from his fellow Republicans over his sexist comments, and mounting allegations of unwanted touching by women from his past, Trump clearly has the prospect of losing the 2016 presidential race on his mind.
"If we don't win this election, I don't know what I'm going to do. I don't know," he mused at a rally in Ocala.
At his last three rallies over the past two days, audiences in Florida witnessed a mercurial Trump, who alternated between seeming distracted, fired up, and disbelieving that his fate might be a loss on Nov. 8. Trump will struggle to beat Democrat Hillary Clinton if he doesn't prevail in Florida. So he did a multi-day tour of the state, trying to persuade voters into his column, despite the continuing controversy over a tape released Friday that captured a private conversation in 2005 in which he said he grabs women "by the pussy."
His Florida swing didn't always go smoothly—rain clouds opened up on his outdoor rally in Lakeland, his microphone cut out for a short spell, and on Tuesday night, he mistakenly told his Panama City Beach audience that election day is Nov. 28. But on Wednesday he plowed on through the bad weather, trying to knock down any arguments that might have voters worried about him, assuring his audience that he's concerned about the environment despite portraying global warming as a "hoax," and insisting he has no business ties with Russia, whose leader he has praised.
As has become routine during the campaign, Trump portrayed himself as the victim of a Republican conspiracy to keep him from becoming president, taking aim for the third consecutive day at House Speaker Paul Ryan of Wisconsin. "There's a whole deal going on there," he said at his Ocala rally. "I mean, you know, there's a whole deal going on. We're going to figure it out. I always figure things out. But there's a whole sinister deal going on."
By Wednesday night, Trump was dealing with more bad news. Two women told the New York Times that Trump had made unwanted advances on them years ago. One was a traveler who was seated in first class next to Trump 30-some years ago; she told the newspaper he tried to put his hand up her skirt. The other said Trump in 2005 kissed her directly on the mouth after she introduced herself as a business associate near an elevator in Trump Tower.
The Times report article is "fiction," Trump spokesman Jason Miller said in a statement. 
"It is absurd to think that one of the most recognizable business leaders on the planet with a strong record of empowering women in his companies would do the things alleged in this story, and for this to only become public decades later in the final month of a campaign for president should say it all," Miller said.
Additional reports on Wednesday of unwanted sexual advances by Trump included a Florida woman who told the Palm Beach Post that Trump grabbed her behind 13 years ago. Multiple news outlets detailed the claims made by former beauty pageant contestants that Trump had barged into their dressing rooms when they were naked.
And writer for People magazine published an article on Wednesday that said Trump in 2005 pushed her against a wall and forced his "tongue down my throat." The incident happened when the writer had gone to interview Trump and his wife, Melania, for a story about their first wedding anniversary, according to People. The Trump campaign denied the episode took place.
Trump, increasingly isolated by the GOP, has buckled down with his closest advisers, puzzling through how to regain the momentum his campaign had a month ago. 
In response to the darkening outlook for victory, the campaign intends to bring forward more women who say they were mistreated by Clinton's husband, former President Bill Clinton. "Women are coming to us who have been groped or sexually abused by Bill Clinton," a senior adviser to Trump said.
It remains to be seen, however, whether the warring allegations will do anything to get Trump back on track. 
The Long Haul
While he has grown more comfortable using a teleprompter, at points during Tuesday's rally Panama City rally it was obvious that he was simply reading his lines. He'd had a long day of travel—with flights from New York, to and from Texas, then a landing in Florida for a rally that wrapped up at 10:30 p.m. Trump, 70, only waved from the stage when he was done speaking, rather than wade into the crowd to shake hands, as he often does.
After a stream of Republicans disavowed him over the weekend and earlier in the week, Trump tweeted that the "the shackles have been taken off me." But again on Wednesday, the teleprompters, a means for his strategists to keep him from veering off message, were still on stage.
By Wednesday afternoon, Trump's more typical fired-up persona was back. At his Ocala rally, he was full of dire warnings about what will happen if he loses. Islamic terrorists will "not only take over that part of the world, they'll take over this country, they'll take over this part of the world," he said.
Trump predicted that more jobs will leave the country and that insurance will become more costly under Obamacare.
He urged everyone in the crowd, which local law enforcement officials estimated at 8,000, to register to vote, noting that an extension had been granted due to disruptions in the state caused by Hurricane Matthew. Unmentioned was the fact that state Democrats had successfully sued for the extension. "If you're not registered, get the hell out of here, alright?" he bellowed. "Leave right now and go register."
If Floridians don't help him win, he said, he'll be "so, so angry at Florida."
In Lakeland, Trump again mused why women aren't embracing his campaign, noting that his daughter Ivanka, his most prominent female surrogate, "wants child care and senior care."
"Women want safety for our country," he added. "They want a strong military. They don't want crime in our cities. They want to be protected by law and order. ... The women in this country want what I'm saying."
In the middle of his speech, his microphone went out. He paced for about 20 seconds, pointing to the lectern and mouthing that there was a problem. When the audio returned, however, so did the raindrops.
"We don't care if we stand in the rain, do we? I'll take my hat off, I'll get my hair nice and wet," he said.
Change in Plan
The campaign a month ago passed a strict edict that no Trump aides or surrogates were to use Clinton's startling health scare at the Sept. 11 memorial as attack fodder, but on Tuesday, with his prospects for victory dwindling, the Trump campaign released a TV ad that featured Clinton, 68, coughing, knees buckling, and needing assistance to walk.
In Florida, he and his surrogates hammered the theme that Clinton too dishonest to be president. He said hacked Clinton campaign e-mails released by WikiLeaks "made more clear than ever how much is at stake in November and how unattractive and dishonest our country has become."
He escalated his rhetoric that Clinton is a "criminal," saying she deleted 33,000 e-mails despite a congressional subpoena. "She deleted the e-mails. She has to go to jail," he said. His campaign manager later said he didn't mean it literally. 
Yet, for a man who has built a campaign on self-aggrandizing promises and bold pronouncements, Trump's stump speech has become littered with lines that don't sound very confident. 
"If I don't win, I will consider this the single greatest waste of time energy and money of anything I've ever done," he said in Ocala.