Trump Adviser Calls for Talks on U.S. Troop Costs in Japan
by
Michael Flynn speaks to Nikkei newspaper during visit to Tokyo

Adviser says Trump prefers bilateral trade deals over TPP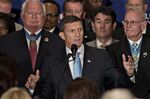 The U.S. should hold talks with Japan over the share each country pays for the stationing of American troops in its ally's territory, a foreign policy adviser to presidential candidate Donald Trump said in an interview with the Nikkei newspaper published Thursday.
The comments by Michael Flynn on a trip to Tokyo came two weeks after Trump reiterated in a debate accusations that Japan was among a list of countries that "do not pay" for defense provided by the U.S. In fact, Japan is set to pay about 377 billion yen ($3.6 billion) this year alone toward the cost of maintaining approximately 54,000 U.S. military personnel in the country, according to Japan's Defense Ministry.
"The right types of leaders" should "have that conversation and examine what are the costs, what are the needs to maintain security and stability," the paper quoted Flynn as saying. He added that Trump shared his belief that the U.S.-Japan alliance is critical for the security of Asia.
While Japanese government officials have avoided criticizing Trump in public, former defense minister Yuriko Koike, now governor of Tokyo, published a column in April referring to his election campaign as "loutish" and said Japan had particular reason to be unsettled by his "incendiary rhetoric."
In comments Wednesday shown on television news network FNN, Flynn said: "Donald Trump has a lot of friends in Japan. I think that we have a great relationship with the people of Japan and we have a great relationship with the government of Japan."
In remarks to the New York Times earlier this year, Trump said he'd be open to allowing Japan and South Korea to build their own nuclear arsenals. Both Japanese and South Korean governments have rejected the notion.
Trade Deal
Former Vice Defense Minister Akihisa Nagashima of the opposition Democratic Party, an acquaintance of Flynn since before the election campaign, held a two-hour meeting with him in Tokyo this week.
"He explained that Trump has been saying outrageous things, but that they are for the sake of the election campaign," Nagashima said of their discussions. "Campaigning and governing are different things."
Nagashima said Flynn, known for his ties with Russia, also said he welcomed Japanese Prime Minister Shinzo Abe's efforts to achieve a rapprochement with Russian President Vladimir Putin. The two leaders are set to discuss a potential peace treaty at a meeting in Japan in December.
Flynn, a former director of the Defense Intelligence Agency and once rumored as a possible running mate for Trump, also met with ruling party lawmakers during his visit. But Japan's Foreign Ministry declined to comment on whether its officials planned to meet him.
Asked about the Trans-Pacific Partnership regional trade deal, which both Trump and rival Hillary Clinton have opposed, Flynn told the Nikkei it was a bad deal for the U.S. He added that Trump preferred to negotiate bilateral trade agreements because they offer opportunities to cut better deals for the U.S.
Abe has vowed to ratify the TPP as soon as possible, urging the U.S. to do the same. He has rejected the idea of renegotiating a deal which is seen as a way of maintaining U.S. engagement in Asia.
Before it's here, it's on the Bloomberg Terminal.
LEARN MORE