Top Yuan Forecaster Upbeat as Currency Sinks to Six-Year Low
By and
Capital inflows will help yuan rise from next year: LBBW

Further losses this year limited to 0.3 percent: Trahorsch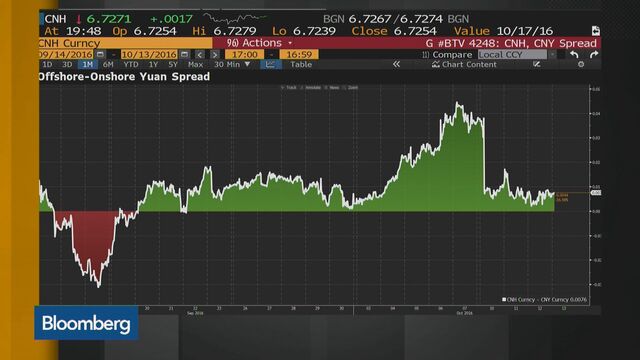 Yuan bears have little to celebrate, according to the currency's top forecaster.
While the yuan's slump to a six-year low this week has fueled speculation of a faster depreciation, Landesbank Baden-Wuerttemberg predicts further losses will be limited to 0.3 percent this year and another 0.7 percent in 2017. The currency may even start to rebound toward the end of next year as inflows rise and companies taper foreign debt repayments, said Julian Trahorsch, an economist at the German bank, the most accurate forecaster of the yuan as ranked by Bloomberg.
The yuan has fallen past 6.7 per dollar this week, a level previously seen as the People's Bank of China's "line in the sand," taking its drop for the year to 3.4 percent. The monetary authority has been careful to manage the pace of declines since a series of weaker fixings in January sparked turmoil in global markets amid concern policy makers would allow the currency to rapidly devalue.
"That's the strategy of the PBOC: depreciation, yes, but they don't want to cause market disturbance," Trahorsch said from Stuttgart. "There is no major crisis in the foreseeable future in China. The economy is only a bit weaker, and therefore a bit-weaker currency fits well with this larger macro picture."

The yuan has declined 0.8 percent this week to 6.7304 a dollar as Chinese markets reopened after a week-long holiday during which the dollar jumped amid rising expectations of a U.S. rate hike in December. The yuan had been steady for months amid speculation the PBOC was keeping the exchange rate stable before China hosted the Group of 20 summit in September and the currency entered the International Monetary Fund's reserves basket on Oct. 1.
Now that the political calendar has cleared, investors are getting nervous again. One-month implied volatility, a measure of expected swings used to price options, climbed to the highest since June last Friday.
"The PBOC may need to step up efforts to prevent market fears over a sharp yuan depreciation from emerging and self-reinforcing," Gao Qi, a foreign-exchange strategist at Scotiabank, wrote in a report.
Deutsche Bank AG predicts that the yuan will face increased depreciation pressures from capital outflows as China tries to cool the housing market, eases monetary policy to help the economy and as the Federal Reserve raises interest rates. The lender predicts China's currency will end 2017 and 2018 at 7.4 and 8.1, respectively.
Debt Repayment
To Trahorsch, there's little reason to be concerned. Any tightening by the Fed will be gradual and exert limited pressure on the yuan, he said. Chinese companies' repayment of overseas debt -- accumulated as the yuan surged in the four years through 2013 -- has gone on for long enough and is decelerating, the 29-year-old analyst added.
Capital outflows from China averaged $69 billion a month this year through August, compared with an average $113 billion in the second half of 2015, according to Bloomberg estimates. At the same time, inflows are picking up, with foreign investors boosting their holdings of Chinese sovereign bonds by a record in September after the government eased curbs. Data from manufacturing to retail sales exceeded estimates in August, although exports data for September showed a bigger-than-expected decline.
Quicker inflows would help the yuan to possibly start rising from the summer of 2017 and reach equilibrium of 6.2 by end-2020, according to Trahorsch. Chinese policy makers have pledged to increase capital-account convertibility by that year, while officials have taken steps to meet MSCI Inc.'s requirements to enable the country's shares to be included in global benchmark indexes.
"There are just a lot of stories as to why capital might move into China if it's included in MSCI indices, if the capital account is open in 2020," Trahorsch said. "We see a plateau in the second half of 2017 and then I believe the adjustment is finished and we could see some appreciation in the yuan."
Before it's here, it's on the Bloomberg Terminal.
LEARN MORE