Thailand Mourns as King Bhumibol Dies, Successor Appointed
Bloomberg News
Bhumibol, who took throne in 1946, had been ill for years

Government says Thais should avoid 'joyful events' for 30 days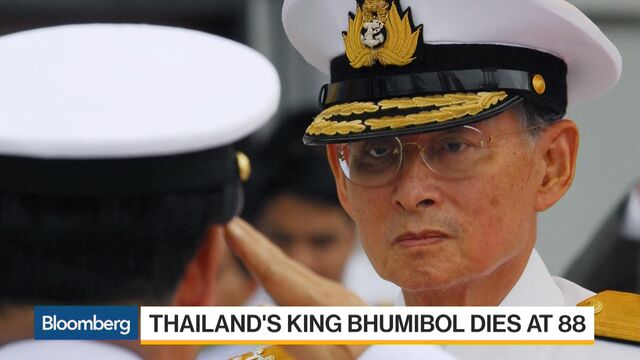 Thailand mourned the death of 88-year-old King Bhumibol Adulyadej, with the government signaling that his only son would take the throne and calling on the nation to avoid "joyful events" for 30 days.
Bhumibol passed away Thursday at Bangkok's Siriraj Hospital, the palace said in a statement. Prime Minister Prayuth Chan-Ocha subsequently said the king had anointed a successor in accordance with the constitution, putting Crown Prince Maha Vajiralongkorn, 64, in line to ascend the throne.
"It's a great loss to the Thai people," Prayuth said in a TV broadcast. He asked Thais to dress in mourning for a year and pray for the king's soul to protect the nation, concluding the eight-minute address with: "Long live the new king." Prayuth later said Vajiralongkorn requested a delay in proclaiming him king to give Thais time to mourn his father. He also urged people not to use the transition as a pretext to incite unrest, according to Prayuth.
Bhumibol was a symbol of unity in a country rocked by 10 coups during his seven-decade reign, but had been ill for years, making limited public appearances and spending most of his time in the hospital. Vajiralongkorn is his only son. While his father was beloved for his royal works, Vajiralongkorn doesn't have the same adulation.
Passed 'Peacefully'
Thousands of Thais who gathered on Thursday outside Siriraj Hospital broke down in tears when the news was announced. Many held photos of the monarch and had dressed in pink for good luck.
"The team of doctors did as much as they could but his condition didn't improve and continued to deteriorate," the palace said in the statement, adding he passed away "peacefully."
Thailand's stock market and the baht fell this week after the royal palace said Sunday the king's condition was unstable. The baht held gains after the palace announcement, while a U.S.-listed exchange-traded fund tracking Thai stocks climbed in New York trade. The baht rose 0.7 percent to 35.360 per dollar as of 7:11 a.m. in Bangkok.
The stock exchange will open as usual on Friday unless the government tells it to close, President Kesara Manchusree told Bloomberg by phone. Thailand's central bank won't announce any closures as the government hasn't requested any, according to an official who asked not to be identified in line with bank policy.
Mourning Period
Thailand's economic recovery had gained momentum in recent months, with consumer confidence rising to a seven-month high in September. Tourism accounts for about 10 percent of gross domestic product.
Thailand's national broadcasting regulator banned entertainment programs for 30 days and warned television and radio to follow palace protocol in airing news about the king's death.

Programming on every TV channel in the country was replaced by documentaries about the king's life, a measure that will continue "until further notice," according to the regulator. The Bangkok Post newspaper changed the color of its website to black and white, while Thais began changing their Facebook profile photos to a black box.
'Utmost Respect'
The king was a "close friend" of the U.S., President Barack Obama said in a statement, recalling Bhumibol's "grace and warmth, as well as his deep affection and compassion for the Thai people."
Bhumibol was an "outstanding and deeply revered monarch," Singapore's foreign ministry said in a statement. Indonesian President Joko Widodo said "the world has lost a leader who was close to the people, the bearer of peace and unity, and welfare to the people of Thailand."
Philippine President Rodrigo Duterte's office said Bhumibol was the guiding hand behind the emergence of Thailand as one of the most progressive countries in Asia. During his reign, Thailand made major strides in economic and social development, Australian Prime Minister Malcolm Turnbull said.
Under Thailand's constitutional monarchy, the king is head of state while the prime minister and parliament govern. All legislation requires his seal of approval.

Curbing Criticism
Public discussion of Bhumibol and his political role is curbed under lese majeste laws that can be invoked for defaming, insulting or threatening the king, queen, heir apparent or regent. Offenders face up to 15 years in prison, and the military-run government has recently stepped up arrests to curb posts about the royal family on social media.
The king was repeatedly hospitalized over the past decade, and had been treated in recent months for hydrocephalus, a condition characterized by increased fluid in the cranium. In an Oct. 9 statement, the royal palace said his overall condition was unstable. On Oct. 1, the palace had said the monarch's condition had improved following a lung infection.
Prayuth became leader following a May 2014 coup that deposed the government of Yingluck Shinawatra, whose brother Thaksin Shinawatra was ousted by the military in 2006 and now lives in exile. Thaksin and his allies have won the past five elections in Thailand dating back to 2001, with his opponents taking power periodically after interventions by the military or courts.
"I'm worried about our country," said Wasin Tiangtam, 18, a public administration student at Suan Dusit University in Bangkok who was among the thousands at Siriraj Hospital mourning the king's death. "Our country became so divisive with so many quarrels even when he was alive. What will happen now that he is no longer?"
---

---
— With assistance by Tony Jordan, and Jason Koutsoukis
Before it's here, it's on the Bloomberg Terminal.
LEARN MORE