TD Expects Trudeau to Run Bigger Deficits Than He Budgeted
by
Canada headed for C$34 billion shortfall this fiscal year

Bank cautions government against additional spending measures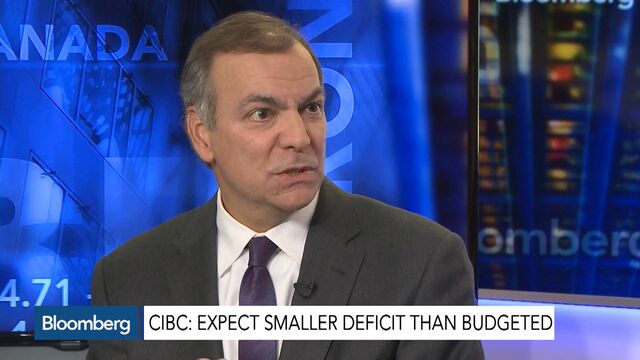 Canada will run larger deficits than Prime Minister Justin Trudeau's government has projected amid a weakening revenue outlook, limiting its scope for additional spending measures, according to a report from Toronto Dominion Bank.
The country is on track to run a deficit of C$34 billion ($25.7 billion) in the current fiscal year, almost C$5 billion more than forecast in the government's March budget, the report calculated. Over the next five years, Canadian deficits are tracking C$16 billion more than forecast.
TD's fiscal estimates suggest the revenue outlook is worse than even the very conservative projections made by Finance Minister Bill Morneau in the budget, and will limit his ability to ramp up additional spending. Morneau met Thursday with private-sector economists as he prepares his fiscal update.
The finance minister defended his March plan, saying it included a "factor of prudence." Trudeau's government has since "been shown to have taken the right decision in that regard," Morneau told reporters in Toronto after the meeting.
Weakened Outlook
TD said nominal gross domestic product is growing at a pace of 3 percent to 3.5 percent through 2020, roughly one percentage point lower than the government's budget estimates. That represents an annual loss of about C$10 billion in revenue by 2020.
"We would caution against implementing additional measures that would drive the deficit profile significantly above the status-quo," the TD report said.
Morneau said the country's net-debt-to-GDP ratio remains the government's "fiscal anchor." The bank doesn't project the ratio to move much beyond 32 percent over the next five years.
"There are multiple factors that weigh on our economic forecast," Morneau said. Canada's fiscal outlook was weakened by the Brexit result, which Morneau called "not positive"; by fires in oil-producing Alberta this spring; and by the rising "sense of protectionism" in the U.S., he said.
Lower interest rates also have mixed impact, according to the TD report. While lowering public debt charges, lower rates also increase pension liabilities for the federal government, which Toronto Dominion Bank estimated at C$3 billion per year.
Before it's here, it's on the Bloomberg Terminal.
LEARN MORE