Scotland Poses New Brexit Issue for May With Referendum Bill
by
First minister says Brexit has refreshed case for plebiscite

Sturgeon doesn't give any timing on when referendum might come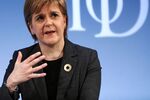 First Minister Nicola Sturgeon said she'll publish a draft Scottish Independence Referendum Bill next week, holding out the threat of a new bid to break up the U.K. if she feels her nation's interests aren't being protected in Brexit negotiations.
"I am determined that Scotland will have the ability to reconsider the question of independence -- and to do so before the U.K. leaves the EU -- if that is necessary to protect our country's interests," Sturgeon said, to cheers from delegates at her Scottish National Party's annual conference in Glasgow on Thursday.
Follow @Brexit for the latest news, and sign up to our Brexit Bulletin for a daily roundup.
The publication of the bill doesn't mean an imminent vote. Prime Minister Theresa May's spokeswoman immediately fired back, saying that the question of independence had been settled in 2014, when Scots voted by 55 percent to 45 percent to stay in the U.K. But Sturgeon's words offered a hint that if she's dissatisfied with the tone of Britain's departure negotiations with the European Union, a new vote could be held before those talks are completed.
May, who met Spanish Prime Minister Mariano Rajoy in Madrid on Thursday as she paves the way for negotiations, was keen to stress that the process of Brexit would be carried out for the U.K. as a whole.
"The Prime Minister also made clear that as we go through the process of departure we will do so as one United Kingdom," her office said in an e-mailed statement. "There will be internal consultation with the devolved administrations and other stakeholders about how we represent everyone's interests, but we will negotiate and leave as the U.K."
Sturgeon acknowledged that she's under constant pressure from her own side to call a second referendum, and Thursday's announcement will go some way to easing that. It was also an attempt to put May under pressure to deliver a Brexit that will keep close ties to the EU, including membership of its single market. But Sturgeon's success will depend on the extent to which the government in London judges her threat to be credible.
Majority Against
The SNP won't pursue another independence referendum unless it judges it can win. A survey by Kantar TNS published last month found 53 percent of people were opposed to independence and 47 percent in favor after excluding respondents who were undecided. 
The recent rhetoric on Brexit also has done little to sway voters, according to a poll for the Glasgow-based Herald newspaper published Thursday. It found people evenly split on whether to hold another referendum at all. The SNP highlighted that the new figures showed if the U.K. heads for a "hard Brexit," surrendering single-market membership, 55 percent of respondents agree there should be another vote on breaking from the rest of Britain.
Ruth Davidson, leader of the Scottish branch of May's Conservative Party, was dismissive. "Yet more division," she said on Twitter. "She really has given up any pretense of being a first minister for all of Scotland, in order to play to SNP gallery."
Davis Meeting
Davidson pointed out that she had just left a meeting with Brexit Secretary David Davis in which they discussed Scotland's situation once the U.K. has left the EU.
May received support from Spain's acting Prime Minister, Mariano Rajoy, when she visited Madrid on Thursday. As it tries to deal with its Catalan independence campaign, the Spanish government is determined that the EU shouldn't send warm signals to Scottish nationalists. "Spain will support the integrity of the U.K. and won't encourage any type of secessionism related to the exit from the EU," the government said in a statement after the meeting
Sturgeon warned that May's government is on course to take Britain out of the single market to ensure controls on immigration, something she said the SNP would resist. Scotland voted in June to stay in the EU by 62 percent to 38 percent, even as England and Wales backed Brexit.
"The prime minister may have a mandate to take England and Wales out of the EU, but she has no mandate whatsoever to remove any part of the U.K. from the single market," Sturgeon said. "And if the majority in the House of Commons stand up for what they know to be right, she will not get away with doing it." 
Extra Powers
Sturgeon said she would push for "substantial additional powers" as part of the Brexit negotiations for the Scottish Parliament, which is currently responsible for transport, policing, health, education and, increasingly, taxation. The first minister said she wants "powers to strike international deals" and "greater powers over immigration."
She mocked the Tories as "insular" and "obsessed with borders and blue passports at the expense of economic strength and stability."
And she had a warning for the prime minister: "If you think for one single second that I'm not serious about doing what it takes to protect Scotland's interests, then think again."
Before it's here, it's on the Bloomberg Terminal.
LEARN MORE