Stagflation Risk May Mean Carney Has Little Love for Marmite
By
Tesco battle over prices reflects impact of plunging pound

Faster inflation may restrict BOE's space to cut rate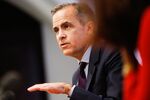 When it comes to Marmite, Mark Carney may now be in the camp that hates it.
While the Bank of England governor and some of his fellow policy makers have signaled a willingness to ease monetary policy again to insulate the economy against the fallout of Brexit, their ability to do so is being squeezed by the inflation risk posed by the slide in the pound to the lowest in three decades.
Follow @Brexit for the latest news, and sign up to our Brexit Bulletin for a daily roundup.
The stagflation-light outlook of weak growth and accelerating price growth risks upending Carney's balancing act between supporting expansion and preventing an unsustainable inflation overshoot. The latter threat was epitomized by Tesco Plc's decision to temporarily pull jars of the iconic "love it or hate it" brand Marmite from its online store in a pricing spat with Unilever.
"The BOE has so far been minded to look through an overshoot of its inflation target and ease," said Allan Monks, an economist at JPMorgan & Co. in London. "But the current configuration of rising bond yields, a weaker currency and rising market-based inflation expectations is likely to prompt more caution from policy makers."
The pound's 18 percent drop since the U.K. voted to leave the European Union in June is already being felt in raw materials, with import costs rising at the fastest pace in five years. The U.K.'s 10-year break-even rate, a gauge of inflation expectations, reached the highest since early 2014 this month.
Nevertheless, Carney said on Friday he'll accept an overshoot of the BOE's 2 percent inflation target to prevent a worsening of the labor market, suggesting that supporting economic growth remains the priority.
"We're willing to tolerate a bit of overshoot in inflation over the course of the next few years in order to avoid that situation, to cushion the blow," he said.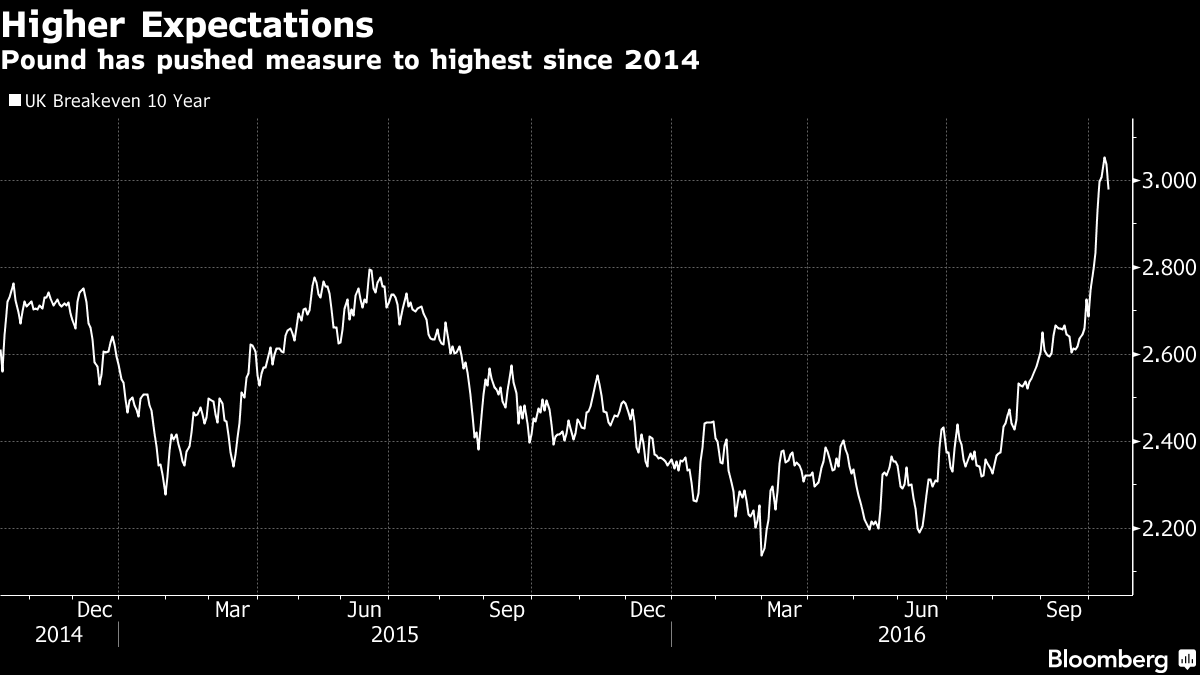 The BOE will publish new projections alongside its next policy decision on Nov. 3, and Deputy Governor Jon Cunliffe said on Wednesday that it will be a "very important forecast round."  
"We will process all of the news, including what's happened to sterling in recent days," he said. The currency declined 0.1 percent to $1.2239 as of 12:10 p.m. London time. It's fallen 1.6 percent this week after a 4 percent drop last week.
Monks predicts inflation will accelerate to 2.6 percent in the second quarter of next year, twice the pace he anticipates for this quarter. He also sees growth slowing to 1.3 percent from about 2.1 percent in 2016.
Economists in Bloomberg's monthly survey in September predicted another BOE interest-rate cut this year to add to August's loosening. Investors don't share that view, putting the odds of another reduction at less than 10 percent. Bloomberg will publish its next U.K. survey on Tuesday.
Stagflation Threat
U.K. consumer-price growth was 0.6 percent in August, matching the highest since 2014. While that's still far below the 2 percent goal, BOE policy makers have said they're already watchful for signs of upward price pressure.
Deputy Governor Ben Broadbent said earlier in the month that sterling's decline so far has been "relatively orderly" and the MPC will judge it on how it affects inflation and growth.
A sustained drop will nevertheless create problems, Catherine Mann, chief economist at the Organization for Economic Cooperation and Development, told Bloomberg Television on Tuesday.
If the currency stays 10 percent or 15 percent off its high, then "that gets passed through to higher inflation, and in a two-year horizon we'd be looking at a stagflation situation," she said. "That, of course, is place that central banks really don't like to be."
Monks at JPMorgan said there could even be a "serious discussion" about raising rates if the pound keeps falling.
Inflation forces are already being felt by British retailers. The Guardian newspaper reported that Unilever wanted to raise prices by about 10 percent because of the pound's depreciation, prompting a retaliation from Tesco. The companies settled their dispute after it briefly led to brands such as Marmite and Dove body care products being withdrawn from the U.K. retailer's online store.
Britons are also having to pay more for Apple Inc.'s new iPhone 7 because of the pound. The base level product costs 11 percent more than the 2015 version.
"Retailers' margins are already squeezed," Justin King, former chief executive officer of J Sainsbury Plc, said at an event hosted by Bloomberg in London on Wednesday. "So there is no room to absorb input price pressures and costs will need to be passed on."