Russia's By-the-Book Central Banker Sees QE Fading for Good
by , , and
Bank of Russia governor says risks from easy policies rising

Stimulus damages productivity, fans 'bubbles,' Nabiullina says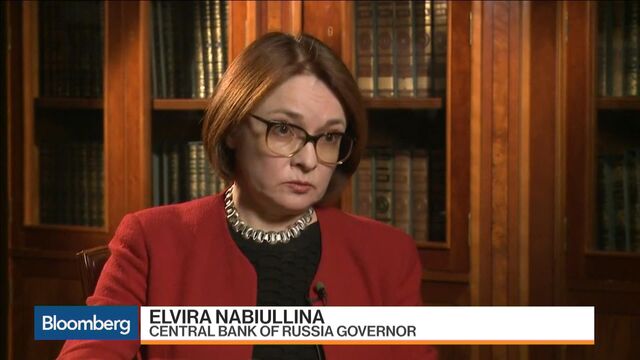 The unprecedented tools used by central banks to fight deflation and fire up growth didn't serve the global economy well, according to Bank of Russia Governor Elvira Nabiullina. And once they're gone, she says they aren't coming back.
Besides spillovers that are inflating "asset bubbles in different segments" of global markets, another consequence of ultra-easy settings is that investment has poured into projects that are hurting productivity, Nabiullina said in a Bloomberg Television interview in Moscow. The outcome is a further drag on economic growth and trade that's reverberating worldwide, she said.
"Quantitative easing was initially conceived as a temporary policy, to win time for structural changes," Nabiullina said. "We see that it's being carried out for quite an extended period and negative consequences of the policy are accumulating."
Looser policy by major central banks has propelled stocks since the global financial crisis, and government bond yields have fallen to record lows. While Russia's central bank has been so by-the-book that Morgan Stanley deemed it to be the "most orthodox" in developing Europe, policy makers in Moscow are more than innocent bystanders in a global debate over the pitfalls of monetary stimulus.
Little Stimulus
The challenge for Russia may be how to vanquish -- not rouse -- inflation, but a chorus of officials and business leaders is keeping up pressure on the central bank to abandon a stance so tight that it's kept real interest rates near the world's highest even as the economy struggles to pull out of its longest contraction under President Vladimir Putin.
Long a critic of the U.S. Federal Reserve as the world's dollar printing press, Putin has stood by his central bank and declined to pump the economy with cash even as a recession drags on. Unlike the crisis in 2009-2010, when Putin deployed a stimulus package estimated as the largest among Group of 20 nations, this time he's letting the economy adjust through a flexible exchange rate even as millions plunge into poverty. 
After helping touch off inflation by allowing the ruble to trade freely in late 2014, policy makers are targeting price growth of 4 percent by end-2017 after overshooting their forecasts for a fourth consecutive year in 2015. The central bank's "moderately tight" stance has allowed for only two rate reductions in 2016 before policy makers all but shut the door on more monetary easing through the rest of the year.
'Opposite Goals'
"For Russia, we don't yet see grounds to use such non-traditional measures," Nabiullina said. "We have absolutely opposite goals. Our inflation is high and we need to lower it."
Where global central banks went awry is by trying to administer a monetary cure to "imbalances" for which the best solution may lie elsewhere and that ultimately account for the sluggish economic growth and low inflation, according to Nabiullina.
"Monetary policy alone can't cope with these imbalances," she said. "For the effort to be effective, what's needed is a good mix, a good combination of fiscal and monetary-policy and structural changes."
Policy Mix
It's a sentiment increasingly heard from the likes of Federal Reserve Vice Chairman Stanley Fischer, who said this month that monetary and fiscal policy steps may be needed to fend off a protracted period of sub-par economic growth.
The European Central Bank last month also repeated its "strong call" for governments to flank loose monetary policy with "adequate fiscal policies and structural reforms" to make growth stronger and more sustainable. President Mario Draghi in October told euro-area governments that the ECB policies give time for economic reforms to be undertaken.
"If you have cheap money, it doesn't necessarily go into projects with increasing efficiency, increasing productivity," Nabiullina said. "Therefore, a consequence of low productivity of projects and the lack of meaningful growth in labor productivity is the low pace of economic growth, which harms everyone, all the countries, as we live in a globalized world."
'Difficult Task'
The timing of policy normalization will depend on the specific situation in each country, according to Nabiullina. The governor praised the Fed for its "rather careful" approach to preparing the markets for possible tightening in the U.S.
"Central banks of these countries face a very difficult task, of course, considering the deflation in these countries and the so-far limited impact of soft monetary policy," Nabiullina said. "They are having to resort to artistry to achieve their goals."
While higher rates in the U.S. won't have any "significant, immediate impact" on the Russian economy, the Fed's policy turn can reach the world's biggest energy exporter by affecting the price of oil and stoking market volatility, she said.
Although central banks world over have bumped up against the limits of what they can accomplish, Nabiullina sees more than the failure of monetary stimulus.
"The job of central bankers is now difficult in all countries," she said. "The tasks are different, and indeed they are hard to solve, leading to the use of non-traditional instruments. But I think it speaks to the flexibility of central banks, their readiness to deploy even non-traditional instruments, expand their arsenal of measures to act on the economy in order to reach their goals."
Before it's here, it's on the Bloomberg Terminal.
LEARN MORE