New Zealand's English Dangles Tax Cuts as Budget Surplus Jumps
By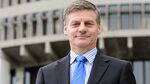 New Zealand Finance Minister Bill English has raised the prospect of tax cuts ahead of next year's election after the budget surplus jumped to more than double the amount forecast.
The operating surplus was NZ$1.83 billion ($1.3 billion) in the year ended June 30, final government figures published Thursday in Wellington show. That's up from NZ$414 million last year and the Treasury Department's NZ$668 million projection.
Prime Minister John Key will seek a fourth term in an election late next year, which he is expected to fight on his government's credentials as better economic managers. While budget surpluses are currently earmarked for debt repayment and policies to lift economic performance, there may be scope for Key to take a tax reduction pledge into next year's campaign.
"As we've always said, if economic and fiscal conditions allow, we will begin to reduce income taxes," English said in a statement. The government may also "have the opportunity to reduce debt faster," he added.
Net debt was 24.6 percent of gross domestic product at June 30, down from 25.1 percent a year earlier, today's figures show. English said the government remains committed to reducing that ratio to 20 percent by 2020.
Growth Surge
In May, the Treasury forecast the economy would grow 2.9 percent in the year through June. Instead, it expanded 3.6 percent, making New Zealand among the fastest growing developed economies and boosting the government's tax take.
Tax revenue was NZ$763 million more than projected due to higher consumption and employment growth, the Treasury said. Expenses were NZ$453 million less than projected, and were less than 30 percent of GDP for the first time since 2006.
Last year's surplus was the nation's first in seven years. In May, the government projected a NZ$719 million surplus in the current year ending June 2017, widening to NZ$2.46 billion in 2017-18. Today's report contains no forecasts.
Before it's here, it's on the Bloomberg Terminal.
LEARN MORE