Michelle Obama Rebukes 'Predatory' Trump, Saying She's Shaken to Core
The first lady veers from her standard stump speech.
By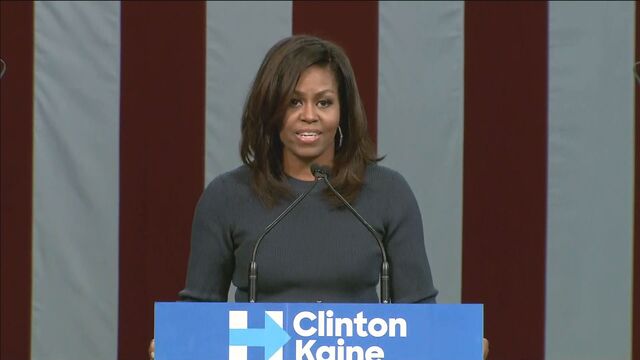 First lady Michelle Obama delivered an extraordinary and emotional rebuke to Donald Trump on Thursday over his boasts in a 2005 videotape about kissing and groping women without their consent.
"Last week we saw this candidate actually bragging about sexually assaulting women. I can't believe that I'm saying that: a candidate for president of the United States has bragged about sexually assaulting women," Obama said at a campaign stop for Hillary Clinton in Manchester, New Hampshire.

"This was not just a lewd conversation. This wasn't just locker room banter," Obama said. "This was a powerful individual speaking freely and openly about predatory behavior, and actually bragging about kissing and groping women, using language so obscene that many of us were worried about our children hearing it when we turn on the TV."
It was an exceptional moment for the first lady, who has tended to steer clear of political battles throughout her husband's time on the national stage. She has become an important surrogate for Clinton, making speeches in battleground states in an attempt to motivating women, minorities, and young voters, who are central parts of the Democratic nominee's constituency.
Obama told the crowd she couldn't go on with a normal speech because "I can't stop thinking about this. It has shaken me to my core in a way that I couldn't have predicted."
She spoke one day after the New York Times reported that two women have come forward to accuse Trump of touching them inappropriately in the past. The Republican nominee denied the story on Thursday, calling it "absolutely false."
"And to make matters worse, it now seems very clear that this isn't an isolated incident. It's one of countless examples of how he has treated women his whole life," Obama said. "Even a 6-year-old knows better. A 6-year-old knows that this is not how adults behave. This is not how decent human beings behave."
She evoked "that sick, sinking feeling you get when you're walking down the street minding your own business and some guy yells out vulgar words about your body. Or when you see that guy at work that stands just a little too close, stares a little too long, and makes you feel uncomfortable in your own skin. It's that feeling of terror and violation that too many women have felt when someone has grabbed them or forced himself on them, and they've said 'no,' and he didn't listen."
Clinton lauded the first lady's remarks. Greeting campaign staff in San Francisco Thursday, Clinton said Michelle Obama delivered an inspiring message and that they need to watch her address.
The first lady made a "compelling case'' about "who we are as Americans,'' Clinton said. "We've already learned who Donald Trump is.''
Clinton told the enthusiastic group of about 150 volunteers that "we are not just going to win" but win with "love and kindness" and "widening the circle of opportunity."
The allegations against Trump mounted in reports following the one in the New York Times, including one by People magazine writer Natasha Stoynoff. In a story published Wednesday night, she accused Trump of "pushing me against the wall and forcing his tongue down my throat" during a 2005 interview at his Mar-a-Lago club in Florida.
Trump asserted at a rally in West Palm Beach, Florida, on Thursday that the stories are part of a conspiracy between the Clinton campaign and the media and political establishments to draw attention away from hacked e-mails released by WikiLeaks "exposing the massive international corruption of the Clinton machine."
"These vicious claims about me of inappropriate conduct with women are totally and absolutely false, and the Clintons know it," Trump told supporters. "And they know it very well. These claims are all fabricated. They're pure fiction and they're outright lies. These events never, ever happened and the people that said them meekly fully understand. You take a look at these people, you study these people, and you'll understand also."
He said he has "substantial evidence to dispute these lies" and would do so at an "appropriate time."
—With assistance from Terrence Dopp, Kevin Cirilli and Margaret Talev.

Before it's here, it's on the Bloomberg Terminal.
LEARN MORE