Mexico's Peso Just Can't Catch a Break
By
Top forecaster expects peso to lose whether or not Trump wins

Italian referendum, oil, Deutsche rank as key risk factors
For investors who think calmer seas await the Mexican peso after the U.S. presidential election, the top forecaster of the currency has some bad news: The next proverbial Donald Trump is just around the corner.
The peso is poised to lose whether or not the Republican candidate makes it to the White House in next month's vote, says Juan Carlos Rodado, director of Latin America research at Natixis North America and the most-accurate forecaster in the third quarter, according to Bloomberg rankings. He expects the peso, seen as a proxy for global risk aversion, to fall to 20 per dollar by year-end from 18.93 on Wednesday as investors look beyond the election toward the next big event.
Before Trump, it was Brexit. (The peso tumbled almost 4 percent the day after U.K. voters chose to leave the European Union.) After Trump, any number of shocks could send investors scrambling to short the peso again to hedge their emerging-market portfolios. Troubles at Deutsche Bank, an Italian referendum and the oil market all rank on the list of possible surprises that could undermine global risk appetite, Rodado says.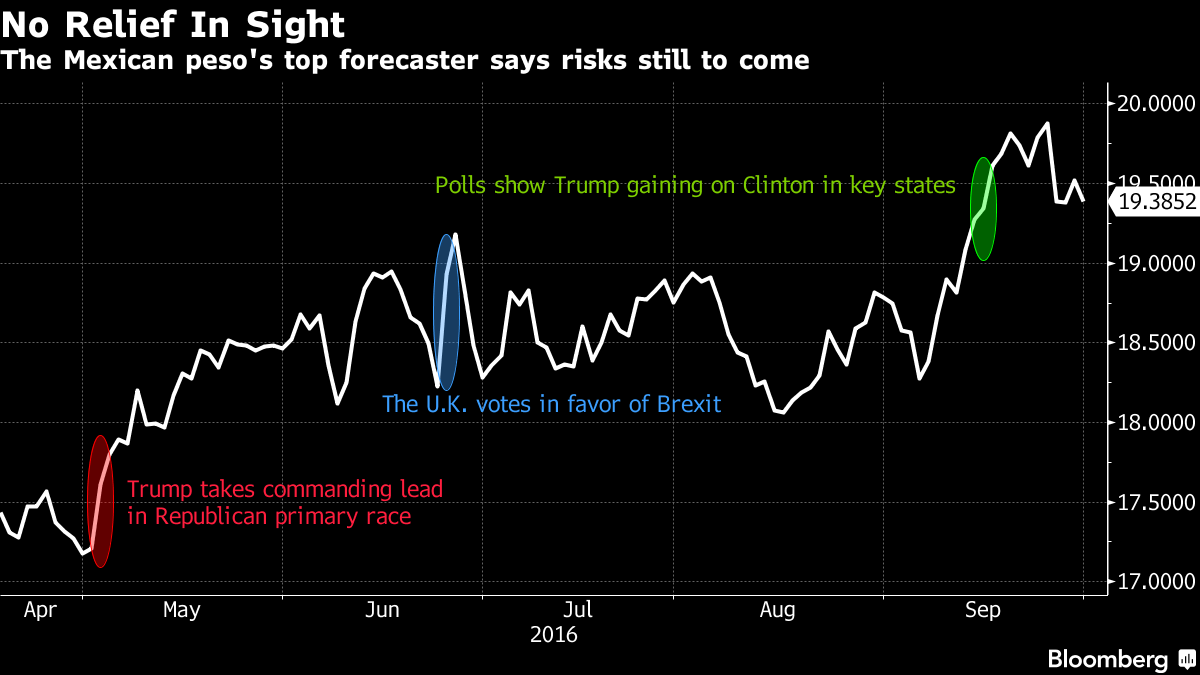 "Mexico's currency levels are still determined by global events," Rodado said from New York. "I see nothing but bearish factors."
Rodado's outlook contrasts with that of some of his peers, including Banco Itau and Nomura Holdings Inc., which expect the peso to rebound to 17.50 and 17.30 per dollar, respectively, if Trump loses the election. Trump, who blames free trade with countries like Mexico for the downfall of American manufacturing, has vowed to rework trade deals, deport undocumented immigrants and build a wall along the U.S.'s southern border.
The peso has morphed into the world's second-most volatile major currency this year, recently tracking the ups and downs in Trump's tumultuous campaign. (It wasn't even among the top five before Trump became the presumptive nominee in early May). Mexico's currency posted the world's worst tumble earlier this year as Trump gained in polls and is rallying now that he's stumbling. It slid 0.5 percent to 19.0096 as of 12:22 p.m. in New York.
Given Trump's harsh rhetoric, many banks came out with two forecasts for the peso depending on the outcome of the U.S. election. Rodado came out with three. If Trump's Democratic rival, Hillary Clinton, prevails, expect the peso to average about 19.50 per dollar next year, he says. If Trump wins and can't get approval for his more extreme proposals, the exchange rate could hover at 20 per dollar. But should Trump and his measures win approval, Rodado predicts a tumble to 22.
Perhaps the most important event to look out for after the U.S. election, he says, will be a referendum scheduled for Dec. 4 in Italy. Voters will decide whether to move ahead with constitutional changes that market watchers say could feed political instability. 
"You could easily lose, say 3 percent, due to an event such as a fall of Deutsche Bank, the Italian referendum, a fall in the price of oil -- various external factors that have nothing to do with Trump," Rodado said. "Brexit proved that this could happen."
Before it's here, it's on the Bloomberg Terminal.
LEARN MORE