Photographer: Chris Ratcliffe/Bloomberg
business
Marmite Skirmish Averted Won't Stop Brexit Biting Retailers
By
Asda cuts price on Unilever's spread after Tesco feud settled

Pound's plunge since Brexit puts further pressure on grocers
Unilever and Tesco Plc swiftly resolved a dispute that swept Marmite and other cherished consumer staples from the retailer's online site. Overcoming the price pressure that has been steadily building up since the U.K voted for Brexit won't be as easy.
Seizing on the public outrage that ensued from the disappearing jars of the popular yeast spread, Tesco rival Asda slashed the cost of Marmite to 2 pounds ($2.45) from 2.35 pounds as of Friday. The step marked the latest round of reductions by U.K. supermarket chains locked in a vicious price war fueled by the expansion of German discounters Lidl and Aldi.
Yet analysts and industry executives say increases are inevitable after the 18 percent plunge in the pound since the June 23 referendum to leave the European Union.
"Nobody wants to be the first to break cover," Justin King, former chief executive officer of J Sainsbury Plc, said at a conference hosted by Bloomberg in London this week. "Once the gates open I think we'll see a lot of people piling through it."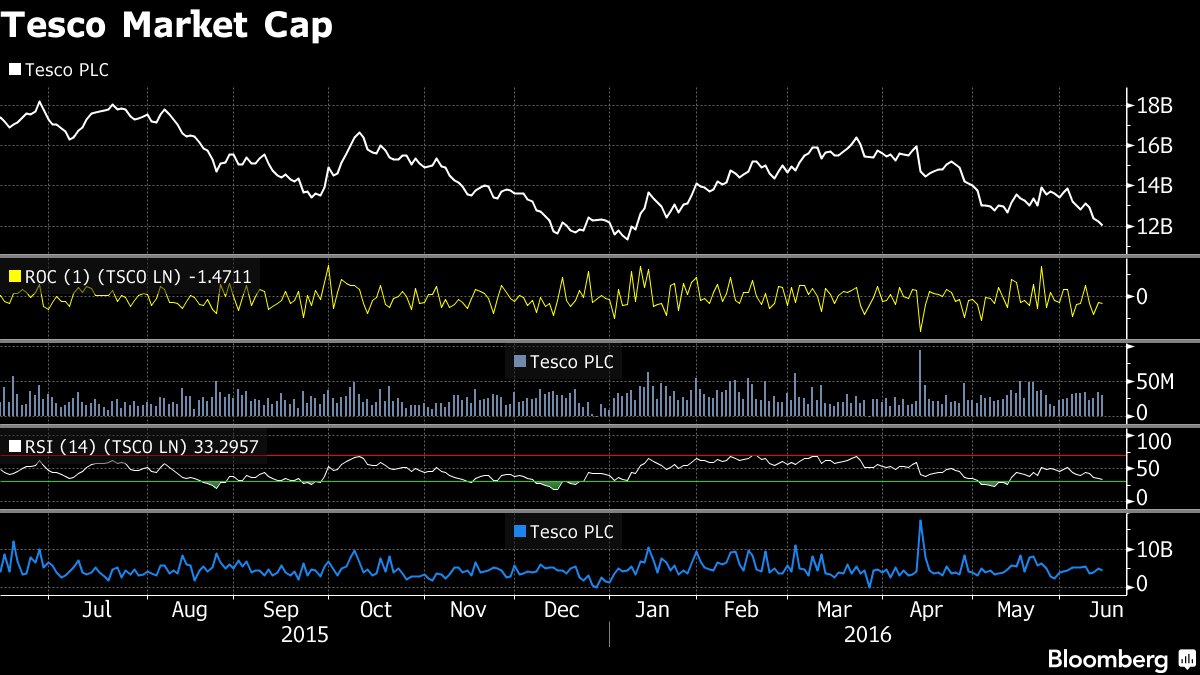 The tussle between Tesco and Unilever, eagerly lapped up in U.K. media as the most notable fallout yet for consumers from the vote, opened a window on pricing negotiations between supermarkets and vendors and highlighted retailers' Brexit-induced quandary: give in to supplier demands for higher prices and face the ire of fickle shoppers; absorb the price hikes and jeopardize razor-thin profit margins; or hold the line and risk empty shelves?
Price Cuts
As Aldi and Lidl expand their U.K. store networks, Wm. Morrison Supermarkets Plc, Wal-Mart Stores Inc.'s Asda and others have responded by trumpeting price cuts on thousands of items. Tesco's spat with Unilever shows that raising prices remains difficult for now, but higher costs -- for suppliers, retailers and consumers -- may eventually be in store as the pound plumbs new depths.
Tesco shares were up 2.4 percent at 199.85 pence at 8:45 a.m. in London, while Unilever fell 0.1 percent to 39.39 euros in Amsterdam.
Tesco shares have risen since the Brexit referendum on investor hopes that Brexit-linked price increases would help the supermarket business break the deflationary cycle. Instead, the referendum triggered a fight between Britain's largest supermarket chain and one of its biggest suppliers -- showing that there will be no immediate Brexit peace dividend.
Tesco pulled popular items like Marmite, Hellmann's mayonnaise and Ben & Jerry's ice cream from its online store when the consumer products giant tried to raise prices to compensate for the pound's fall. As the weak pound puts further pressure on already squeezed margins, other supermarkets and suppliers will be under pressure to do the same.
In a nation divided over the effects of leaving the EU, Tesco may have won the battle for public opinion by raising the specter of shortages of Marmite -- a pungent fixture of British larders that Unilever markets under the slogan "love it or hate it." The Daily Mail newspaper called Unilever's effort to raise prices an example of "Brexit blackmail" by a company that maintains dual headquarters in the U.K. and the Netherlands.
'Consumer Champion'
"For the first time in many years, Tesco is coming across as the consumer champion and in the popular press is being reported as the company fighting to keep prices low for shoppers," analysts at HSBC said in a note.
Neither company provided details of their settlement, which Unilever announced in a statement late Thursday. Tesco confirmed the deal Friday, adding in a separate statement: "We always put our customers first and we're pleased it's been resolved to our satisfaction."
The standoff followed years of tension between U.K. grocers and the companies that make the goods that fill their shelves. Tesco Chief Executive Officer Dave Lewis this year pledged to treat suppliers better after regulators found that it was delaying payments and applying unreasonable pressure for lower prices. Previously Tesco faced criticism over retail price increases.
"The positive is that this is taking hold in a better-tempered place than it was previously," Jefferies analyst Martin Deboo said. "But it doesn't change the fundamental realities."
Unilever, which reported sales on Thursday, said the U.K. accounts for only about 5 percent of revenue. While Marmite is made in the U.K., Unilever reports its financial results in euros, so it faced losing out from a less favorable exchange rate. Other suppliers, including Nestle SA, have warned of the effects of the weak pound.
"Years of falling shop prices and higher costs have left limited scope for retailers to continue absorbing this pressure, and everyone in the supply chain will need to play their part in maintaining low prices for consumers," Helen Dickinson, CEO of the British Retail Consortium, said in a statement.
— With assistance by Thomas Buckley, and Thomas Seal
(
Updates with share prices in 7th paragraph, Tesco comment in 12th.
)
Before it's here, it's on the Bloomberg Terminal.
LEARN MORE