Manhattan Apartment Rents Decline After 35% Surge in Listings
By
September median of $3,396 is 1.2% less than a year earlier

Decline was only the second since early 2014, appraiser says
Manhattan apartment rents fell last month as landlords' pricing power was hurt by a wave of new listings and tenants who shopped around for better deals.
The median monthly rent was $3,396, down 1.2 percent from September 2015, according to a report Thursday by appraiser Miller Samuel Inc. and brokerage Douglas Elliman Real Estate. It was only the second year-over-year decline since February 2014. Rents also fell this past March.

A surge of construction is adding thousands of new apartments in Manhattan, slowing momentum for landlords, who had pushed up rents as much as 20 percent since the end of the recession in June 2009. Price-weary renters now have the power to push back and search for more attractive leases, and landlords are working harder to offer them.
"It's going to take a while to work itself out," Jonathan Miller, president of Miller Samuel, said in an interview. "The market does not appear to be resuming an upward pattern anytime soon."
Discounts, Sweeteners
The inventory of available listings at the end of September climbed 35 percent from a year earlier to 7,392, Miller Samuel and Douglas Elliman said. It was the biggest increase for the month since the firms began tracking the measure in 2009.
Landlords offered discounts averaging 2.8 percent in order to reach a deal. Sweeteners, such as a month's free rent, were included in 15 percent of all new leases, the most for a September in data going back to 2010. In the year-earlier period, only 8.7 percent of deals came with such concessions.
Newly signed leases jumped 51 percent, a sign that tenants are finding better deals by moving out rather than renewing their agreements.
"I don't think anybody's saying that rents are cheap now, it's just that there's no growth," Miller said. "And I don't see a whole lot of change in that narrative going forward."
Watch Next: Manhattan Apartment Sales Drop 20%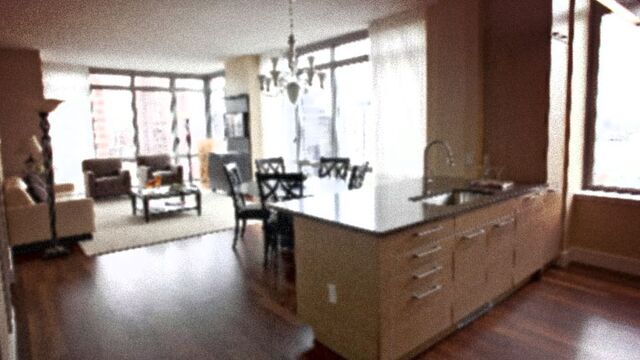 Priciest Neighborhoods
Rents fell in some of Manhattan's priciest neighborhoods last month as landlords worked to keep their units from going empty before the slower winter months, according to a report Thursday by brokerage Citi Habitats. In Soho and Tribeca, one-bedroom apartments averaged $3,597, or 5.8 percent less than a year earlier, and three-bedroom rents tumbled 22 percent to $7,230. The average for one-bedrooms in the West Village was $3,752, down 3.6 percent.
The boroughwide vacancy rate rose to 1.8 percent, the highest for any September since 2009, Citi Habitats said. Concessions were included in 28 percent of new leases the firm brokered last month.
"Many building owners have to rely on incentives to give tenants the sense of 'value' they seek," Gary Malin, president of Citi Habitats, said in the report. "Savvy owners will do what it takes to move their available inventory as fall progresses."
Before it's here, it's on the Bloomberg Terminal.
LEARN MORE