Local N.J. Judge Refers Christie Bridge Case to Prosecutor
By and
Municipal judge recommends probe after citizen's complaint

Witness at bridge trial said Christie knew of lane closing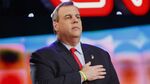 A local New Jersey judge wants state prosecutors to probe whether Governor Christopher Christie broke the law after learning his allies were closing the George Washington Bridge to punish a town's mayor.
After hearing a citizen's complaint about Christie, Municipal Court Judge Roy McGeady on Thursday referred the allegation to the Bergen County prosecutor, according to Pete McAleer, a spokesman for the New Jersey courts. A preliminary hearing is scheduled for Oct. 24 at the Central Judicial Processing Court in Hackensack, according to a court clerk.
Maureen Parenta, a spokeswoman for the Bergen County prosecutor's office, declined to comment on the referral. It is unclear whether prosecutors will decide to pursue a case.
Last month, a government witness at the criminal trial of two Christie allies testified in federal court in Newark that he told the governor about the plot as it was underway in September 2013. Christie denies he knew of the scheme at the time.
"This is a dishonorable complaint filed by a known serial complainant," Brian Murray, a spokesman for Christie, said in an e-mail. "This matter has been thoroughly investigated by three separate independent investigations. This ruling is being appealed."
Signed Summons
McGeady, presiding judge of Bergen County Municipal Court, signed a criminal summons after hearing a statement from Bill Brennan, who filed the complaint, according to the court clerk.
Matheu D. Nunn, a partner with Einhorn, Harris, Ascher, Barbarito & Frost PC who formerly worked in the Morris County prosecutor's office, said citizens can file complaints in municipal courts if they believe someone has committed a crime and a prosecuting agency hasn't brought charges or isn't aware.
Citizens then have a right to a hearing before a municipal court judge who decides if there's enough proof to refer the case to the county prosecutor's office, who in turn decides whether to proceed with the case, he said.
"This is a very unique set of circumstances," Nunn said in an interview. "It's rare someone would use the testimony in a criminal trial to then file a citizen's complaint against the governor or anyone for that matter."
— With assistance by David Kocieniewski
Before it's here, it's on the Bloomberg Terminal.
LEARN MORE