Lawmakers React: Stumpf Departure Doesn't Quell Congress' Fury
By
Politicians say they will continue probes into Wells Fargo

Waters says new chief executive Sloan may also be 'culpable'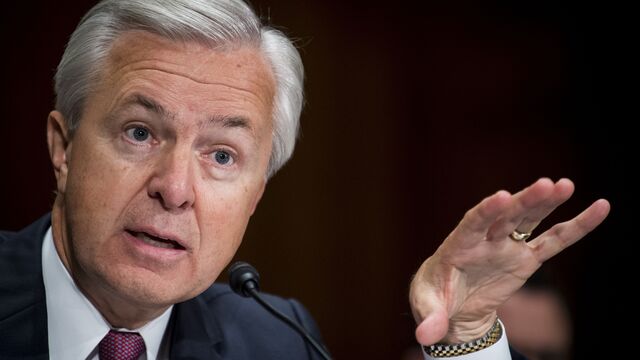 John Stumpf stepped down as chairman and chief executive officer of Wells Fargo & Co. Wednesday, succumbing to public furor over the bank's bogus account scandal. The announcement didn't do much to end the outrage on Capitol Hill.
Lawmakers from both sides of the aisle responded to the news with pledges that they would continue pursuing investigations into Wells Fargo, following revelations last month that it may have opened more than 2 million accounts without customers' authorization. And one member of Congress even said she's concerned that Tim Sloan -- the incoming CEO now responsible for stanching the bleeding -- is also responsible for the bank's misconduct.
Here's a roundup of some key lawmakers' reactions to Stumpf's retirement:
Hensarling
Jeb Hensarling, the Republican Chairman of the House Financial Services Committee, said the news would have no bearing on the panel's probe into the matter. Stumpf testified before the committee last month, kicking off a longer investigation that will include interviews with other executives, Hensarling has said.
"Our committee's investigation continues because Wall Street and Washington
must be held accountable," Hensarling said in an e-mailed statement.
Shelby
Republican Senator Richard Shelby, Chairman of the Senate Banking Committee, said his panel will continue its probe, as well.
"Mr. Stumpf's resignation does not change the committee's interest in learning all of the facts," he said.
Waters
Maxine Waters, the top Democrat on the House Financial Services, applauded Stumpf's retirement but said she has concerns about Sloan, who was previously the bank's president and chief operating officer.
"I remain concerned that incoming CEO Tim Sloan is also culpable in the recent scandal, serving in a central role in the chain of command that ought to have stopped this misconduct from happening," Waters said in a statement. "I still believe that Wells Fargo is too big to manage and that it should be broken up. I will remain focused on the Wells Fargo scandal and will continue to demand answers from the bank on who knew what and when."
Warren
Elizabeth Warren, who has been especially outspoken about holding Wells Fargo accountable, said Stumpf's stepping down is just the first step the bank should take.
"Mr. Stumpf should resign, return every nickel he made while this scam was going on, and face an investigation by the Justice Department and SEC," Warren said in an e-mailed statement. "So far, he's one for three. If Mr. Stumpf is leaving with all of his ill-gotten millions that's still not real accountability. A bank teller would face criminal charges and a prison sentence for stealing a handful of 20s from the cash drawer. A bank CEO should not be able to oversee a massive fraud and simply walk away to enjoy his millions in retirement."
Brown
Senator Sherrod Brown, the top Democrat on the Senate Banking Committee, also said the bank hasn't done enough to address outstanding questions about the scandal.
"There must be accountability to fix the culture within Wells Fargo that encouraged cheating and left senior executives either unwilling or unable to stop it for far too long," Brown said in a statement. "Unfortunately, Mr. Stumpf's retirement does nothing to answer the many questions that remain."
Before it's here, it's on the Bloomberg Terminal.
LEARN MORE