markets
Japan Households See Economy Weak and Inflation Hitting 2%
By and
Japanese households' inflation expectations remain unchanged from three months ago while their negative view of the economy has eased somewhat, according to a quarterly survey by the Bank of Japan.
The median forecast of households for inflation one year from now was 2 percent, a survey conducted by the central bank from Aug. 10 to Sept. 5 shows. Households also see 2 percent inflation in five years, according to the survey, which was released on Thursday.
This is in contrast to Japanese companies, which have cut their inflation projections. They see inflation of 0.6 percent in one year, and 1 percent in five years, according to a separate BOJ survey released on Oct. 4.
And while the median view of households held at 2 percent, the number of skeptics is on the increase. Almost 30 percent of respondents to the survey expect zero inflation next year, while some even think prices will fall.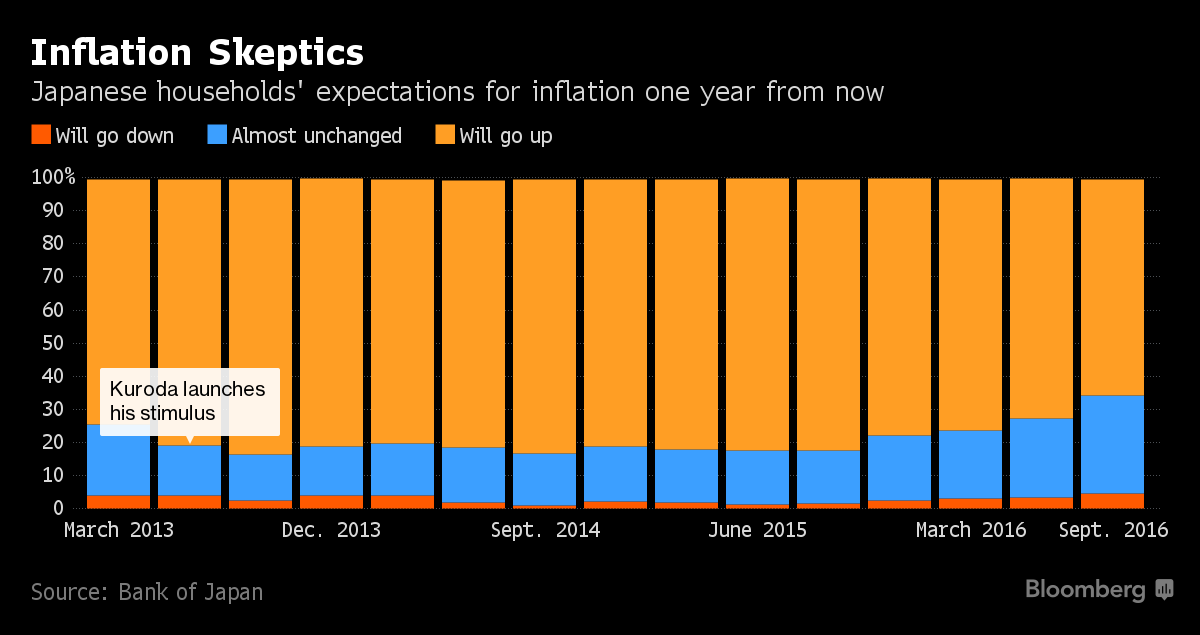 Meanwhile, an index of households' view of current economic conditions improved by 4.2 points, to minus 23.1, the BOJ said. And a gauge of expectations for economic conditions in one year improved by 11.2 points to minus 19.5.
The household survey on prices and the economy was of 4,000 people and yielded 2,220 usable responses.
In an interview with Bloomberg Television on Oct. 8, Governor Haruhiko Kuroda said it may take a little longer to reach the central bank's 2 percent inflation target than the current forecast for sometime in the 12 months through March 2018. He added that the BOJ will carefully examine relevant data before reviewing the estimate.
The most recent reading of the BOJ's core gauge of inflation showed consumer prices fell 0.5 percent in August, compared with a year ago.
The central bank is scheduled to announce its latest inflation outlook at the conclusion of a two-day policy meeting on Nov. 1.
(
Updates with a chart on a breakdown of forecasts.
)
Before it's here, it's on the Bloomberg Terminal.
LEARN MORE