Is Salmon Jerky the Next Million-Dollar Snack Food?
Huna Totem says its Dear North jerky bites will be in 700 stores by yearend.
By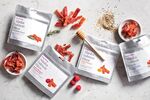 The bags of Dear North salmon jerky bites that will arrive on Whole Foods Market shelves in Northern California this month are another sign of America's seemingly endless appetite for snack foods. They're also the result of an early stage collaboration between Huna Totem, a 40-year-old corporation in Juneau, and Ammunition, the company best known for designing Beats headphones.
In 2013, Huna Totem, which is owned by Alaska Native shareholders and generates most of its revenue from tourism, realized it needed to diversify so its business wouldn't dry up every winter. The company wanted to create a consumer product made from Alaskan resources that would appeal to residents of the Lower 48. "People want a bottle of Alaska, but we had to define that bottle," says Dear North's president, Anne French.
To do that, French, who joined Huna Totem in 2014 as vice president for sales and marketing, interviewed consumers in the Bay Area and other markets, interests, and buying habits. The subjects had positive views of the state, says French, a marketing executive who worked at Procter & Gamble after graduating from business school in 1985. "Everything about Alaska is an aspirational dream," she says. But French needed help homing in on a specific product, as well as a name and a logo. So she turned to Ammunition, a design company she'd met with previously about a separate project, and shared her findings. "She really had a bead on who the likely customer would be," says Matt Rolandson, an Ammunition partner who led the Huna Totem project.
After some initial meetings, Ammunition sent a team to Alaska in February 2015 to research possible products. "It was a pretty interesting structure compared to two guys from MIT with a PowerPoint who raised some money," Rolandson says of Huna Totem, one of dozens of companies created in the 1970s as part of the Alaska Native Claims Settlement Act.
Early ideas included outdoor active gear and home furnishings. "They were trying to tap into the direct sensory experiences of smelling and feeling and seeing what it's like to live in Alaska," Rolandson says. The designers and Huna Totem decided a food product made the most sense. Nine items were pitched and tested before salmon jerky bites and jarred smoked salmon were settled on. French was aware of the popularity of jerky snacks, given the low carbohydrates and high protein. A wild Alaska fish jerky could stand out, she suggested.
The bites come in 2-ounce silver packages with white labels. Ammunition came up with the look and Dear North,—the trademarked name, comma included. Employees "are reminded that anytime they do something on behalf of the company, they do it as a love letter to Alaska," Rolandson says of the comma.
Huna Totem had revenue of about $13.5 million last year, about 80 percent of that from tourism, including a cruise ship dock at a former cannery in the village of Hoonah, where the company's roughly 1,400 shareholders have aboriginal ties. Among other benefits, they receive dividends based on earnings.
The inaugural Dear North items will be in 700 stores across the U.S. by yearend, the company says, and sales are expected to surpass $1 million. The business is expected to break even by 2018. Other items—"food of the sea" and "food of the land" using berries and roots from Southeast Alaska, French says—are planned.
A bag of the salmon bites retails for about $12. That's more expensive than standard beef jerky, but French says the customers it's targeting value quality. "We're starting with the most exquisite ingredients in the world. People who know anything about salmon understand."
The bottom line: Huna Totem says its Dear North salmon jerky bites will be in 700 stores and surpass $1 million in sales by yearend.
 
Updates with information from Dear North.
Before it's here, it's on the Bloomberg Terminal.
LEARN MORE