Strong Economies Are Drawing Migrants Back to Colombia and Peru
The Andean diaspora is coming home.
By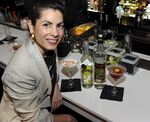 Sitting inside the distillery in Ica, Peru, where she makes her pisco, Melanie Asher sips several blends of the clear grape brandy as she weighs which one will wear her La Diablada 2016 label. As in previous years, most of Macchu Pisco's annual output of almost 100,000 bottles will be exported to the U.S., where some retail for as much as $300. Asher and her sister, Lizzie, co-founders of the business, were born in Peru and emigrated to the U.S. in the early 1980s at ages 10 and 12, respectively. Both wound up at Harvard, where Melanie earned an MBA and Lizzie a law degree. "I'm American, but I'm very much Peruvian," Melanie says. "I have the best of both worlds."
The Asher sisters are part of a reverse brain drain. Beginning in the 1970s, tens of thousands of Peruvians and Colombians left for the U.S. and Europe to escape struggling economies, civil wars, and narcoterrorism. As their children grew into adults, the troubled countries they left behind experienced remarkable turnarounds aided by soaring commodity prices, rising foreign investment, and ebbing violence. Now many of the hyphenated Americans find themselves back in Peru and Colombia, running small export-oriented businesses. "An increasing proportion of migrants, especially the second generation or those who came very young, see an opportunity to actually be able to live both here and there, to have an existence where they have one foot firmly rested in one country and one in the other," says Demetrios Papademetriou of the Migration Policy Institute in Washington.

Alejandra Isaac moved from Miami to Barranquilla, Colombia, four years ago to design and produce an eponymous line of cocktail and evening wear. Relatives said she was turning her back on the American dream. "They asked me how I could do this to my father, after all the effort it took him to get us out of here," says Isaac, who was 8 when her family emigrated. Only after seeing evidence of her success—including dressing Sofía Vergara for a recent commercial—have they come to accept her decision.
Isaac and other designers in this Andean diaspora say they are drawn to Peru and Colombia by the quality of the workmanship, lower labor costs, and access to certain materials, such as Lycra for swimwear and alpaca fiber for knitwear. These factors motivated Washington-area entrepreneurs Virginia Arrisueño of DeNada Design knitwear and Maria-Alejandra Barrale of Mars Vida swimwear to manufacture their products in Peru. Both Arrisueño, who was born in the U.S. to Peruvian parents, and Barrale, who left Peru at age 2, say it was also a way to put a story behind their brands and set them apart from the competition. Arrisueño's knitwear is sold at more than a dozen boutiques in the U.S. and online. Mars Vida, now in its second year, is available online.
These entrepreneurs often focus their businesses on traditional products or incorporate them into their designs. Andrea Bocchio uses textiles from her native Peru in her jewelry. Colombian-born Yasmin Sabet uses molas, the colorful appliques made by indigenous women in northern Colombia, to make purses for her Mola Sasa brand. "It's nice to be able to show the world the value of these fabrics," says Sabet, who returned to Colombia four years ago, after three decades living abroad.
The businesses don't employ a lot of workers, but their owners say they're committed to creating well-paying jobs, especially for women, who have fewer opportunities. Isaac, the dress designer, has a team of 20 seamstresses, almost all of whom head their households. Asher makes a point of hiring women grape pickers, even though many men in Ica don't like their wives working. "At the beginning, when I would show up to pay my workers, they'd answer their doors and pretend they didn't know me," she says.
Some entrepreneurs are also intent on importing U.S.-style business practices and values. When Colombian Mauricio Bejarano helped found the video game studio Brainz, which has offices in Bogotá and Medellín, he modeled the office culture on the California tech startups where he once worked. Colombia's corporate culture is "very hierarchical, very 'I'm the boss, do what I say,' " Bejarano says. "We promote high-performance collaboration. People can question their bosses."
The bottom line: Improving economies are drawing members of an Andean diaspora backto Colombia and Peru.
Before it's here, it's on the Bloomberg Terminal.
LEARN MORE