Hong Kong Stock Slump Deepens After Trade Figures, Fed Minutes
By and
Hang Seng Index drops to six-week low as China exports plunge

Cathay Pacific tumbles after scrapping a profit outlook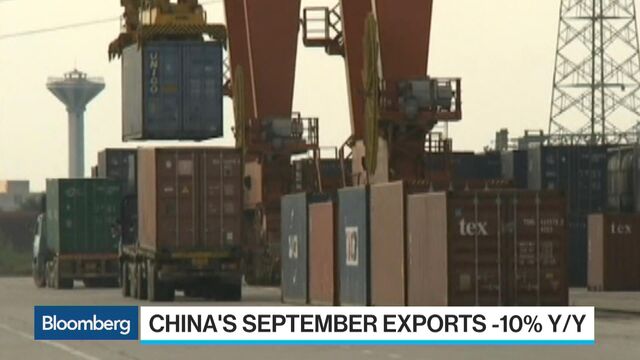 Hong Kong stocks dropped to a six-week low after Chinese data signaled a deeper slowdown, the yuan extended losses and Federal Reserve minutes boosted the case for higher U.S. interest rates.
The Hang Seng Index closed 1.6 percent lower, taking its four-day loss to 3.9 percent. Declines accelerated in the minutes before trade data were released. China Merchants Port Holdings Co. retreated after the country's exports plunged 10 percent last month. Cathay Pacific Airways Ltd. tumbled to a seven-year low after scrapping a profit outlook.
The worse-than-expected export figures may mount pressure on the yuan at the same time as new property curbs threaten the nation's growth. Minutes of the Fed's September meeting showed the decision to keep rates on hold was a close call, with three members voting to raise. Odds of an increase in U.S. borrowing costs by the end of the year remain around 68 percent, according to Fed funds futures, up about six percentage points from a week ago.
"The numbers aren't encouraging," said Louis Tse, a Hong Kong-based director at VC Brokerage Ltd. "Exports are no good and imports aren't good either. People have been making excuses to sell the market the last couple of days."

China's monthly imports dropped 1.9 percent. The yuan retreated to a six-year low after the central bank weakened the currency's fixing for the seventh day in a row. The yuan has fallen 3.5 percent against the dollar this year, the biggest decline in Asia, and tumbled 6.2 percent against a 13-currency trade-weighted index. This has spurred speculation that authorities are guiding a gradual depreciation to help exports.
The Hang Seng China Enterprises Index dropped 1.8 percent, with Air China Ltd. and China Pacific Insurance Group Co. sinking more than 3 percent. The gauge rose 3.6 percent last week as higher oil prices boosted energy producers. The Shanghai Composite Index added 0.1 percent at the close.
"H shares fell more than A shares on the trade data as Hong Kong stocks had enjoyed decent rallies outperforming major global indexes," said Linus Yip, a Hong Kong-based strategist at First Shanghai Securities Ltd.
Concern that a flood of funds from the mainland will dry up is also weighing on the city's shares. The Hang Seng Index rallied 12 percent last quarter, the most in seven years, as cheaper valuations and a weakening yuan lured inflows via the Shanghai exchange link. Mainland investors used up less than 7 percent of a daily quota for Hong Kong stock purchases through the connect Thursday.
Property Curbs
China Overseas Land & Investment Ltd. dropped 2.5 percent as a gauge of real estate companies listed in Hong Kong fell for a seventh day. China is stepping up a crackdown on property developers and others who spread rumors intended to push up prices, part of government efforts to head off a housing bubble.
At least 21 Chinese cities have introduced purchase restrictions and tightened mortgage lending since late September, reversing two years of easing to support home buyers. Goldman Sachs Group Inc. says more tightening is likely to follow if home prices keep soaring, while Citigroup Inc. estimates shrinking demand may lead sales volume to contract in the fourth quarter.