Honda Faces Hard Fight Keeping CR-V as America's Top-Selling SUV
By
Redesigned model will go on sale in U.S. showrooms in December

Toyota RAV4 trails CR-V sales by just 3,113 vehicles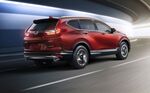 Competition is about to get more intense in the most-popular segment of the U.S. auto market.
Honda Motor Co. is introducing a larger, redesigned CR-V compact sport utility vehicle in December with a sportier look and expanded safety features. While the CR-V has been America's most popular SUV in eight of the past nine years, new models from Ford Motor Co., General Motors Co. and other automakers are challenging its dominance. These competitors want to expand sales of their compact SUVs to offset the fading appeal of traditional mainstays such as midsize family sedans.
Honda helped popularize these vehicles in the U.S. starting in 1997, and the segment has become the largest in the American market. Now the Japanese carmaker must step up its game to stay ahead, according to Alexander Edwards, president of Strategic Vision, a San Diego consumer-research company.
The CR-V has been the top seller because of Honda's strong quality reputation and the vehicle's competitive price and spacious interior, Edwards said. But it ranked 14th out of 20 vehicles for total quality in a Strategic Vision survey of customers who purchased 2016 model year vehicles between October 2015 and March 2016. The Subaru Crosstrek was first in the category, which includes exterior styling, and it's being redesigned for the 2018 model year.
"Honda shouldn't take their success for granted," especially as "companies like Subaru develop a stronger brand image and as they offer better features," Edwards said.
U.S. sales of the CR-V this year through September totaled 263,493, just 3,113 ahead of Toyota Motor Corp.'s RAV4, which Toyota says will soon surpass the Camry sedan as its top seller in America.

Ford is introducing a redesigned Escape, and Nissan Motor Co. has added a third assembly site, in Kyushu, Japan, for its Rogue SUV. GM has earmarked three factories for its redesigned Equinox and GMC Terrain, up from one currently. Honda also will soon expand CR-V output, building it in Indiana as well as in Ohio and Ontario, Canada.
"It's possible that next year, the CR-V could be our No. 1 selling vehicle," Honda Senior Vice President Jeff Conrad told reporters in Detroit on Wednesday.
John Mendel, the head of Honda's sales operations in the U.S., predicted a fast start for the new CR-V since he expects industrywide U.S. sales to set a record this year and hit another high in 2017.

Conrad acknowledged the possibility of a price war in the segment. Honda currently spends $1,595 on rebates and other incentives for each CR-V, compared with $3,591 for Nissan's Rogue, according to Eric Lyman, vice president of industry insights at TrueCar Inc., an online buying site.
"More than any other brand in the segment, Nissan seems intent on driving sales at any cost,'' Lyman said.
CR-V prices start at $23,845 for the base, two-wheel-drive LX version and rise to $33,495 for top-of-the-line, all-wheel-drive Touring models. Alice Lee, a Honda senior product planner, wouldn't discuss prices for the redesigned model, other than to say she doesn't expect drastic changes.
At a press conference on Wednesday, Conrad said the new CR-V will come with a turbo-charged, 1.5 liter, 190-horsepower four-cylinder engine in most trim levels, in addition to a naturally aspirated, 2.4 liter power plant that's carried over for the base-level LX.
A hybrid version will be available next year, said Alan Baum, an independent auto analyst in Bloomfield Township, Michigan.
Tight Race
Conrad declined to confirm a hybrid, which the RAV4 offers now and Nissan is introducing in the Rogue. He promised the new turbo-charged engine will have the segment's best fuel economy but declined to provide specifics.  The CR-V's smaller stablemate HR-V now leads compact SUVs with 31 miles per gallon combined city/highway driving, according to www.fueleconomy.gov. The CR-V is tied with Mazda Motor Corp.'s CX-5 and Chevrolet's Trax at 29.
For a QuickTake explainer on hybrids and other 'clean' cars, click here.
The redesigned fifth-generation CR-V also will be longer, with 2 inches of additional legroom for back-seat passengers, and have rear seats that fold flat for bigger, more flexible cargo space.
Wing-Shaped Grille
Honda is aiming to attract more male owners with a sportier look that includes a wing-shaped grille, longer hood and shorter overhang behind the rear wheels. Currently, 47 percent of CR-V buyers are men. While that's more than the percentage for most compact SUVs, Honda wants to drive it higher, Lee said.

"We're trying to set a new standard for the CR-V by jazzing up the styling and the interior quality, while still making sure it's affordable," she said.
Honda also will expand its Sensing safety package to trim levels that make up three-quarters of CR-V's U.S. sales. The package includes cameras and radar to provide automatic braking and adaptive cruise control to reduce front-end collisions, along with lane-keeping assist. It currently is available only on Touring models, which represent about 15 percent of sales.
The feature will make CR-Vs easier to drive, "especially in urban areas with congestion and tight parking,'' TrueCar's Lyman said.
Before it's here, it's on the Bloomberg Terminal.
LEARN MORE