France's Sapin Says No Doubt Now About Banks Leaving London
By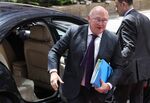 French Finance Minister Michel Sapin said executives of major U.S. banks have told him that they are preparing to move some operations from London to other European Union cities as the U.K. prepares to quit the bloc.
Discussions about the future of Britain's relationship with the EU dominated chatter on the sidelines of the Group of 20 and International Monetary Fund meetings in Washington last week and European finance ministers' talks in Luxembourg on Monday and Tuesday, Sapin told journalists in Paris. The pound dropped to its lowest level in more than 30 years in recent days after Prime Minister Theresa May raised the specter of the the U.K. losing access to the single market, the economic backbone of the EU.
Follow @Brexit for the latest news, and sign up to our Brexit Bulletin for a daily roundup.
"While in Washington I spoke to large American businesses and banks," Sapin said at a press conference in Paris. "Until now their question was whether Brexit will happen or might it take longer than expected. That's over. They are telling us clearly that there will be a transfer of activity. It's no longer a question of if but when. I don't know to what extent or which ones."
May has promised to trigger Article 50 of the EU treaty to begin the two-year exit process by next March at the latest. The EU and its other member states have said they won't enter into talks until that happens.
"At least we know it will happen by March," Sapin said.
Before it's here, it's on the Bloomberg Terminal.
LEARN MORE