Five Things You Need to Know to Start Your Day
by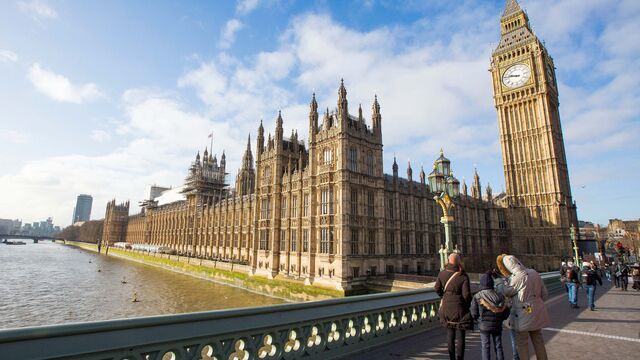 Want to receive this post in your inbox every morning? Sign up here.
Brexit besieges Britain's breakfast, markets slide as China posts weak trade data, and the U.S. election cycle heats up. Here are some of the things people in markets are talking about today.
Brexit: The Marmite of politics
The shadow of Brexit continues to loom large over U.K. markets as the consequences of the pound's slide — with sterling falling below $1.215 in morning trading — are thrown into sharp relief by a dispute between retailer Tesco Plc and the Unilever group. The latter is reportedly seeking a 10 percent across-the-board increase in the prices of more than a hundred products to offset the recent exchange-rate shift, leading to a shortage of popular foodstuffs, including Marmite spreads. With analysts grappling with the inflationary and fiscal effects of the Brexit vote, politics will take center stage later today as a High Court challenge to Prime Minister Theresa May's contention that Article 50 — the formal mechanism for leaving the European Union — can be triggered without parliamentary approval begins.
China exports, yuan
China registered in September the steepest monthly drop in its exports since February with a 10 percent year-on-year contraction in dollar terms compared with expectations for a 3.3 percent decline, underscoring lackluster global demand and adding to expectations that the yuan (already near a six-year low) will remain under pressure. "The numbers cut against the view that stronger competitiveness from a weaker yuan and more demand as U.S. households strengthen will return exports to a growth path," Bloomberg Intelligence economists said. Efforts to cool the Chinese property market could see the yuan weaken by 17 percent over the next two years, according to Deutsche Bank AG.
Markets slide
Global equities reeled from China's weak trade data, with the MSCI All-Country World Index falling for a third day while the yen gained amid safe-haven demand, and S&P 500 futures fell. Benchmark U.S. 10-year Treasury yields slid to 1.74 percent after advancing to their highest level since June on Wednesday.
Fed minutes
Minutes from the September meet of the Federal Open Market Committee published yesterday showed that several participants who backed the move to postpone an interest rate increase that month described the decision as a "close call," buttressing market expectations for a December hike, with market-implied odds now at 68 percent. Underscoring expectations of a looming shift in the credit cycle, Pimco is turning defensive, focusing on "selective" opportunities in mortgages and inflation-linked bonds. Philadelphia Fed President Patrick Harker, who becomes a voting member of the FOMC next year, will express his views on the U.S. economic outlook in a speech at 12:15 p.m. in New York.
U.S. election heats up
Allegations against Donald Trump continue to pile up, even as the Republican presidential contender says he will double down on his strategy of launching intense personal attacks on Bill and Hillary Clinton in a bid to electrify elements of his base. Trump has flagged the prospect of featuring Bill Clinton's female accusers prominently at campaign rallies. "We're going to turn him into Bill Cosby," Trump campaign manager Steve Bannon said. 
What we've been reading 
This is what's caught our eye over the last 24 hours.
Before it's here, it's on the Bloomberg Terminal.
LEARN MORE