Yanai Surrenders Fast Retailing Sales Goal as Growth Slows
By
Revenue target cut 40% to 3 trillion yen by fiscal 2020

Profit, sales targets for current year miss analyst estimates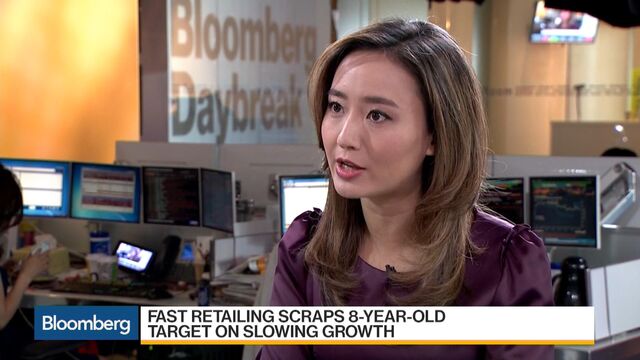 Fast Retailing Co. Chairman Tadashi Yanai caved in to reality and scrapped his eight-year-old target for the Uniqlo casual-wear owner to hit 5 trillion yen ($48 billion) in annual sales by fiscal year 2020.
The billionaire, who wants to make Fast Retailing the world's largest seller of clothing, on Thursday slashed that revenue goal for the fiscal period ending August 2021 by 40 percent as the company reported annual sales and net income forecasts that missed estimates.
The clothing retailer has struggled with weak demand in Japan, the negative impact of a stronger yen on overseas sales, and rising competition from e-commerce operators. Yanai said Fast Retailing will respond by modernizing its distribution systems to shorten delivery times for online shoppers.
"It will take a bit longer to achieve 5 trillion yen," Yanai, Japan's richest person, said in a briefing in Tokyo to discuss earnings on Thursday.
Still, the company's shares rose 5 percent to a month-high by the close of Tokyo trading on Friday, after it forecast record operating income for the current fiscal year. The stock has declined 18 percent this year, compared with the benchmark Topix's 13 percent fall.
Fast Retailing reported net income of 48.1 billion yen for the year ended in August, the lowest since 2008, after lowering its forecast for three times as the Japanese currency surged. Sales gained 6.2 percent to a record 1.79 trillion yen.
After sales growth slumped in the first half, the company shifted its strategy back to offering every day low prices rather than offering big discounts on selected items. Earlier this year, Yanai vowed to offer the "lowest possible price" at Uniqlo stores, acknowledging that efforts to raise quality along with prices failed to drive up earnings.
Net loss was 23 billion yen in the three months ending August 2016, compared with a loss of 22.3 billion yen in the same period last year. The company recorded a foreign exchange loss of 11 billion yen in the fiscal year and a 13.8 billion yen impairment loss at its J Brand premium denim brand.
Fast Retailing's Japanese home market is still its largest, accounting for 57.5 percent of revenue in the last fiscal year, followed by China with 12.2 percent. While Uniqlo's full-year operating profit in both markets fell, by 12.6 percent and 5.5 percent respectively, they started to improve in the second half, the retailer said.
"I am most interested in Uniqlo's China business development," Mikihiko Yamato, an analyst at BNP Paribas Securities Ltd., said by phone. "The market is growing organically. There's an increase in the middle class and that is a driver for more clothing sales. There will be more Chinese buying Uniqlo clothing in China."
Yanai said in April he wants to expand Fast Retailing's e-commerce worldwide, with an initial target for online sales to make up 30 percent of total revenue, up from 5 percent currently. He didn't give a time frame for the target.
Uniqlo already sells its products through Amazon.com and Alibaba Group Holding's Tmall.com, in addition to its existing online store. About 20 percent of its sales in the U.S. are from e-commerce currently, while online sales contribution in Japan and South Korea are at 5 percent, according to the company.
On Thursday, Yanai said Fast Retailing will open a retail floor at its new distribution center in Japan that merges its physical boutiques with e-commerce by spring of 2017. The company will also start to offer same-day shipping "soon," he said.