European Splits Show on Russia Sanctions Ahead of Talks on Syria
By and
U.K. Foreign Secretary Johnson to host Kerry in London Sunday

Sanctions idea would divide European Union: Italy's Gentiloni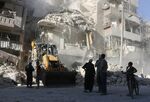 Splits emerged in the European response to Russia's bombing in Syria as British Foreign Secretary Boris Johnson raised the possibility of more sanctions while his counterparts in Italy, France and Germany signaled reluctance to apply extra penalties.
Daily pictures of the bombardment of the Syrian city of Aleppo, where more than 250,000 people are trapped, are prompting growing calls from the British public for action, Johnson told lawmakers on Parliament's Foreign Affairs Committee in London on Thursday.
Johnson said he was hosting a meeting on Sunday including U.S. Secretary of State John Kerry and his French and German counterparts "to discuss exactly how we're going to proceed, not just in Syria but in Iraq as well." Options now include "to intensify sanctions on some of the key players in the Assad regime and on the Russians as well," he said.
Diplomatic activity has stepped up after Russia last week vetoed a French-drafted resolution that would have demanded an end to air strikes and military flights over Aleppo. President Vladimir Putin has pledged that Russia won't give in to "blackmail and pressure" over its military campaign in Syria and accused the U.S. and its allies of whipping up "anti-Russian hysteria."
'Not Convinced'
Italian Foreign Minister Paolo Gentiloni, who hosted a meeting with France's Jean-Marc Ayrault and Germany's Frank-Walter Steinmeier in Rome on Wednesday, said in an interview with state-owned RAI radio that he was "not convinced by proposals we hear for new sanctions against Russia."
"We still hope that a minimum diplomatic channel can be reopened," Gentiloni said on Thursday .
Ayrault called for an end to the "massacre of the civilian population, women, children, hospitals" in Aleppo. "Our priority is not to enter a cycle of sanctions for sanctions' sake," on Russia, Ayrault told a joint news conference. "Our will is to push once more for a stop to the bombings."
Ayrault urged the involvement of the United Nations Security Council, where Russia has routinely used its veto to shut down any action on Syria. Germany's Steinmeier, who has previously called for trust to be built with Russia, said "our moral credibility" was at stake.
German Priority
The German government signaled last week that it doesn't back expanding economic sanctions on Russia over its involvement in the assault on Aleppo. "The priority for us is to do what's needed to help people and to advance a cease-fire, on which so much depends," Steffen Seibert, Chancellor Angela Merkel's chief spokesman, told reporters on Friday.
The show of diplomatic unity from the three biggest economies in the euro region came as Putin called off a visit to Paris next week to open an Orthodox church because his French counterpart, Francois Hollande, would only meet with him to talk about Syria, where Russian warplanes are bombing to support the regime of Bashar al-Assad.
Putin held a call with Hollande and Merkel on Wednesday amid speculation they may meet with Ukrainian President Petro Poroshenko next week to discuss the simmering conflict in Ukraine. Russia is already subject to U.S. and European Union sanctions over its military incursion into Ukraine.
"We must not indulge in the idea that the EU is a tap for sanctions and that sanctions resolve all problems," Gentiloni said in the radio interview. "I don't believe that Europe would ever agree on sanctions on the Syrian issue. It would only be a way of introducing new divisive elements into the EU."
— With assistance by Gregory Viscusi, and Henry Meyer
Before it's here, it's on the Bloomberg Terminal.
LEARN MORE