markets
Don't Believe the Hype, Says Japan Bio CEO, as Nobel Lifts Stock
By and
Cosmo Bio shares surged then dropped after Ohsumi won award

Company supplied reagents used in prize-winning experiments
For Haruhisa Sakurai, the president of Cosmo Bio Co., the Japanese company's role in winning this year's Nobel Prize for medicine brings more worry than glory.
Little known outside its industry, Cosmo Bio is one of the largest suppliers of specified reagents -- substances used in chemical analysis -- to academics and medical professionals in Japan. Such products helped Yoshinori Ohsumi claim the prestigious award for his work in what's known as autophagy, a process by which cells degrade and repair themselves. His discoveries could be applied in numerous health-care products, and even help to mitigate damage from cancer.
When the news broke last week, the company's stock surged 22 percent in one day for its biggest gain in more than three years, and Sakurai received e-mails from as far away as the U.S. Rather than rejoicing, he started to feel uncomfortable.
"All this attention is great, but if this reflects expectations for some kind of rapid growth, that goes against our values," Sakurai said in an interview at the company's headquarters in Tokyo. "The rally was overdone."
Nobel Prize wins are closely watched in the Japanese stock market, with shares of related companies likely to jump after such announcements. Takara Bio Inc., which makes medical reagents, rose as much as 10 percent after Ohsumi won his award, while Medical & Biological Laboratories Co. closed the day 16 percent higher.
"The award is a good thing for everyone," Sakurai said in the interview on Oct. 5. "Anyone involved in the study of autophagy is bound to be happy. But the market seems overly excited about the Nobel Prize. It's difficult to closely tie an award such as this to actual business. It takes time."
In a sign that investors agree with Sakurai, Cosmo Bio shares have already given up all their gains from Oct. 4.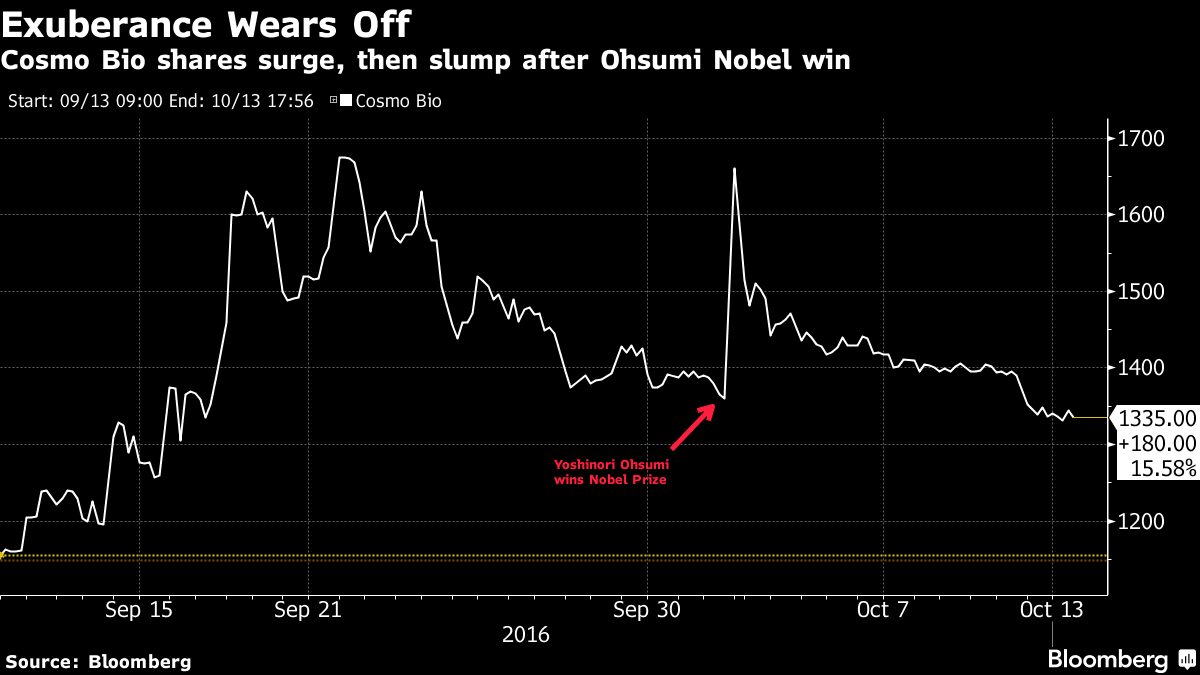 Sakurai says scientists are still at an early juncture in understanding autophagy. He describes developments in the field as being at "stage B" on a scale of A to Z. With much more work to do, he says investors in his company should take a long-term view and expect slow but steady growth rather than eureka moments. They should be ready to sit on their investment for years, not days, he said.
Cosmo Bio sells millions of different reagents -- the likes of which Ohsumi used in his experiments. They're bought mostly by researchers and academics for medical research and life-science studies. Without such products, many of the world's drugs and even cosmetics would never have been developed.
"We're responsible for supporting the groundwork of researchers with as broad a reach as we can," said Sakurai, 62, a veteran researcher with a doctorate himself. "It's much less about raking in loads of money through our product portfolio."
Cosmo Bio is one of thousands of smaller Japanese companies that form the backbone of key technologies used in producing everything from high-end bicycle parts to next-generation smartphone screens featured in the latest Apple Inc. iPhones. Canon Tokki Corp., for example, is a key supplier of machines used in churning out organic LED screens made by both South Korea's Samsung Display Co. and LG Display Co.
Educated Traders
Cosmo Bio had 122 employees at the end of December and more than half of them have at least a master's degree, even though the company is basically a trading company, importing various reagents for its clients on demand. The company was established in 1983 as a biotech subsidiary of Maruzen Oil Co., a broker of refined-oil products, as management sought new growth areas. Listed on the Jasdaq market for smaller stocks, its shares are up 49 percent from a recent low in June.
"We're happy, like family, that Ohsumi has won the Nobel Prize," Sakurai said. "But making money out of this is a different story."
Before it's here, it's on the Bloomberg Terminal.
LEARN MORE