Photographer: Qilai Shen/Bloomberg
pursuits
China Builder Debt Risks Rise on Double-Blow From Regulators
Bloomberg News
At least 21 cities have rolled out purchase restrictions

Some developers could default on their debt: S&P's Yip
China's developers are reeling from a double blow of cooling measures on home sales and curbs on their access to the bond market.
At least 21 cities have introduced purchase restrictions and toughened mortgage lending limits since late September, while people familiar with the matter said last month that the Shanghai Stock Exchange is considering barring builders rated below AA from selling exchange-traded notes. The average yield on Asian dollar-denominated high-yield notes, most of which are from Chinese developers, has jumped to a more than three-week high of 6.4 percent, according to JPMorgan Chase & Co.'s indexes.
Any downturn in real estate, which accounts for about a third of China's economic output, would increase pain among developers that accounted for 13 percent of the bankruptcy cases this year, according to official data. Many builders have been kept afloat by their access to record-low yields when selling bonds onshore and offshore, with issuance reaching the equivalent of $89.5 billion so far this year, already exceeding last year's total of $87.8 billion, according to Bloomberg-compiled data.
"Total debt for Chinese developers has risen to a very high level," said Christopher Yip, an analyst at S&P Global Ratings in Hong Kong. "If the capital market experiences any volatility, the refinancing risk for the developers will increase. Therefore some developers could default."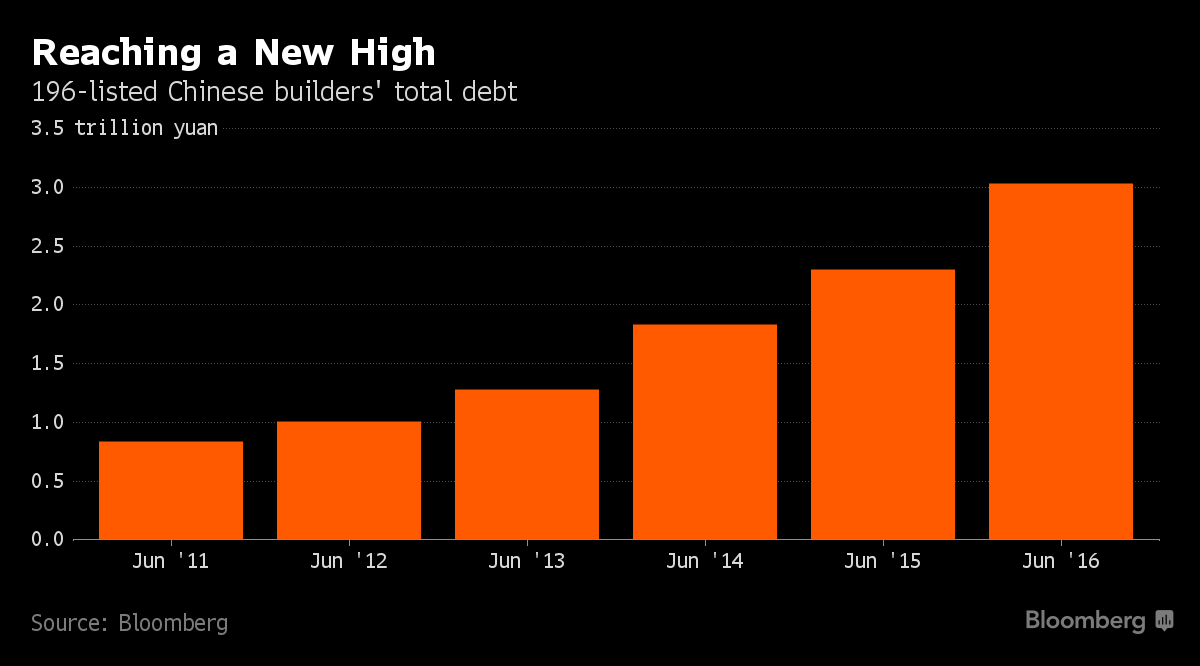 The total debt of 196 listed Chinese builders rose 32 percent to a record high of 3 trillion yuan as of June 30 from a year earlier, data compiled by Bloomberg show. Their median total debt jumped to 8 times earnings before interest, taxes, depreciation and amortization, from 4.8 five years ago. Developers' profitability is also worsening, with their gross profit margin dropping to 25.3 percent as of June 30, the lowest since at least 2008.
After six interest rate cuts in the last two years, developers are paying an average coupon of 4.5 percent on their onshore and offshore notes this year from 6.9 percent two years ago, despite rising default concerns.
"We are getting more cautious in buying into developer bonds now because yields have come down and credit risks are rising," said Mo Qian, Shanghai-based head of fixed income research at HFT Investment Management Co. "We need to adjust our investment strategies ahead of the curve because if the time comes when everyone starts to worry about those notes, then it would be very hard to exit."
— With assistance by Yuling Yang, Lianting Tu, Ling Zeng, and Jing Zhao
(
Updates bond issuance in the third paragraph.
)
Before it's here, it's on the Bloomberg Terminal.
LEARN MORE