China Exports Fall Most in Seven Months, Adding to Yuan Pressure
Bloomberg News
Overseas shipments declined 10% as imports slipped 1.9%

Yuan has weakened to near the lowest level in six years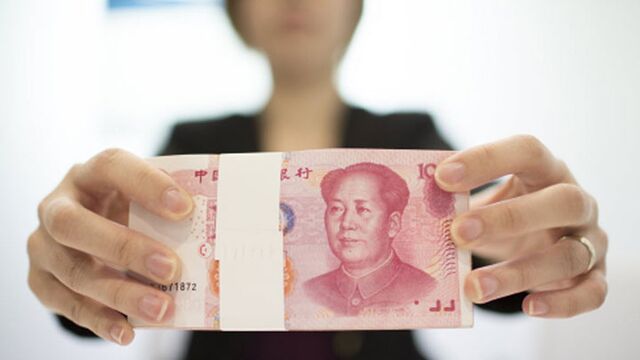 China's exports dropped the most since February as global demand remained tepid, adding to pressure to the yuan, which is near a six-year low.
Key Points
Exports fell 10 percent from a year earlier in September, the customs administration said Thursday
Imports declined 1.9 percent 
Both readings fell short of estimates in Bloomberg survey of economists, who projected exports would drop 3.3 percent and imports gain 0.6 percent
In yuan terms, shipments declined 5.6 percent, imports rose 2.2 percent
Trade surplus fell to $42 billion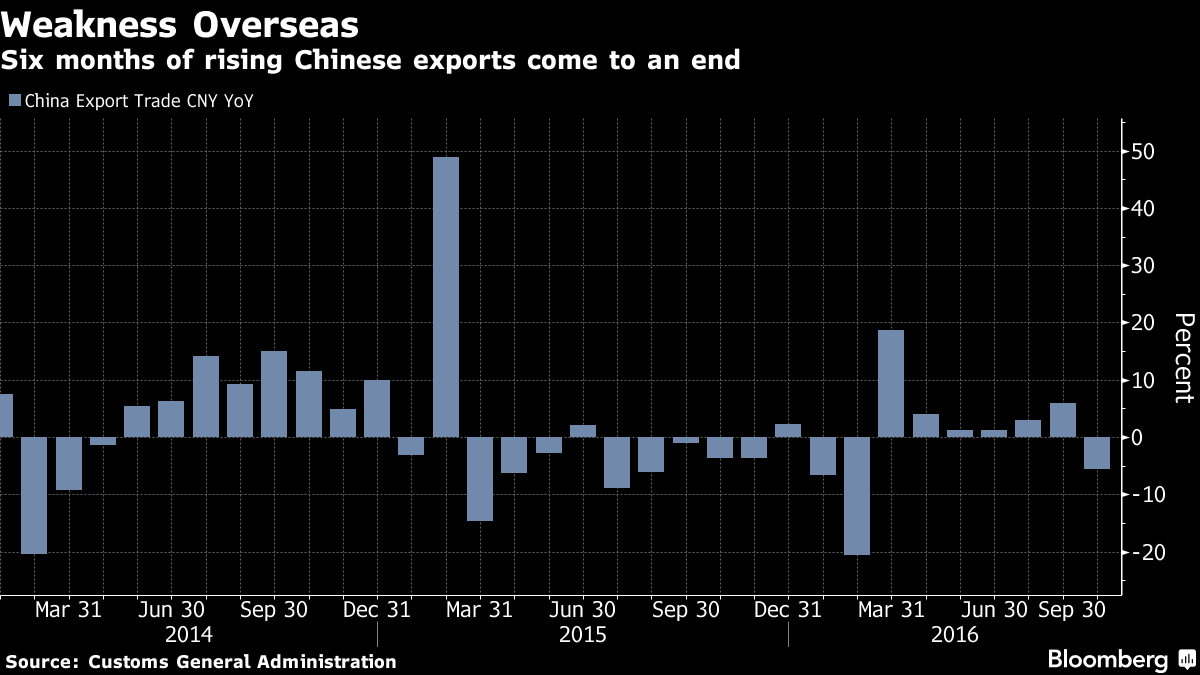 Big Picture
Lackluster trade data may increase pressure on the yuan at the same time new property curbs challenge the resilience of the nation's economic recovery. Third-quarter growth probably held up at 6.7 percent for a third straight quarter, according to a Bloomberg survey of economists before the official report due Oct. 19.
Economist Takeaways
The data are "consistent with a significant slowdown in global trade volumes," said Sue Trinh, head of Asia FX strategy at RBC Capital Markets in Hong Kong. "China is running out of options and letting the RMB go is the lowest cost option for them. We've seen them move in this direction after getting past the formal SDR inclusion date. There's more work to do."
"We remain wary on China's export outlook given headwinds to global growth and business investment," Julia Wang, an economist at HSBC Holdings Plc in Hong Kong, wrote in a note. "Policies will continue to focus on managing domestic demand, with the help of an expansionary fiscal policy, in the remainder of the year."
"The numbers cut against the view that stronger competitiveness from a weaker yuan and more demand as U.S. households strengthen will return exports to a growth path," Bloomberg Intelligence economists Fielding Chen and Tom Orlik wrote in a report. For the yuan, "shrinking exports will add to fears it has further to fall."
"The export backdrop merely underlines some of the downside risks to GDP growth," said Michael Every, head of financial markets research at Rabobank in Hong Kong. "Expect the yuan to move down with it. China is still being kept afloat by a housing bubble and massive state stimulus."
"The expectation of a weaker yuan won't have a big impact on trade in the next two months, since the effect of depreciation on trade is diminishing," said Zhu Qibing, chief macro economy analyst at BOCI International (China) Ltd. in Beijing. "Exports are likely to return to positive in October at the earliest as Christmas orders come in."
Falling exports to the European Union and U.K. suggest the downside risks to China's economic recovery from Brexit can't be ignored, said David Qu, a markets economist at Australia & New Zealand Banking Group Ltd. in Shanghai.

The Details
Exports to EU fell 9.8 percent, U.K. shipments slid 10.8 percent, U.S. down 8.1 percent

Crude oil imports rose to a record as a new strategic reserve site became operational
Steel exports shrank for a third month to the lowest since February
Asian shares slumped with U.S. stock futures, with the Hang Seng China Enterprises Index losing 2 percent and declining for a fourth day
Yuan depreciation's impact on trade is limited, customs spokesman says at a briefing

Yuan has dropped 3.4 percent against the dollar this year, the biggest decline in Asia, and weakened 6.2 percent against a 13-currency trade-weighted index
The People's Bank of China on Thursday weakened the daily reference rate for the seventh day in a row, the longest weakening run since January
Watch Next: Why China Is Key for EM Investment Opportunities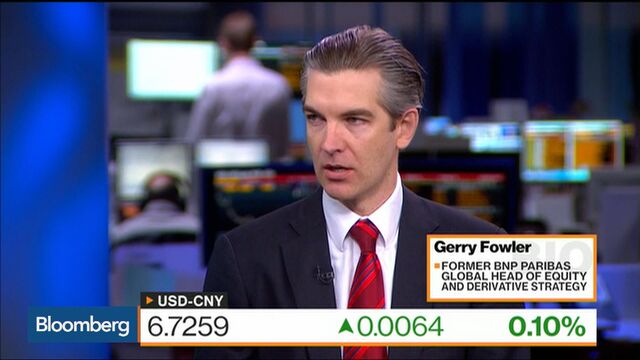 — With assistance by Xiaoqing Pi, and Kevin Hamlin
Before it's here, it's on the Bloomberg Terminal.
LEARN MORE