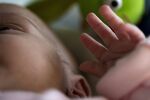 Subscribe to Bloomberg Benchmark on iTunes Podcasts
Subscribe to Bloomberg Benchmark on Pocket Casts
Every week, hosts Dan Moss, Kate Smith and Scott Lanman bring you a jargon-free dive into the stories that drive the global economy.
If U.S. childcare costs are so expensive, why do people who walk your dog make more money than the workers who take care of your kids? Is there any way it could become cheaper to send your kid to day care than to attend a public university? Our co-hosts are interested: Scott because he has two young daughters in preschool, and Kate because she pays a sizable sum to have her dog walked. Joining them are Scott Cotter, CEO of Childcare Network, which operates 249 centers across the southeastern U.S., and fellow Bloomberg podcaster Rebecca Greenfield, who takes time from her Game Plan show to discuss her reporting on childcare costs.
Before it's here, it's on the Bloomberg Terminal.
LEARN MORE