Cashing In on the Fear Factor
Bungy Japan has a perfect safety record—but its owner prefers not to broadcast that.
By and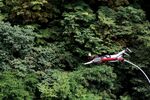 Growing up in Australia, Beau Retallick was always dreaming up ways to get rich. What makes him different from most other tinkerers is that some of his inventions have actually made money.
First there was the machine for shaping polyethylene pellets into huge water storage tanks. That contraption, which he designed in 1991 at the age of 17, boosted the value of his family's plastics business, says his father, Gary, who later sold the company for $18 million. "While other kids were thinking about their sports, he'd be looking at machines," says the older Retallick.
A few years later the high school dropout rigged up something he called the Mind Assist Computer, essentially a low-tech Siri, as a conversation partner for his grandfather, who had Alzheimer's. ABC Radio Australia had Retallick demonstrate it on-air. Another plastic molding machine he prototyped using parts from a rotisserie oven landed him a contract making air conditioner parts for Seeley International in his hometown of Adelaide. By 24, Retallick says, he'd made enough money to consider buying his own island in Fiji. (There are hundreds, so they're not all that expensive.)

Retallick's latest creation: a bungee-jumping business based in Minakami, two hours north of Tokyo, that he co-founded in 2007 with his friend Charles Odlin. And for pure moneymaking efficiency, Bungy Japan is his best yet. It works like this: Jumper goes off a bridge tethered to an elastic cable, jumper gets hauled back up by winch, process is ready to repeat about three minutes later. Last year, customers paid Retallick an average of $110 to do that about 31,600 times, which works out to almost $3.5 million. The Australian himself set a Guinness World Record in 2014 for the most jumps in a single day: 158 in 19 hours and 7 minutes. "It was totally mental," he says.
With a long ponytail and a scruffy beard, the 42-year-old sticks out in Japan, where he's lived since 1999. Local officials warmed to him, though, after Bungy Japan turned sleepy Ibaraki prefecture into a tourist draw. That opened other doors. "I thought it could be a magnet for us, too," says Takeshi Ogita, a councilman in Fuji City, the factory town that leased the company its newest location, bringing its total to six.
Retallick says between word-of-mouth and media exposure he hasn't had to advertise. Japanese brewer Kirin and Korean electronics giant Samsung have featured his sites in ads. They've also appeared on Japanese TV shows, including Jumping for a Reason, in which "bungee angels" coaxed office workers with personal problems to throw themselves off bridges as therapy.
The sport of bungee jumping was invented in the 1980s by a New Zealander named AJ Hackett, who was inspired by a fertility ritual going back hundreds of years on the Pacific island of Vanuatu, in which young men hurled themselves from wooden towers with vines strapped to their ankles. Since 1988, AJ Hackett Bungy has launched more than 2.5 million people off tall structures—without a single death, according to spokesman Nigel Hobbs.
The gap between the fear factor and the reality is what makes the bungee business profitable. (When your life hangs by a thread, you don't haggle.) On the very rare occasions when the industry has had accidents—like the time a 22-year-old backpacker was sent plunging into the Zambezi River in 2012—business picks up, Retallick says. He doesn't broadcast that all of his sites have international certification for engineering safety and that there's never been a mishap. "No way in Christ we'd advertise that," he says. "People are doing this to be badasses. We don't want to take that away from them."
Retallick says he has a programmer writing the code for a system that will calibrate jumps with pinpoint accuracy, so more people can accomplish the holy grail of bungee stunts: a water touch known as the kiss of death. He believes the technology will catapult him into Hackett's realm or even beyond.
On a breezy, blue-sky day in late September, some of Minakami's residents were drawn from their homes by a high-pitched whine that made the tiny town sound like an airport runway. Retallick, dressed in a black jumpsuit and silver fire-retardant boots, was in the parking lot at his headquarters testing another invention: a jet-powered drone he says will be powerful enough to lift a sumo wrestler. The idea came to him while he was thinking about ways to get better camera angles for photographing jumps.
The drone didn't get off the ground that day: Two jets didn't fire properly, and the other six left black burn marks in the asphalt. But thanks to the bungee business, Retallick can afford to keep tinkering. "If I have to rebuild it or tear it all apart, I'm like, 'Cool, I can do that,' " he says.
The bottom line: With six locations in Japan, Beau Retallick's bungee business is a cash cow, allowing him to moonlight as a drone inventor.
Before it's here, it's on the Bloomberg Terminal.
LEARN MORE