Brexit to Erupt in French Race With Juppe Demanding Hard Line
by
Republican front-runner wants EU to set out Brexit vision

Sarkozy seeks curbs on immigration just like British leader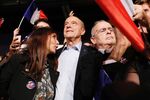 The British officials preparing to negotiate their exit from the European Union should be paying particularly close attention as the French election campaign shifts up a gear on Thursday.
The candidates for the Republican party's presidential nomination are preparing to set out their visions of Europe's future on Thursday night during the first debate of the primary campaign, and the two leading contenders have very different views on how to handle Brexit.
Alain Juppe, who's been consistently ahead in the polls, wants EU negotiators to take a harder line with the British, according to an adviser. His main challenger Nicolas Sarkozy is sympathetic to U.K. Prime Minister Theresa May's desire for much tighter immigration rules and still hopes Britain might return to the European project in future, his diplomatic adviser Pierre Regent said.
"Who can say now whether it will eventually be a 'hard' exit or a 'soft' exit or something in between?" Regent said, using the short hand for a full or only partial departure from the single market. "Sarkozy believes the U.K. could eventually come back into the EU, once the union's foundations have been reformed."
France's main right-of-center party will choose its candidate for next year's presidential election over two rounds on Nov. 20 and 27. Juppe maintained a comfortable lead in a Kantar Sofres poll published in Le Figaro Oct. 9 which showed he'd take the most votes in the first ballot and then beat Sarkozy by more than 10 percentage points in the runoff.
All seven candidates in the Republican race agree with Socialist President Francois Hollande that U.K. companies and London-based banks can't have access to the EU single market without allowing freedom of movement for European workers. And both Juppe and Sarkozy insist the U.K. can't keep the clearing houses for euro-denominated transactions and the European Banking Authority will have to shift its headquarters from London unless May drops her insistence on immigration curbs. Beyond that, the two main contenders have very different attitudes.
'Firm Offensive'
Juppe wants EU leaders to set the agenda for the Brexit negotiations by setting out their vision of the post-Brexit relationship as soon as possible, rather than waiting for the U.K. to publish its plans, according to one of his advisers, who asked not to be named. Juppe has been toughening his views since the British referendum in June and wants the EU to mount a "firm offensive," the adviser said.
The former prime minister and foreign minister is not pushing for a punitive approach to the talks though and wants to preserve bilateral cooperation with the U.K., especially on defense matters, a second adviser said. Still, talks with the U.K. must be "clear and firm," the aide said.
Former President Sarkozy understands May's need to respond to voters' demands for controls on immigration and her commitment to delivering Brexit unambiguously, Regent said. Sarkozy has made immigration curbs a key plank of his bid to reclaim the French presidency which he lost to Hollande in 2012.
French voters will select a new head of state in a two-round ballot on April 23 and May 7 next year so the next president will take office just as negotiations over Britain's EU exit get started -- May has pledged to initiate the two-year process by the end of March.
Though he isn't questioning France's membership of the EU, Sarkozy also wants to limit European workers' access to welfare in France and is calling for tougher border controls and a new settlement on immigration, putting him closer to the British government than his Republican rivals.
Before it's here, it's on the Bloomberg Terminal.
LEARN MORE