Brexit Bulletin: High Street Headaches
From Marmite wars to expensive currency hedging, U.K. companies are taking a hit.
by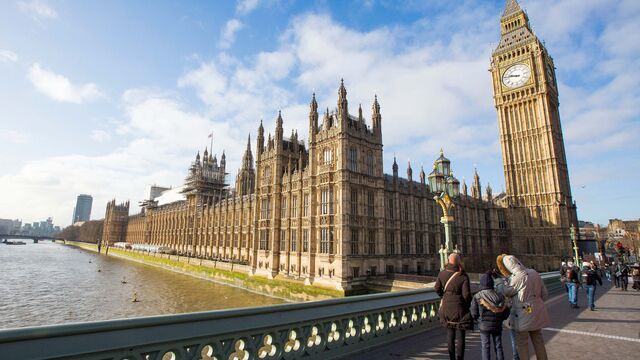 Sign up to receive the Brexit Bulletin in your inbox, and follow @Brexit on Twitter.
U.K. Plc is starting to feel the effects of Brexit.
A wide selection of Unilever products ranging from Hellmann's mayonnaise to the iconic British breakfast spread Marmite remained absent from Tesco's online store because of a standoff between the supermarket chain and one of its key suppliers over rising prices following the Brexit vote.
The Guardian said Unilever was trying to raise prices by about 10 percent to make up for sterling's slump following the June referendum.
Meanwhile, Justin King, the former CEO of grocer J Sainsbury and self-described "Remoaner," said discounters such as Poundland are suffering because their retail price remains a quid, yet the cost of their goods priced in foreign currency has jumped.
"These are businesses that are incredibly low-cost retail businesses already, they've got nowhere to go in cost to widen that margin," King said. "I'm not sure I'd be a buyer of Poundland at this time."
Other companies are also losing their battle against the forces of inflation as the cost to hedge against further currency declines soars, according to Bloomberg's Thomas Seal and Eric Pfanner.
Athletic-goods chain Sports Direct last week said that losses on its currency hedges after a "flash crash" in the pound could cut earnings by as much as 35 million pounds. Exchange-rate movements cost U.K.-based airline EasyJet about 90 million pounds in the year that ended Sept. 30.

Sky posted a 13 percent increase in first-quarter sales with the pay-TV company, which operates in several European countries, benefited from converting overseas earnings back into pounds at post-Brexit exchange rates.
Parliament Punches Back
Parliamentarians flexed their muscles yesterday as members of all parties put the government on notice that they plan to scrutinize its strategy for leaving the European Union.
Opposition leader Jeremy Corbyn decried a "shambolic Tory Brexit," while former Conservative Chancellor of the Exchequer Ken Clarke said uncertainty was repelling foreign investment. Onetime Attorney General Dominic Grieve said there was the risk of a "legal nightmare."
The criticism came as lawmakers approved a motion calling on the government to give them a say on its negotiating strategy before it engages with EU governments by the end of March. Prime Minister May's team concedes in private that it cannot stop lawmakers eventually calling a vote although they note it wouldn't be binding and there won't be one on whether to trigger the departure.
Speaking to a House of Commons committee on Wednesday, Foreign Secretary Boris Johnson said predictions of "doom" for the economy following the Brexit vote "will continue to be proved wrong."
More questions about Parliament and Brexit? Check out our Q&A for answers.
Meanwhile, May heads to Spain, where British residents are keen for insights into how Brexit will affect their ability to stay. Her immigration focus makes expats worried about their own freedom of movement, even as the weakening pound is making them poorer, Bloomberg's Charles Penty and Maria Tadeo report.
"Are we still going to be looked after and what are the Spanish going to do to us," asks Ted Dawson, who runs pubs and a karaoke bar in the Spanish coastal resort of Benidorm.
In the Courts
Another anti-Brexit front opened up today when a London court started hearing the arguments as to whether May has the power to invoke Article 50 without consulting Parliament. Again, it may not prevent the pullout, but could delay it.
Lawyers told a panel of three senior judges that May's bid to trigger Brexit on her own amounts to an unconstitutional power grab.
ING Coming
ING Groep is bucking the trend by announcing it will move as many as 60 trading jobs from Amsterdam and Brussels to London as the biggest Dutch lender seeks to consolidate operations and cut costs, a person with knowledge of the plans said.
It becomes the first large European lender shifting staff to London after the Brexit vote and comes as rivals from UBS to Morgan Stanley warn they may move jobs away from the U.K., though it said it may review the decision over time.
On the Markets
The pound resumed its decline, the seventh in nine days. Sterling fell against most of its 16 major peers having gained on Wednesday as lawmakers won the chance to scrutinize May's Brexit plan.  The optimism faded on Thursday as investors returned their focus to concerns over May's perceived hard-line stance on leaving the single market.

Brexit Bullets
U.K. housing market strengthened in September
Sturgeon pledges Scottish independence referendum bill
Hammond braces for Brexit blow to U.K. finances,
Brexit may be in 'middle' between soft and hard, says Croatian president
Disentangling from EU budget will cost the U.K. €20 billion, the FT estimates
Police saw 41% rise in race-hate crimes after vote
And Finally…
Brexit is about to take on a French flavor as Republican party candidates for the country's presidency stake out different positions ahead of Thursday's first debate of the primary campaign.
Front-runner Alain Juppé wants the EU to take a harder line with the U.K., an adviser tells Bloomberg's Helene Fouquet. By contrast, Nicolas Sarkozy is sympathetic to May's desire for much tighter immigration curbs and still hopes Britain might stay in the bloc, his diplomatic adviser said. The party will choose its flag-bearer in late November.
For more on Brexit follow Bloomberg on Twitter, Facebook and Instagram, and see our full coverage at Bloomberg.com
Before it's here, it's on the Bloomberg Terminal.
LEARN MORE