Brexit Angst From Benidorm to Manchester Awaits May in Madrid
by and
May's visit comes amid concerns over benefits and currency

Spanish government's focus so far is on future of Gibraltar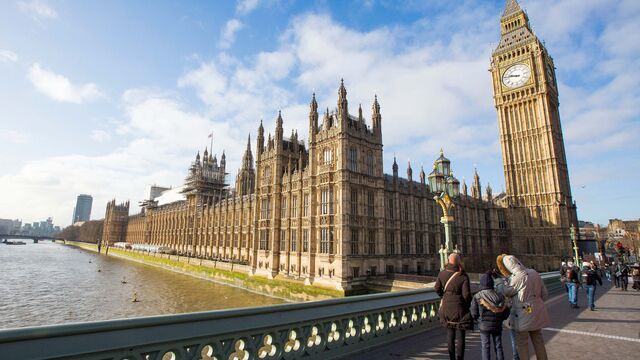 Tad Dawson, a former miner from Castleford, England, who now runs the Yorkshire Pride chain of four pubs and a karaoke bar in the Spanish coastal resort of Benidorm, had questions he'd like U.K. Prime Minister Theresa May to answer during her visit to Madrid.
Follow @Brexit for the latest news, and sign up to our Brexit Bulletin for a daily roundup.
Like thousands of his countrymen who've made Spain their home, the 51-year-old wants to know how Brexit may change the way he lives and works. Britons and Spaniards who choose to live in each others' countries will be parsing any statement May makes during her Thursday trip to see how the U.K.'s departure from the European Union will affect their futures. Her stress on restricting immigration makes expats anxious about freedom of movement and benefits while the weakening pound also makes many of them poorer.
"I'd like to ask her what happens to pensions and healthcare and the like," said Dawson. "Are we still going to be looked after and what are the Spanish going to do to us?"
For his part, Jose Vera, a 26-year-old nurse from the Spanish city of Zaragoza who has been working at a hospital in Manchester for the past two years, isn't sure if he's still welcome in the U.K. "I want to know what's going to happen to my pension, my healthcare plan and possible visa restrictions," he said. "It's sad what's happening -- this was a very welcoming country, with great values, and now it's going the opposite way."
May said earlier this month that she plans to begin the two-year countdown to Brexit by March 2017. While financial markets have been in turmoil over what this might mean, for the likes of Dawson and Vera the stakes are greater: they risk confronting major changes to the way they live.
Favorite Destination
Spain's climate and access to benefits such as healthcare enshrined in EU legislation have long made the country a favorite destination for British expats, many of whom are pensioners living out their retirement in the sunshine.

While Spain's National Statistics Institute, or INE, estimates the registered U.K. expat population at 254,000, the actual number is probably higher by many thousands because not all register and many don't live in the country all year round, according to the British Embassy in Madrid. The U.K.'s Institute for Public Policy Research puts the number of Britons in Spain at 310,000.
At the same time, the U.K.'s low unemployment has made the country a magnet for young Spaniards seeking professional opportunities outside their own country, where the jobless rate is still 20 percent.
There are 102,498 Spaniards living in the U.K., up from 74,389 in 2013, the year that Spanish unemployment peaked at 27 percent, according to INE. U.K. national insurance number allocations to people from Spain, Italy and Portugal doubled from 2011 to 2015.
European Tour
Many of these people will want to see if May says anything that can provide some clarity to their futures. May met Spain's Acting Prime Minister Mariano Rajoy Thursday, extending a diplomatic offensive that has taken her to Denmark and the Netherlands this week after earlier stopovers in Berlin, Paris and Warsaw.
Rajoy tweeted photos of their encounter, adding that he'd work with May to preserve the important links between the U.K. and Spain. The Iberian nation will seek to maintain friendly relations with the U.K. even as it defends the interests of Spanish citizens and companies, the government said in a statement on its website after the meeting.
Spanish companies in the U.K. such as Banco Santander SA and Iberdrola SA are also making their voice heard. "We view with concern the possible limitations on workers' movements or restrictions to European workers," the Spanish Chamber of Commerce in Great Britain said in a statement.
While expats frame their questions on Brexit around its impact on free movement and benefits, Spain's caretaker government is also focusing on a more long-standing dispute: Gibraltar.
Megaphone Diplomacy
Acting Foreign Affairs Minister Jose Manuel Garcia-Margallo said last month that Brexit gave Spain the best chance in three centuries to reclaim sovereignty over the Rock, which the Treaty of Utrecht placed under British control in 1713.
He's proposing a formula by which Spain and the U.K. would exercise joint sovereignty over Gibraltar under a self-governing arrangement that would allow its border to the mainland to stay open. U.K. Foreign Secretary Boris Johnson said Britain would maintain "a completely implacable, marmoreal and rock-like resistance" to Spanish claims to the Rock, the Press Association reported Thursday, citing comments he made in the House of Commons.
"There will probably be a lot of megaphone diplomacy," said William Chislett, a researcher at the Elcano Institute think tank in Madrid. "But there is no way the situation for Gibraltar can be the same post-Brexit, no matter how used they are to pressure from Spain."
Back in Benidorm, Dawson's pubs are already feeling the pinch from the first impact of Brexit -- a 16 percent drop in the pound against the euro since the referendum was held in June. The 3-euro cost of a pint of John Smiths bitter ale from Yorkshire suddenly looks more expensive to Britons with pounds in their pockets, he said.
"If the pound falls to parity with euro, there'll be panic in Benidorm," said Dawson, who employs 55 Britons and one Spaniard.
Before it's here, it's on the Bloomberg Terminal.
LEARN MORE