VTB to Continue Cutting Back London Operations, CEO Kostin Says
By
Bank cutting business for business, not political reasons

CEO Kostin says need to wait and see what Brexit means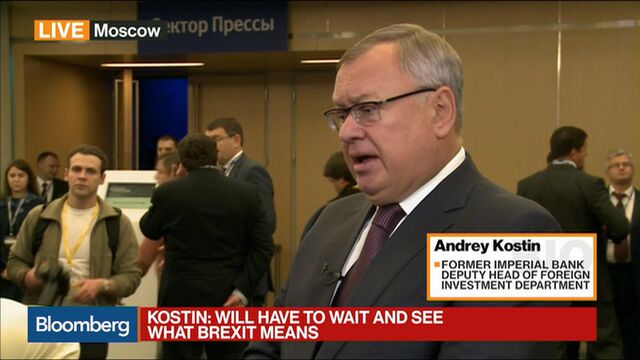 VTB Group, Russia's second-largest bank, will continue to cut back operations in London after the U.K. decided to exit the European Union, Chief Executive Officer Andrey Kostin said.
"There are no plans to leave London, but definitely to cut down our presence there for business reasons, not for political reasons," Kostin said in an interview with Bloomberg Television on Wednesday. "Of course we have to wait and see what Brexit means."
Kostin's comments come after several global financiers at a London conference on Tuesday warned that they will move operations and jobs from London if British Prime Minister Theresa May can't secure continued easy access to the trading bloc's single market. While Europe is "important" for VTB Group, it's "not vital" for the Russian lender to have a base in the region as the company targets growth in Asian countries such as China, India and Vietnam, the CEO said.
The lender, which is sanctioned by the U.S. and the EU over the Kremlin's role in the Ukraine conflict, is seeking to cut costs and restructure operations to focus more on "retail, which is a high-margin business," according to Kostin. Asked about a privatization, he said the government should wait until sanctions are removed.
"Both a strategic investors sale and an open market sale are quite difficult because of the sanctions," he said. "My personal opinion is we should wait until the sanctions have been removed. But if the owner, the government, insists, I think we could structure some deals, maybe sometime next year."
— With assistance by Anna Baraulina
Before it's here, it's on the Bloomberg Terminal.
LEARN MORE