U.S. ELECTION WRAP: Clinton Eyes Red States as Trump Attacks
As Donald Trump fights with members of his own party, Hillary Clinton is considering a making a play for voters in the Republican strongholds of Georgia, Arizona and Utah.
By and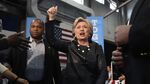 Hillary Clinton, following a surge in national and swing-state polls, is mulling an expansion of her electoral map to the traditional GOP strongholds of Arizona, Georgia and Utah in a bid to capitalize on Republican Party turmoil.
The Democratic nominee's campaign is looking at the states to "see if there's opportunity there," Clinton spokeswoman Jennifer Palmieri told reporters told, Bloomberg's Margaret Talev reported
Clinton's possible move into GOP territory comes as she now leads Trump by 8 points among likely voters, according to a new national Reuters/Ipsos opinion poll; 1 in 5 Republicans said Trump's crude comments about groping women disqualify him from the presidency
"If you've got friends in Utah or Arizona, make sure they vote too," Clinton said while campaigning in Colorado, where voters for the first time will be able to vote by mail
Clinton told the crowd that the numbers of people participating in early voting across the country is "bigger than anybody thought"

"People began lining up" to cast a ballot in Ohio today, she said in reference to the Buckeye State's start of early voting

A new poll out of Ohio shows Clinton jumping to a 9-point lead in the crucial battleground, with 43% vs. 34% for Trump, according to the Baldwin Wallace University survey
NOTE: The poll reflects voter views following Sunday's presidential debate and last week's publication of a sexually crude 2005 video of Trump
Trump led Clinton in Ohio 47%-42% in a Quinnipiac University poll taken Sept. 27-Oct. 2
As far as red state momentum, Clinton is tied with Trump in Utah in a Y2 Analytics poll, with both candidates at 26%

Independent candidate and Brigham Young University graduate Evan McMullin is at 22% and Libertarian Gary Johnson has 14%, according to the survey of 500 likely voters taken Oct. 10-11

The results come after a slew of Republican politicians from Utah excoriated Trump after the 2005 tape surfaced

Utah Gov. Gary Herbert and GOP Rep. Jason Chaffetz said they could no longer vote him; former Utah Gov. Jon Huntsman, Sen. Mike Lee and Rep. Chris Stewart said he should drop out of the race
Trump has struggled in Utah amid broad unpopularity among Mormons; the state hasn't backed a Democrat for president since Lyndon Johnson in 1964

Clinton also got good polling news out of Wisconsin on Wednesday when a Marquette Law School survey showed her leading with 44% vs. 37% for Trump; 9% back Libertarian Johnson; 3% support Green Party's Jill Stein
NOTE: In Sept., Clinton had a 3-point lead on Trump in Wis., 41%-38%
Nationally, the first female presidential nominee has a 90.5% chance of winning the White House if the election were held today, compared to 9.5% for Trump, according to FiveThirtyEight's constantly adjusting prediction model

NEW TRUMP TACTICS
Trump hit the trail Wednesday with a new strategy of trying to stymie voter turnout for Clinton, the Wall Street Journal reported
Meanwhile, Republicans both for and against Trump are nervous about an intensifying civil war within the party, Bloomberg's Sahil Kapur wrote
On the stump in northern Florida, Trump spent the bulk of his speech at a rally of about 9k people attacking his Democratic opponent, her brother, President Obama and former Vice President Al Gore

"This poor guy," Trump said a day after Gore campaigned with Clinton in Miami. "I don't know what the hell happened to him. What happened to him?"

A Clinton White House would mean "almost total destruction of our country as we know it," Trump said
The GOP nominee continued lashing out at House Speaker Paul Ryan, criticizing him for not calling to praise his debate performance against Clinton
Trump also cryptically said he has "no respect" for the Commission on Presidential Debates and that he's "done"
It wasn't clear what this might mean as far as Trump's plans for the third and final presidential debate, which is scheduled for Oct. 19
Trump hinged much of his Clinton attacks on the WikiLeaks release of e-mails purported to be from hacked account of Clinton campaign chairman John Podesta; Trump repeated his vow to investigate Clinton should he be elected president

Clinton spokeswoman Palmieri said Trump's plan for a "scorched earth" campaign in the final weeks won't succeed and that "what we have seen in the last week is enthusiasm, mobilization going up on the Democratic side"
She cited voter registration data that show positive trends for Democrats in Florida and Nevada

TRUMP GAINS IN MISSOURI
Trump got some good news out of Missouri as the real-estate mogul widened his lead over Clinton, 46%-41%, up from a 1-point advantage in August, according to a new Monmouth University Poll

TRUMP TELEVISION
Trump has been telling voters he's the "law and order" candidate and now NBC appears to be running with the claim by featuring a Trump-like character on an upcoming episode of the long-running "Law & Order: SVU," according to Variety

The episode will air before Election Day, on Oct. 26, and depict a character running for president who gets tripped up when women come forward with damaging accusations

TRUCKERS FOR TRUMP
Of the 60 participants who divulged their plans for this year's presidential election, about 58% intend to vote for Trump, based on Bloomberg/Truckstop.com's 3Q survey

23% say they'll vote for Clinton, highlighting concerns that she may exacerbate regulatory pressure on the industry, Bloomberg Intelligence analysts Lee Klaskow and Talon Custer wrote in note
Many owner operators said uncertainty over the election results are affecting demand and rates; a third of survey respondents refused to answer this question

ENDORSEMENTS/DENOUNCEMENTS
GOP U.S. Sens. Lisa Murkowski and Dan Sullivan of Alaska denounced Donald Trump and said should step aside, AP reported

They voluntarily resigned over the weekend as honorary members of the GOP's Alaska central committee, Murkowski campaign spokesman Robert Dillon said

Sen. John Thune, the 3rd-ranking Senate Republican, said he probably will vote for Trump, days after calling for the GOP presidential nominee to exit the race, the Rapid City Journal reported

The Argus Leader newspaper said Thune faced backlash from Trump supporters, underscoring the quandary many Republicans find themselves in when it comes to their party's standard bearer

Sen. Deb Fischer of Nebraska also reversed earlier calls for Trump to exit race, telling a local radio station that it's "not a tough choice," to keep supporting Trump, according to AP

Fischer's Nebraska colleague, Sen. Ben Sasse, has drawn criticism from fellow Republicans in the state for his long-held opposition to Trump

FUNDRAISING
Two big-money donors who have given or raised tens of thousands of dollars for Trump are irate at the Republican presidential nominee and are asking for their money back, according to a bundler who raised money for Trump, NBC News reported

TAXES
Clinton's proposed tax increases on people with high incomes and on businesses would constrain economic growth, leading to lower wages and about 697k fewer jobs, according to the Tax Foundation, a right-leaning policy group; see full story
Clinton should consider offering a simpler tax code, Bloomberg View editors wrote
Separately, Bloomberg View's Francis Wilkinson imagined an alternate campaign universe in which Ohio Gov. John Kasich is the GOP presidential nominee and Jeb Bush is his running mate

Trump's "disaster" of a campaign has allowed Republicans to slide on tax policy, he wrote; see full column HERE

ADVERTISING
Trump campaign released an ad, dubbed "Corruption," that attacks the Democratic nominee over her family's foundation
Bloomberg Politics analyzes ad spending by Trump and Clinton HERE

ETC
WikiLeaks released more e-mails that it said were hacked from Podesta's personal account, bringing the total number of messages posted since Friday to more than 6,500; see full story HERE
Clinton's team is trying to draw a direct line between Donald Trump's campaign and Russian hackers' attacks on Democrats
About 500 members of the International Society for Astrological Research will gather in Costa Mesa, Calif., from Thursday to Sunday for a symposium on topics including the financial markets, relationships and politics, Los Angeles Times reported

Experts pledged to divine whether Trump or Clinton will emerge triumphant Nov. 8

CONGRESSIONAL ELECTIONS
SENATE RACES (Republicans hold 54-46 majority)
BALANCE OF POWER: University of Virginia's Center for Politics sees six toss-up races in "very close" race for control of Senate, UVA political scientist Larry Sabato said today on C-Span's Washington Journal

"Maybe it will break wide open one way or the other at the end of the election season, but right now we believe it is very, very close," Sabato said
Sabato said there are tossup races in "red states" of Indiana, Missouri; "purple states" of North Carolina, Nevada; and "blue states" of New Hampshire, Pennsylvania
GOP is the defending party in all six races except Nevada
AZ: Democratic Rep. Ann Kirkpatrick's campaign released TV ad alleging Republican Sen. John McCain withdrew his support for Trump "only because his election is in jeopardy"

"That's not courage, and it's too late," a narrator says in the spot, which ad-tracker Kantar Media/CMAG said first aired yesterday on Tucson's ABC affiliate
IN: Democratic ex-Sen. Evan Bayh's campaign said in TV ad Republican Rep. Todd Young and his "out-of-state allies" are "spending millions lying about Evan Bayh's record"

Ad says that Bayh was never a registered lobbyist; he served as a "strategic advisor" for McGuireWoods and also worked for Apollo Global Management after leaving Senate in 2011
Indiana GOP in statement said Bayh has "lied over and over again," pointing to Indianapolis Star report that Bayh met with Apollo executives at the end of his Senate tenure, in what paper said was "a direct contradiction" of what Bayh's campaign has said
Bayh began this month with >$5m cash-on-hand after raising $2.5m in 3Q, according to campaign release; Bayh entered race in mid-July with $9.5m in leftover campaign funds
Young began Oct. with $1.6m cash-on-hand after raising $3.4m in 3Q for his campaign and $1m more for Indiana GOP, Young's campaign said in statement
Winner will succeed retiring Republican Sen. Dan Coats
MO: Republican Sen. Roy Blunt has 46% vs. 44% for Democratic Sec/State Jason Kander, according to Monmouth University poll conducted Oct. 9-11 of 406 likely voters (+/- 4.9 ppts)
NC: Republican Sen. Richard Burr's campaign released TV ad of a Winston-Salem prosecutor saying Democrat Deborah Ross amassed a "dangerous record" as a state legislator and head of North Carolina ACLU on issues including a sex-offender registry
WI: Democratic ex-Sen. Russ Feingold has 46% to 44% for Republican Sen. Ron Johnson, according to Marquette Law School poll conducted Oct. 6-9 of 878 likely voters (+/- 3.9 ppts)

Johnson's campaign released TV ad of people criticizing Affordable Care Act and saying Feingold "brags" about being the "deciding vote for Obamacare" when he backed it as a senator in 2009
ACA advanced in Senate with the bare minimum of 60 votes, so any senator who backed it could be described as being a "deciding" vote
HOUSE RACES (Republicans hold 246-186 majority)
CA-49: Democratic Congressional Campaign Cmte in TV ad says Republican Rep. Darrell Issa "still supports Trump" and is "putting politics ahead of his country" unlike Democratic challenger Doug Applegate, a retired Marine Corps Col.
IN-09: Indiana Jobs Now, a super-PAC funded by Republican businessman Trey Hollingsworth's father, in TV ad described race for Senate candidate Todd Young's district as between "job creator" Hollingsworth and Democratic "political insider" Shelli Yoder

"Leave it up to Tennessee Trey to run to daddy after Hoosiers found out he was trying to buy his way to Congress," Indiana Democratic Party spokesman Drew Anderson said in statement
Republican-leaning district connects suburbs of Indianapolis and Louisville in southern Indiana
NE-02: Democratic Rep. Brad Ashford and Republican Don Bacon "tried to paint the other as overly partisan" during their first debate yesterday, Omaha World-Herald reported

Bacon, seeking mildly Republican-leaning district in Omaha area, frequently linked Ashford to House Minority Leader Nancy Pelosi, while Ashford said he voted against Pelosi "on most every major initiative"
Watch the debate HERE
NY-19: Republican John Faso's campaign aired TV ad referring to "New York City Professor" Zephyr Teachout's "crazy liberal agenda" on property and energy taxes

Teachout's campaign manager in fundraising e-mail referred to Faso ad as "sexist attack made to delegitimize our ideas," New York political blog State of Politics reported
Faso, a former state legislator, and Teachout, a Fordham law professor, seeking to succeed retiring Republican Chris Gibson in central Hudson Valley district that's politically competitive
VA-10: House Majority PAC, a super-PAC aiding Democratic candidates, in 15-second TV ad said Republican Rep. Barbara Comstock is "too right-wing" for the northern Virginia district, citing her support for overturning Roe v. Wade

Democratic businesswoman LuAnn Bennett opposing Comstock's bid for second term