Trump Uses WikiLeaks to Focus Clinton Attacks in Final Weeks
By
Republican accuses government of colluding with Clinton aides

Democrats say Russia assisting Trump as campaign founders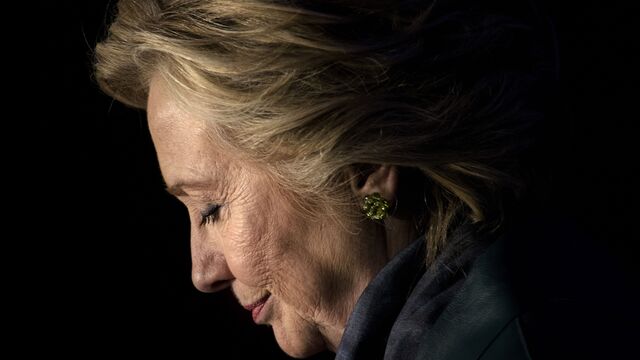 Republican nominee Donald Trump is accusing the Obama administration of colluding with Hillary Clinton's campaign about the release of her e-mails and a U.S. Justice Department investigation as he narrows his line of attack on the Democratic nominee in the final weeks of the campaign.
Trump has made the leaked e-mails from the Democratic National Committee and a top Clinton adviser, which the U.S. has said were stolen by Russian hackers, a central part of his stump speech to bash Clinton, along with her use of a private e-mail system while secretary of state. Democrats responded by saying Trump has sided with Russia and raising questions about links between his associates and the Russian government.
"The Department of Justice fed information, think about this, to the Clinton campaign about the e-mail investigation so the campaign could cover up her crimes," Trump said at a rally in Ocala, Florida, referring to the e-mails published by WikiLeaks.
There's no evidence supporting Trump's claim that the Clinton got information about the investigation into her e-mail use. His assertions originate in the more than 6,500 e-mail messages released by WikiLeaks since Friday in four installments, including almost 1,200 on Wednesday. The organization said on its website that they were hacked from the personal account of Clinton campaign chairman John Podesta.
The disclosures in the final month of the U.S. presidential race have outraged Democrats, who blame Russian state-sponsored hackers and WikiLeaks leader Julian Assange of working to help Trump, whose campaign as been foundering. Podesta, who has suggested that Trump may be "an unwitting agent of the Russian federation," on Wednesday released a statement saying the Russian meddling "can only be aimed at boosting Donald Trump and should send chills down the spine of all Americans."
Campaign Turmoil
As Trump has fallen in polls and as top Republican officeholders have distanced themselves from him over vulgar remarks he made in a 2005 recording, the candidate has said he now free to "fight for America the way I want to." Over the past several days he has keyed in on several e-mails revealed by WikiLeaks about the status of Freedom of Information Act litigation seeking releases of Clinton's e-mails from her days as secretary of state.
"These WikiLeaks e-mails confirm what those of us here have known all along: Hillary Clinton is the vessel of a corrupt global establishment that's raiding our country and surrendering the sovereignty of our nation," Trump said Tuesday at a rally in Florida.
One of the WikiLeaks releases appeared to show Clinton campaign spokesman Brian Fallon, who previously worked at the Justice Department, kept in touch with former colleagues about the e-mail releases.
"DOJ folks inform me there is a status hearing in this case this morning, so we could have a window into the judge's thinking about this proposed production schedule as quickly as today," the e-mail from Fallon, dated May 19, 2015, said.
The date and subject of the hearing that Fallon referred to was set more than a month earlier and was publicly available on the court's docket at the time.
In another message on WikiLeaks, on April 9, 2015, a communications staffer for Clinton e-mailed other top officials about the coming release by the State Department of 296 messages to and from Clinton regarding the 2012 terrorist attack in Benghazi, Libya, which killed four Americans.
"Someone here just got a tip that the State Department may be planning to release her Benghazi e-mails tomorrow or Monday," the staffer wrote. "Not sure the source is reliable."
Four days after the first e-mail, one of the Clinton associates on the e-mail, Heather Samuelson, responded that the department "says the release of the 300 will likely happen on Thurs or Friday."
Document Releases
A separate WikiLeaks release also seemingly showed Samuelson, a lawyer who received limited immunity from the government as it investigated Clinton's use of a private e-mail server after she helped prepare Clinton's archive, alerting the campaign to other releases under FOIA.
It's common for government agencies to alert people "if they're about to release FOIA documents that they know are going to generate a lot of press," according to Anne Weismann, a former oversaw FOIA requests as a government lawyer and is now executive director of the nonpartisan Campaign for Accountability, a Washington-based watchdog group.
The practice "always has raised a concern among a lot of the people in the access community," and getting such an early heads-up is "sort of on-the-line," Weismann said, but ultimately she rejected the Trump campaign's assessment.
"I see it as a courtesy and nothing more, and I think it's a pretty benign thing," she said. She said she'd be more concerned about the department giving "her the opportunity to affect the outcome."
Courtesy Contact
State Department spokesman John Kirby said in a Wednesday statement the department had been in touch with Clinton's lawyer "when documents related to their tenures were being released publicly. This is done as a courtesy and to inform. It does not impact or change Department decisions as to when and in what form documents are released."
He said the department also keeps in touch with past secretaries of state and their representatives.
Fallon and a lawyer for Samuelson did not immediately respond to request for comment on the Wednesday releases.
Trump's campaign also is highlighting a 2011 e-mail released Tuesday in which a senior fellow at the Center for American Progress, a think tank in Washington founded by Podesta, said that conservative Catholics including media mogul Rupert Murdoch were engaging in "amazing bastardization of the faith" and "must be attracted to the systematic thought and severely backwards gender relations."
Clinton's now communications director, Jennifer Palmieri, wrote back that she thought Catholicism was "the most socially acceptable politically conservative religion. Their rich friends wouldn't understand if they became evangelicals."
Trump has been confronted by possible defections of Evangelical and other religious voters over the 2005 recording,
Kellyanne Conway, Trump's campaign manager, called for Palmieri's firing over the comments on Wednesday, as did House Speaker Paul Ryan, who's distanced himself from Trump.  "If anything, these statements reveal the Clinton campaign's hostile attitude toward people of faith in general," Ryan, a Wisconsin Republican, said in a statement.  
Palmieri, a Catholic, responded that she didn't "recognize" the message and again blamed the Russians for the hack.