Trump to Intensify Attacks on Clinton Over Husband's Accusers
Campaign says more women will soon come forward. "We're going to turn him into Bill Cosby," Trump campaign manager Steve Bannon says.
By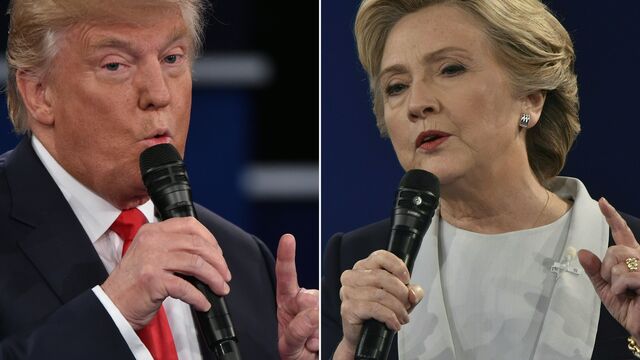 Donald Trump believes his ploy at the Oct. 9 presidential debate to invite three women who claim they were assaulted by former President Bill Clinton—Juanita Broaddrick, Kathleen Willey, and Paula Jones—has left Hillary Clinton "shaken" and helped unify Republican voters behind his embattled campaign.
So he's doubling down on the strategy, which his advisers believe will make his opponent toxic and depress turnout among a key demographic group—young women—Clinton is counting on to win. A senior Trump adviser says the campaign will soon bring forward new accusers: "Women are coming to us who have been groped or sexually abused by Bill Clinton."
Trump is considering featuring these women at campaign rallies to "give witness to what Hillary Clinton actually did." The Republican presidential nominee's decision to close out his campaign by attacking what he alleges to be Bill Clinton's history of sexual violence, and his wife's role after the fact, suggests the next few weeks could be among the ugliest in modern presidential history.
On Thursday night, the Trump campaign will begin a new media blitz, his advisers say, with Broaddrick, Willey, and Jones appearing together on Sean Hannity's Fox News program. Additional interviews will follow.
The move to further amplify the campaign's focus on Bill Clinton's past relationships with women comes amid fresh allegations of Trump's misbehavior.
The New York Times reported Wednesday the stories of two women who say that Trump inappropriately touched them, charges he vehemently denies. Moments later, the Palm Beach Post ran a story about a Florida woman who said Trump had groped her 13 years ago at his Mar-a-Lago resort. That was swiftly followed by a first-person account by a female reporter for People magazine detailing an unwanted sexual advance Trump allegedly made at his Florida resort in 2005. 
Multiple news outlets also detailed claims made by former beauty pageant contestants that Trump had barged into their dressing rooms when they were naked.
New Claims
Trump's strategists claim they will introduce significant new information of their own that they hope will upend the race. "Once the campaign decided to put forward the strategy of using the victims of Bill and Hillary Clinton from the '90s," says deputy campaign manager David Bossie, "others came forward because they see the media coverage. Now, we have an opportunity to introduce new material into the campaign to educate voters on how they treat women." 

Bill Clinton, 70, has denied the three women's accounts, all of which have featured in inconclusive litigation. Both Clintons are battle-scarred veterans of right-wing attacks, including those surrounding the former president's infidelities, and have made a point of not engaging directly with Trump's repeated attacks. "That just shows how desperate they are," Hillary Clinton, 68, said of Trump's scorched-earth plan at a rally in Pueblo, Colorado, on Wednesday. "We have done our best to stay out of all the meanness." Spokespeople for the Clinton campaign and for Bill Clinton both declined comment.
While most polls show Trump, 70, trailing Clinton by a considerable margin, Trump's own advisers speak confidently of his ability to prevail, even as his window narrows with Election Day approaching. One adviser cited a Sept. 26 Bloomberg Politics poll that showed Trump beating Clinton in a four-way race to emphasize how fluid the race remains. Still, Trump's inner circle is increasingly divorced from mainstream perceptions of the state of the race, with some members rejecting public polls on the basis of their "flawed model."
The plan to intensify the focus on the Clintons and sexual violence is being spearheaded by campaign CEO Stephen Bannon, Bossie, and Trump's son-in-law Jared Kushner, multiple campaign officials confirm. 
The purpose of Trump's sudden, intense focus on sexual abuse is twofold: First, to distract attention away from the 2005 Access Hollywood tape recently obtained by the Washington Post that shows Trump making appallingly lewd remarks about women. Second is to depress enthusiasm for Clinton among a key voter bloc in her quest for the White House: millennial women. 
Bannon has long believed that young, socially liberal voters unfamiliar with the Clinton scandals of the '90s will become disillusioned if they learn more about them. "There's a whole generation of people who love the news but were 7 or 8 years old when this happened and have no earthly idea about the Clinton sex stuff," Bannon told Bloomberg Businessweek last year.
Targeted Strategy
That view has now become the guiding principle of Trump's presidential campaign and explains why Trump is going to such lengths to portray Hillary Clinton as an enabler of sexual violence. On Tuesday, Bannon laid out the campaign's argument. "She's led a program of victim intimidation," Bannon told Trump staffers, according to two advisers who were present. "This has nothing to do with consensual sexual affairs and infidelities. This is Bill. We're going to turn him into Bill Cosby. He's a violent sexual predator who physically abuses women who he assaults. And she takes the lead on the intimidation of the victims."
Cosby, 79, faces aggravated sexual-assault charges in Pennsylvania and dozens of women have stepped forward to accuse the comedian of sexual misconduct in recent years. He has denied wrongdoing.
Asked how the campaign would reach millennial women—few of whom watch Sean Hannity—an adviser said that Trump himself will force the national media to focus on Clinton's alleged intimidation of sexual assault victims. "Trump's gonna force it into the system," one adviser said. "By tweeting, by just moving it out there. The mainstream media will be embarrassed not to cover this."
The campaign plans to highlight a tweet from last November in which Clinton wrote: "Every survivor of sexual assault deserves to be heard, believed and supported."
The juxtaposition between Clinton's stated position and the aggressiveness with which she and her allies have attacked Bill Clinton's accusers over the years is a glaring hypocrisy, Trump's brain trust believes. "It's untenable and it's farcical," says Bossie. "With rape culture being what it is, these facts are going to shock millennial women. There will not be a millennial woman who will want to vote for her when these facts come out."
Bossie says the campaign plans to highlight Hillary Clinton's treatment of her husband's accusers: "Her history of using private investigators in the '80s and '90s to harass and intimidate victims of Bill, to flip from that to what she's saying today about how every victim deserves to be heard—when it was about Bill, she didn't want the victims to be heard and Hillary did everything she could to stifle their voices." The case against Hillary Clinton is thus far even thinner than the one against her husband—PolitiFact rated Trump's claim that Hillary "viciously attacked" the three women as "mostly false."
Back to the Future
It's no accident that Trump's strategy has ended up focusing on the Clinton scandals of the 1990s: The prospect of litigating Hillary Clinton's culpability in a long litany of sexual and political scandals has been a right-wing fantasy for decades. What's more, Trump's core group of top advisers rose to prominence in conservative circles by specializing in Clinton scandals—a distinct occupational category in Republican politics. Before joining the Trump campaign, Bannon was executive chairman of Breitbart News and head of the Government Accountability Institute, where he helped conceive last year's bestselling book by GAI's president, Peter Schweizer, Clinton Cash: The Untold Story of How and Why Foreign Governments and Businesses Helped Make Bill and Hillary Rich. Bossie was most recently head of the Defeat Crooked Hillary PAC and before that head of the conservative advocacy group Citizens United, whose 2007 anti-Clinton film Hillary: The Movie was the basis of the 2010 Supreme Court case Citizens United vs. Federal Election Commission. (The court ruled 5-4 in Bossie's favor, opening the floodgates for more private money in politics.) Campaign manager Kellyanne Conway first rose to prominence as a conservative pundit in the late '90s during the Monica Lewinsky scandal.
Back in those days, Trump was still supporting Democrats. But having followed an outsider's path to capture the Republican nomination, Trump himself has become a true believer—even more so, his advisers say, after the events of the past several days. When the Access Hollywood tape emerged, Trump feared losing voter support, as dozens of Republican lawmakers abandoned him. But his debate performance on Oct. 9, which featured steady attacks on Clinton as Broaddrick, Willey, and Jones looked on, stemmed the exodus of Republican elected officials and convinced him that seizing on the Clintons' sexual history was his key to recovery. 
At a Tuesday fundraiser, Trump declared himself "unshackled" and seemed eager to go back on the offense. With the prospect of additional Clinton victims coming forward, an adviser said, "We're gonna go buck wild."
Updated to correct details about the women's appearance on Sean Hannity's program.
—With assistance from Margaret Talev.