Trump Slows GOP Defections as Lawmakers Led by Thune Retreat
By
Some Republicans back Trump after saying he should step down

Nominee may have begun to contain damage from vulgar remarks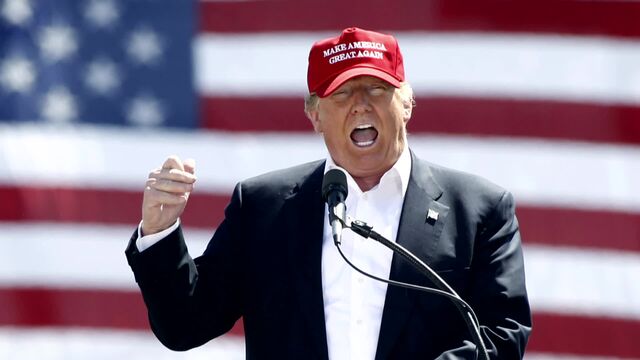 Donald Trump may have stanched the bleeding of Republican support for his embattled campaign, with several Republicans who had called on him to step down now saying they plan to vote for him.
The reversals suggest that Trump may be on his way to containing the damage, at least within his party, caused by release of a 2005 tape in which he bragged about groping women.
The most prominent about-face came from the No. 3 Senate Republican, John Thune of South Dakota, who over the weekend tweeted that Trump should step aside so his running mate, Mike Pence, could become the nominee. Thune said Tuesday night that he plans to vote for Trump anyway.
"I intend to support the nominee of our party and if anything should change then I'll let you know, but he's got a lot of work to do I think if he's going to have any hope of winning this election," Thune said.
Trump's lewd remarks and the resulting backlash has triggered a veritable civil war inside the GOP, with Republicans like House Speaker Paul Ryan and Arizona Senator John McCain effectively abandoning Trump and his campaign. Trump then lashed out on Twitter, accusing Republican leaders of disloyalty and pledging to teach them a lesson.
'A Whole Deal'
After blasting Ryan for not congratulating him after his performance in Sunday's debate with Democrat Hillary Clinton, Trump told a rally in Florida on Wednesday: "There's a whole deal going on. We're going to figure it out. I always figure things out."
Several senior Republicans, including Reince Priebus, the chairman of the Republican National Committee, and Pence worked behind the scenes to bring Republicans back into the fold. Trump also turned more of his attention back to blasting Clinton, pointing to a series of leaked campaign e-mails to accuse the Obama administration of colluding with her campaign over an investigation into her use of a private e-mail system as secretary of state.
In a conference call that Trump's campaign manager, Kellyanne Conway, held with about 35 House GOP supporters, several lawmakers urged Conway to scale back the nominee's attacks on fellow Republicans.
According a person on the call, she responded that Trump will continue to respond when someone takes a swing at him, and she told the Republican lawmakers their job was to keep things under control on their side.
Along with Thune, other Republicans shifting back toward Trump included Senator Deb Fischer of Nebraska and Representatives Scott Garrett of New Jersey, Bradley Byrne of Alabama and Jeff Fortenberry of Nebraska.
Thune still has not said explicitly he would for Trump, but he told KNBN TV in South Dakota that he would only support Republicans on Election Day. He also maintains that it would be "a better solution" if someone else stepped in as the nominee.
'Shamed Yourself'
His statement disavowing support for Trump generated backlash.
"You will lose your position now. It's time republicans stick together, through thick and thin, like democrats do. You have shamed yourself," wrote one dissatisfied poster on Thune's Facebook page. Another posted to Thune, "Your disloyalty to the country's choice for the Republican nominee will have an effect on your future political success."
Thune is expected to easily win re-election in November.
Fortenberry tried to walk his own difficult tightrope in explaining his stance on Trump.
"For my part, I asked Donald Trump to step aside and let Mike Pence, the vice presidential nominee, be the presidential nominee," he said Tuesday night in a local radio interview. "It was deeply disturbing to me, because it was wrong on so many levels."
But Fortenberry said, "Having Mike Pence at the top of the ticket is not a legal way out at this point." And so, he said, "I'm going to vote for the Republican ticket because of three reasons: one is the Supreme Court; two is Mike Pence and his steady leadership; and three, it's a 'no' to Hillary Clinton."
Trump-Pence Ticket
Fischer, meanwhile, told a local radio station Tuesday night that she came back to Trump after he ignored calls by her and others to step down.
"He decided he was not stepping aside. I respect his decision. And I respect the Republican ticket. It is a Trump-Pence ticket," said Fischer, who will face voters in 2018.
"I know you know I put out a statement on Friday, and it was with regard to Mr. Trump's comments. I felt they were disgusting. I felt they were unacceptable," she added. "I never said I was not voting for our Republican ticket. I would just say to you to look at that statement."
Byrne had called on Trump to step down on Friday after the tapes were released, but he told local media on Wednesday that he's still supporting the Republican ticket.
These changes in tone came after Trump fired off a series of retaliatory tweets on Tuesday, including one that said, "Disloyal R's are far more difficult than Crooked Hillary. They come at you from all sides. They don't know how to win - I will teach them!"
Anger at Ryan
Some Republicans in Congress were also unhappy after Ryan said in a Monday conference call that he would no longer defend or campaign for Trump.
Representative Dana Rohrabacher of California said Tuesday night that "a bunch of guys" within the House Republican conference have been calling him "upset with the Speaker" for abandoning Trump.
He also said he was disappointed that Ryan seemed to have given up on the presidential election and "was already giving it to Clinton."
Representative Bill Huizenga of Michigan said, "The reality is Donald Trump is our nominee, and Hillary Clinton is not an option." He said those floating scenarios about removing Trump from the ticket "ought to get off the fantasy train, and get on with reality."
Of course, additional revelations about Trump could prompt another round of statements from Republicans trying to distance themselves from the nominee.
"Barring something unforeseen -- and by the way, this tape as sordid as it was, it may not be the last thing we've heard, to be frank -- but barring something unforeseen, you have a stark choice in the voting booth where you have to follow your own conscience and make a judgment," Fortenberry said.